London 2019: Peerless Teresa Perales goes golden again
Veteran champion celebrates on penultimate day of Worlds
15 Sep 2019
Imagen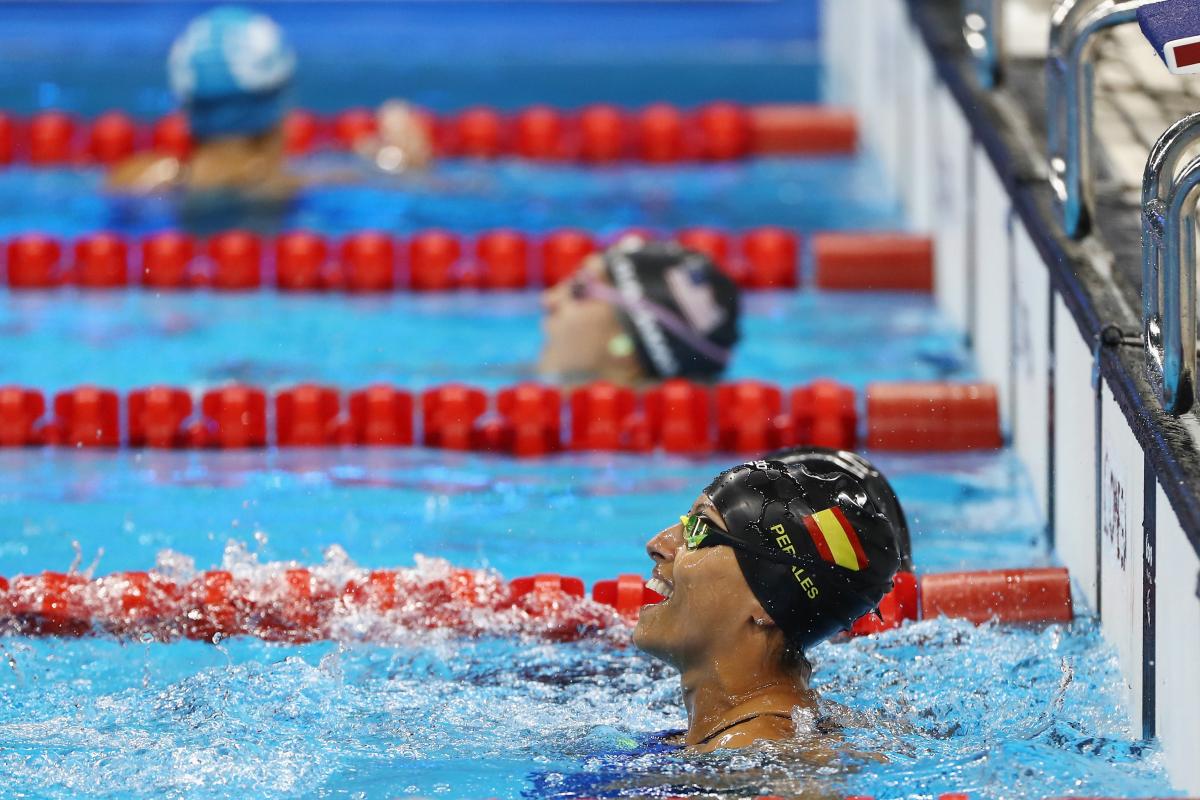 ⒸGetty Images
By Amp Media | For World Para Swimming
Teresa Perales of Spain has so many gold medals to her name, she had to check on her own website if victory in the London 2019 World Para Swimming Allianz Championships on Saturday was the third or fourth world title of her career. 
A glittering 21 years at the top could not stop the five-time Paralympian suffering a bout of anxiety, however, before the women's 50m backstroke S5 final at the London Aquatics Centre. 
"I was very nervous before the race, which is strange because I'm normally good at managing my mind," Perales, 43, said after winning her fourth world championships gold by just 0.03 seconds from Turkey's Sumeyye Boyaci. 
"I have a nine-year-old son who always cheers for me and says, 'Mummy, you're a champion and I want to see you on the podium', so that is a good motivation. 
"If I'm not on the podium, he says, 'Nothing has changed Mummy, you'll always be a champion. Sometimes you win, sometimes you don't win - but you'll never lose'. 
"So when I jumped in the pool and felt the water, I said to myself, 'Come on Teresa, this is your time and you have to enjoy it'."

Perales' was not the only Spanish success on Saturday night, as the country celebrated a one-two in the women's 200m individual medley SM9, with Nuria Marques Soto taking gold ahead of teammate Sarai Gascon (2:34.51).
 
At the other end of the age spectrum, China's teen prodigy Jiang Yuyan set her second world record of London 2019 on Saturday. The 14-year-old clocked 34.86 in the women's 50m butterfly S6 to beat the 2018 mark of Britain's Eleanor Robinson, who took silver.
Japan jump forward
It was an encouraging night also for Japan, with the team tripling its gold medal count as it bids to leave London on a high ahead of the Tokyo 2020 Paralympic Games.

First Dai Tokairin clocked a world record time of 2:08.70 in the men's 200m individual medley, before Keiichi Kimura beat teammate Uchu Tomita to gold in the men's 100m butterfly S11 (1:02.22).
"I was aiming for the gold medal for every stroke but I couldn't get it for the breaststroke or free, so now I finally have one I'm very happy," Kimura said. 
Takayuki Suzuki came agonisingly close to adding a fourth overall gold for Japan. He led from the outset in the men's 200m freestyle S4 but was beaten on his final arm rotation by Russia's Roman Zhdanov, whose 2:53.06 bettered the world record time set at Beijing 2008.
Brock shocks Tai
Great Britain's Brock Whiston caused the upset of day six as she left teammate Alice Tai and Paralympic champion Jessica Long of USA in her wake to win gold in the women's 200m individual medley SM8. 
Tai was seemingly coasting towards her seventh title from as many races but was brushed aside on the third length by a fresher Whiston, who had only contested the relay at London 2019.

"I knew Alice and Jess were going to be miles in front after the first hundred, so I just needed to compose myself and know that I could come back on the second hundred," Whiston said after taking Long's world record in a time of 2:35.30.
"If I'd come third against Alice and Jess it's not like coming third, they're the best S8s in the world (so) I'm over the moon."
Double joy for Lopez Diaz
In another standout performance, Mexico's Diego Lopez Diaz won two gold medals in the same day of a world championships for the first time. 
He paired the men's 50m freestyle S3 title with his win in the earlier 150m individual medley.
"After the first race I felt that I had a chance of winning another gold as the freestyle is my strongest stroke," Lopez Dias said. "It was a great result, a good time and I'm really happy that I was able to produce two good performances in the same day." 
In a similarly impressive performance, Colombia's Carlos Serrano won gold from lane nine of the men's 100m freestyle S7 after finding himself in sixth position at the turn (1:01.49).

"It's the third gold medal that I have won here for my country," Serrano said. "I keep training and fighting to be the best against some of the best swimmers in the world, and I've worked really hard for that."
For the second time this week, China's Wang Lichao smashed his own world record as he clocked 32.59 in the men's 50m backstroke S5 to win his fourth gold.
Ihar Boki of Belarus finished over two seconds clear of the rest in the men's 100m butterfly S13 to win his fifth gold medal of London 2019 (53.95).
By contrast, the women's 100m butterfly S13 saw a first-time triumph as Sholhsanamkhon Toshpulatova won Uzbekistan's first gold medal of London 2019 after pushing Italy's world record holder Carlotta Gilli into silver (1:03.89).
London 2019 concludes on Sunday. Live results, live streaming and athlete information can be found on the official website.