Luis Figo promotes blind football
UEFA-backed training sessions held in Kazakhstan
21 Nov 2018
Imagen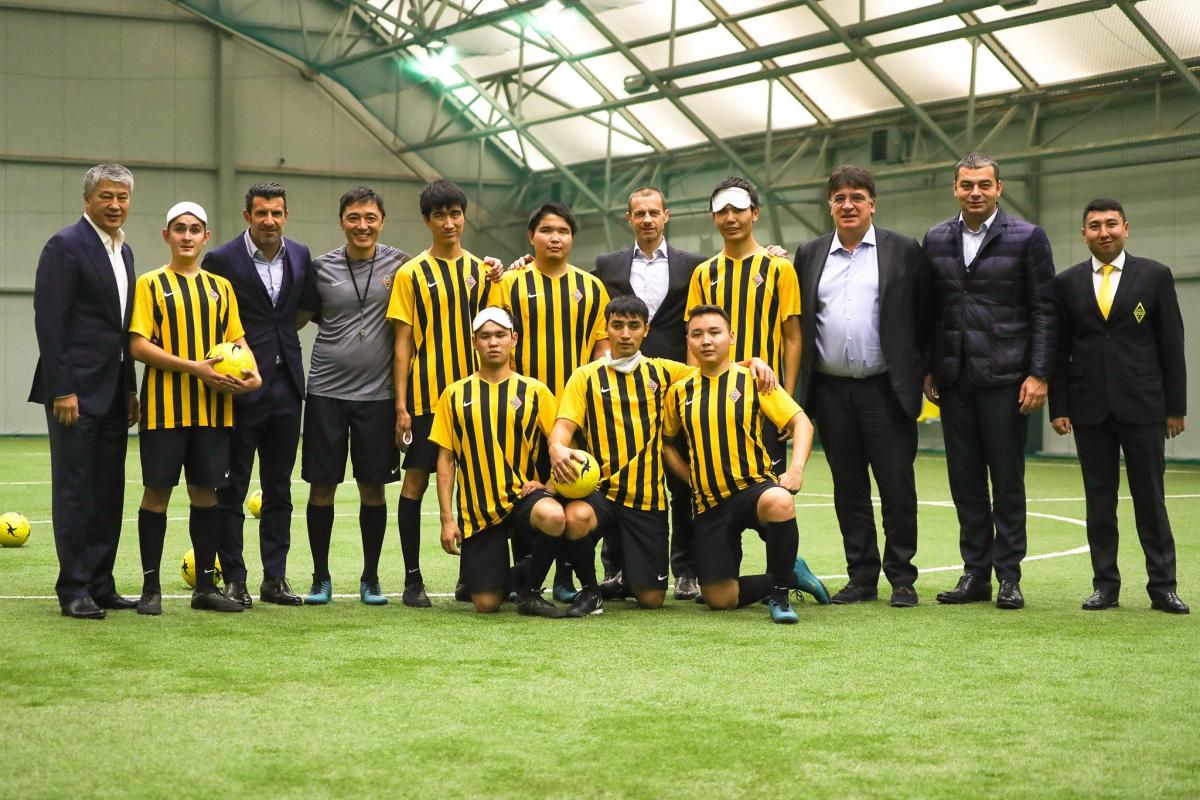 ⒸFC Kairat Almaty
By IBSA and IPC
Portuguese football star Luis Figo and UEFA President Aleksander Ceferin were among the attendants at the blind football training sessions in Almaty, in early November, looking to introduce the sport in Kazakhstan and Eurasia.
The workshops, which were part of the UEFA-funded "IBSA Blind Football Development Project Europe", took place at the academy of country's leading football club FC Kairat and brought together 10 players and 10 coaches.
"Visit of the @fc_kairat facilities. Thanks Kairat Boranbayev for the wonderful experience!" tweeted Figo, referring to the president of the Kazakh club.
IBSA Football Committee chair Ulrich Pfisterer, who delivered the sessions, was impressed with the set up and the team's potential.
"The training sessions have gone very well and I believe the team has a great future. I was very impressed with the support from FC Kairat to set up the programme and it is an example of how to integrate blind football within a major club," Pfisterer said.
"It's a good practise that other football clubs should follow. We will continue to support Kazakhstan's efforts to develop the game, and we look forward to welcoming the Kazakh national team to IBSA tournaments soo," Pfisterer added.
FC Kairat blind football captain Kanat Akymbaev was delighted with the workshops.
"I've only been playing for two months now, but blind football is good for our health and it helps us develop our spatial awareness and build up our self-confidence in all areas of our daily life.
"When I'm playing I forget I'm blind and I feel at home on the pitch. All the players are blind, and we understand each other."
Aiming for Tokyo 2020
Akymaev went on to explain his hopes for the future.
"We have strong support from the club – from the administration and all the coaches – and we'll work hard to develop and improve the game in the country.
"Our goal is to play at international level and represent Kazakhstan, competing in tournaments and maybe looking to qualify for Tokyo 2020. In short, our aims are to develop, grow, improve and win."
FC Kairat coach and team co-ordinator Chingis Temerkhanov highlighted the ambitious plans in place to expand blind football nationwide.
"FC Kairat is developing an 'Equality Plan' to roll out the game in the whole country. We will meet with potential sponsors soon to seek additional support, and the aim is to set up a national blind football youth league."
According to Temerkhanov, the plan includes visits to schools to introduce blind football to local children.
"There are nine schools for the blind in Kazakhstan and we plan to visit all of them and hold workshops to introduce the game to the children, the staff and parents.