Madrid 2018: Argentina eliminate England
Americas champions progress following thrilling penalty shootout
14 Jun 2018
Imagen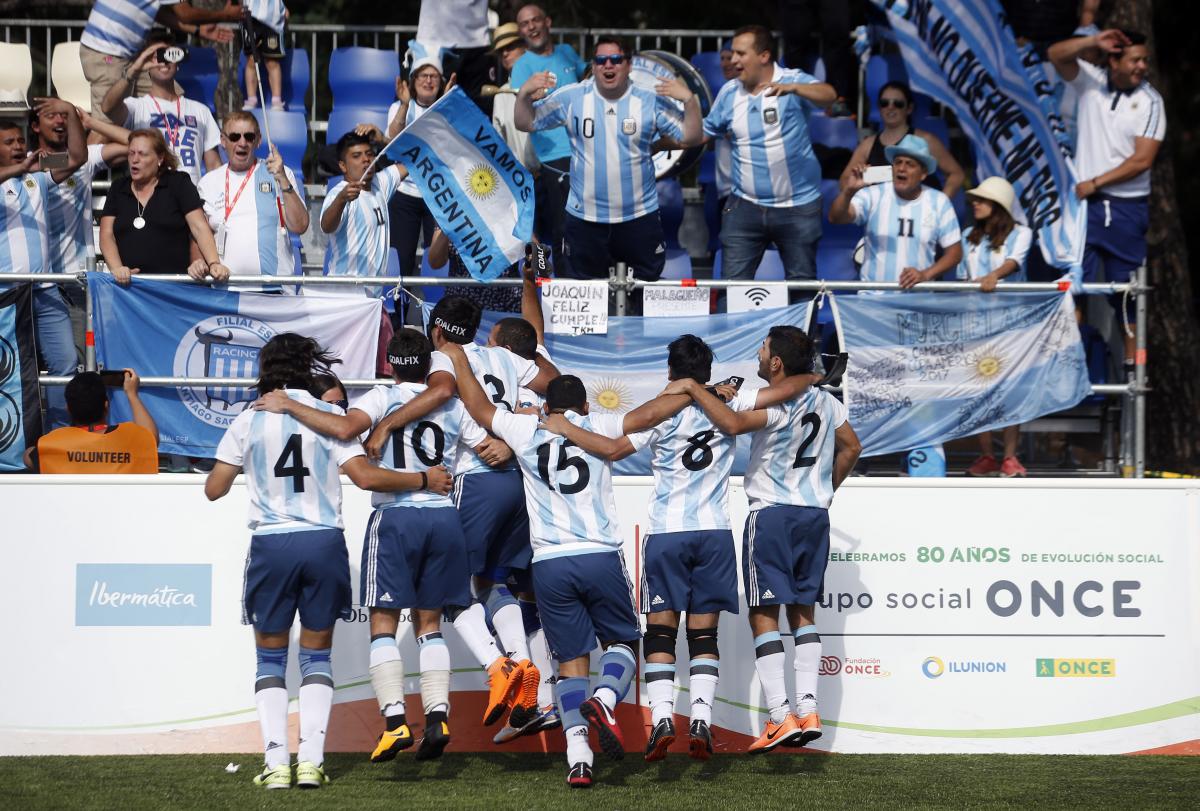 ⒸMadrid 2018
By IBSA
A tense tie between Argentina and England ended dramatically with penalties, with the Americas champions emerging triumphant in the quarter finals of the 2018 International Blind Sports Federation (IBSA) Blind Football World Championships in Madrid, Spain, on 13 June.
A strike from Maximiliano Espinillo took England by surprise within the first two minutes. A series of shots on goal from both sides followed but the half ended without any more goals.
In the second half, Argentina had attempts from David Peralta, Froilan Padilla and Nicolas Veliz. But England managed to break the deadlock, levelling the score in the 36th minute through Brandon Coleman.
Argentinian top goal scorer Veliz netted the sole penalty in the shoot-out to help his team secure a 1-0 victory and advance into the semi-finals.
England coach Jonathan Pugh said: "We are gutted to be honest. On balance in the second half of play we dominated possession and we just couldn't get that goal early enough. I think if we had gotten it early enough we would have gone on to win the game."
Argentina will now play Russia* for a final place on Friday (15 June).
Russia break Spanish hearts
Debutants and European champions Russia claimed a hard-fought 1-0 victory over the hosts in a re-run of the 2017 European Championships final.
Spain had hoped that 2018 would be their year, having reached four World Championships podiums over 20 years.
However, a solitary goal by Andrei Tikhonov in the 38th minute put paid to Spain's dream of winning their first world title.
Russian guide Vitalii Budukin said: "It's great, and very exciting. When you are for the first time at such a big event, the World Championships, it's great to take part. Thanks a lot for all the players and everybody who made it possible for us.
"We came here for it, to win the World Championships. We are not watching, we are playing football, we are doing our best to gain the best result."
Tough battle between China and Morocco
Asian champions China emerged victorious from a tough battle in their quarter final match against Morocco.
The opening 10 minutes were an end-to-end game but China created the most chances.
They finally got the goal they had been pushing for when a foul by Morocco's Houssam Ghilli in the 12th minute handed their rivals a golden opportunity. Zhang Ziabin outwitted the Moroccan wall, firing a shot that ricocheted in off the post.
"China were better than us because they have trained and they have prepared more time than us," Zouhair Snisla said after the match.
"There are many reasons for the loss. The first is we didn't prepare well and the preparation wasn't enough to let us win this match. But for me I am happy because we didn't lose this match by a big margin."
Brazil continue winning ways
The defending champions eased their way past Colombia 3-0 in the final match of the day.
Gledson battled his way through the Colombian defence, managing to stay on his feet to ensure Brazil were first on the scoreboard in the seventh minute.
The Paralympic title holders went on to create more chances but it was not until right before half-time that they managed to double their score. Ricardinho showed impressive control, tricking the defence into thinking he was heading away from goal before turning and scoring from just outside of the area.
A confident run and powerful shot from Raimundo Nonato then saw Brazil's lead increased to 3-0 five minutes into the second half. That would be the last goal of the match as Brazil tried, but failed, to add more.
Richardinho said: "Colombia is a very hard team. China is a very good team with good technique and pace. They have the possibility of winning the World Championships.
"We have respect for the all the semi-finallists but we're not afraid of anyone."
Brazil will play China for a final place on 15 June.
The 2018 IBSA Blind Football World Championships, featuring 16 teams, are the biggest in history. The competition has seen debuts for Mexico, Central American champions Costa Rica, Mali, European champions Russia, Thailand and Iran.
As well as the title, the winners of the sixteen-team tournament will qualify for the Tokyo 2020 Paralympics.
In the other placement games taking place on 14 June, Turkey play France and South Korea face Costa Rica to decide 13th to 16th places. The battle for ninth and 10th will be decided after Thailand play Iran and Mexico face Mail.
A full schedule is available on Madrid 2018's website.
*Editor's note: The International Paralympic Committee suspended the Russian Paralympic Committee on 7 August 2016 for its inability to fulfil its IPC membership responsibilities and obligations, in particular its obligation to comply with the IPC Anti-Doping Code and the World Anti-Doping Code (to which it is also a signatory). As a result of the suspension, Russian athletes cannot enter IPC sanctioned events or competitions, including the Paralympic Games.
For further information please click here.