Manchester 2023: Italy extends World Championships domination
The Azzurri reign supreme for the third consecutive edition with 26 golds as four new world records close the event at the Manchester Aquatics Centre
06 Aug 2023
Imagen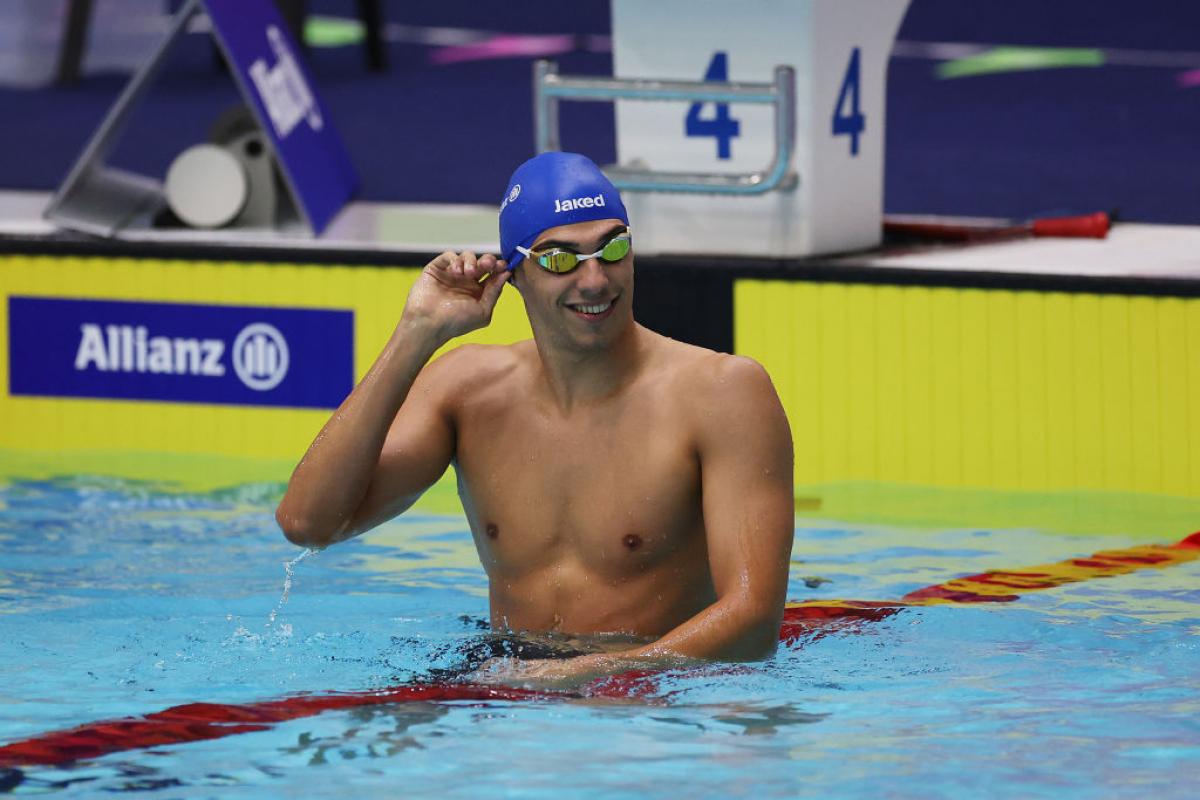 ⒸAlex Livesey/Getty Images
By Emma Logan | For World Para Swimming
Italy finished their golden campaign off with a bang, winning five golds on the final night of the meet and setting a new world record, at the Manchester 2023 Allianz World Para Swimming Championships on Sunday (6 August). 
Simone Barlaam has been in absolute peak condition this week, winning all of his events to make him the most successful athlete of these championships with six golds in six racs. The Italian's fifth gold came in the men's 50m freestyle S9 with an incredible new world record, dipping under 24 seconds to clock a time of 23.96 (gold also in the men's 100m Butterfly S9, men's 100m Freestyle S9, men's 400m Freestyle S9 and men's 100m Backstroke S9).
It is his fourth straight title in this event and he shows no signs of slowing down. Fredrik Soldberg sealed silver for Norway, their first medal in Manchester. Bronze belonged to France's Ugo Didier.
There was not much time for Barlaam to catch his breath before he was back in action in the mixed 4x100m freestyle relay 34pts. Francesca Palazzo led the charge, passing over to Federico Bicelli before Alessia Scortechini passed over to Barlaam. There was no catching Barlaam when he got into his stride. He brought the Italian squad home for gold. France took silver and Brazil bronze, with an Americas record (4:07.27).
"It feels incredible. The 24 seconds barrier has been there for a long time and I've hit 24.00 a few times. So I was really stoked with that swim, and then the relay just 10 minutes later was tough but good fun. We managed to bring it home so I can't ask for a better finish of the World Championships," Barlaam said. 
It was also a fifth individual gold medal for Stefano Raimondi, taking the title in the men's 100m backstroke S10. After the previous night's success in the women's 200m freestyle S5, Monica Boggioni did the double, taking the crown in the 100m freestyle S5. Boggioni showed great strength in the final metres to clinch the title over the home favourite Suzanna Hext, her third of the meet (gold also in the 50m breaststroke SB3). 
Carlotta Gilli was on top form this week and finished her trip with a fourth title, winning the women's 200m individual medley SM13. Gilli medalled in all six of her events, with two silvers accompanying her four golds. Brazil's Maria Carolina Gomez Santiago, who won bronze in Gilli's final event, tallied up a total of eight medals (five gold, one silver and bronze) in Manchester. This incredible achievement over the seven days makes her the most successful female athlete of the meet. 
Triumphant teenagers
Despite being amongst the youngest at these championships, Spain's Anastasiya Dmytriv Dmytriv, Czechia's David Kratochvil and Hong Kong's Chan Yui Lam were not phased by the pressures of being on the world stage. 
Dmytriv climbed the blocks as the reigning champion in the women's 100m breaststroke SB8. She powered off the blocks and could not be caught as she raced to another championship title. Ireland's Paralympic champion Ellen Keane finished second. Spain also found victory in the women's 200m freestyle S3 with Marta Fernandez Infante taking her second triumph in Manchester.
"I am really proud and happy for my results. I have been working really hard and now I will celebrate a lot with my family and friends," said Dmytriv who turns 15 on Monday (7 August).  
It was a dramatic finish in the men's 400m freestyle S11. With 100m to go Kratochvil was not in contention for a medal. Instead the reigning Paralympic champion, Rogier Dorsman from the Netherlands, looked set to cruise to another title. However, with 50 metres to go, the 15-year-old turned on the afterburners and surged past Dorsman to steal the title by 0.09 seconds. Winning his and his country's first gold of the championships. 
The women's 100m butterfly S14 came down to the finest of margins. The Brits, Poppy Maskill and Bethany Firth, were denied gold as Chan Yui Lam glided in to steal the gold. It was the first gold of the championships for the 19 year old and for Hong Kong. 
Carlos Serrano finally got his hands on gold and he did it in style. The Colombian raced to a spectacular SB7 world's best time of 1:10.32, in the men's 100m breaststroke SB8. After a trio of silvers in the men's 200m individual medley SM7, 50m butterfly S7 and 50m freestyle S7, Serrano took the crown in his speciality event. 
"I did my best in every race, after three silver I got the gold and I am going for more. This medal is for my kids Sara Luna and Daniel Matias, everything for them," Serrano said. 
After 15 years the world record was finally broken in the men's 100m freestyle S7. It was none other than Ukraine's Andrii Trusov that did the deed, setting a new world's best time of 1:00.0. It was his second world record of the week (200m individual medley SM7), his fifth title and sixth medal at Manchester 2023. Not long after he set his own world record, Serrano found the energy to take the bronze to join Trusov on the podium. Silver belonged to Italy's Federico Bicelli.
Ukraine's fortunes continued with Oleksandr Komarov (men's 100m freestyle S5) and Denys Ostapchenko (men's 100m freestyle S3) winning their finals. Ostapchenko remains unbeaten, winning all four of his individual events in Manchester (men's 50m Backstroke S3, men's 50m Freestyle S3 and men's 200m Freestyle S3).
The third and final world record of the night was a blistering swim by China's Jiang Yuyan in the women's 50m butterfly S6. Jiang broke her own fastest time (set at the Tokyo 2020 Paralympics) by a mere 0.01 seconds. It takes her medals tally up to five, with two silvers and three golds (women's 100m freestyle S6 and women's 400m freestyle S6) here in Manchester.
Golden swim for 13 nations
Brazil was brilliant once again, taking two individual titles on Sunday. Mariana Ribeiro bagged the first in the women's 50m freestyle S9 with a championship record time of 27.70. Three finals later and Gabriel Bandeira upgraded from his silver in the men's 100m backstroke S14 to gold in the men's 100m butterfly S14. 
It was double the delight for France as well, closing their campaign with a win in the men's 200m individual medley SM13 and men's 50m butterfly S6. Alex Portal earned a golden hat-trick (also got gold in the 100m freestyle S13 and 400m freestyle S13) whilst Laurent Chardard raced to a European best time of 31.03. 
It was a golden hat-trick also for Hungary's Bianka Pap, racing to the top in the women's 100m backstroke S10 (golden success also in the 200m individual medley SM10 and the 400m freestyle S10). 
Omer Ami Dadaon (ISR) made it a fourth gold from five events, taking the title in the men's 200m freestyle S4 and the USA continued their absolute domination in the women's 100m freestyle S7 with a win by Megan Stickney. The USA has retained this since 2006. It was Stickney's second gold in Manchester (400m freestyle S7). Liesette Bruinsma (NED) added to her gold in the 100m freestyle S11, with a win in the women's 400m freestyle S11.
Manchester 2023 marked the 11th edition of the Para Swimming World Championships. Complete results, all medallists and records can be found here.