Marthinsen on quest to avenge missing Sochi gold
At the 2015 Worlds, Norwegian cross-country Paralympic champion Mariann Marthinsen is looking to seal the gold medal that equipment failure led her to miss-out on.
31 Aug 2014
Imagen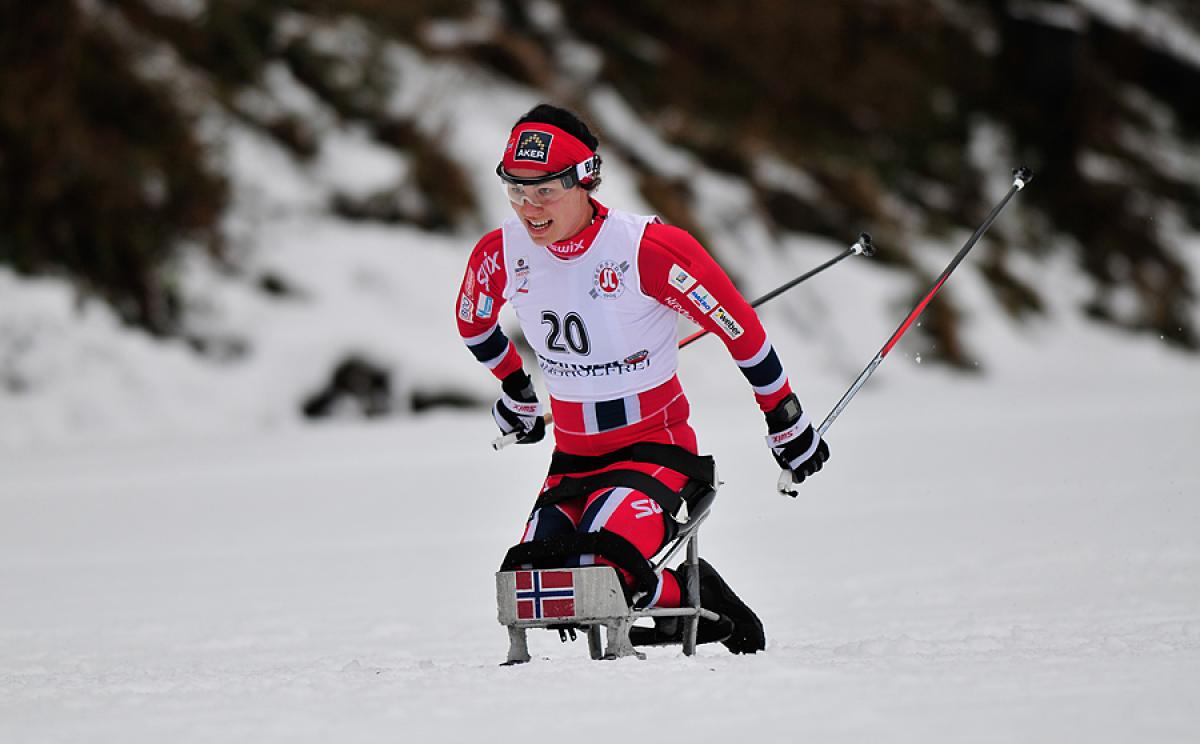 ⒸLuc Percival
By Richard Waterhouse | For the IPC
"It appears like it would be my last year of doing this sport, so I really hope for a good end of my career."
Norway's newly crowned Paralympic champion Mariann Marthinsen has revealed her plans to end her Nordic skiing career on a high at January's Worlds in Cable, USA, by sealing the gold she agonisingly missed out on at Sochi 2014 because of equipment failure.
"It appears like it would be my last year of doing this sport, so I really hope for a good end of my career," the former swimmer said.
Marthinsen and coach Torbjorn Broks Pettersen are aiming for success in the 5km middle distance cross-country sitting event at the 2015 IPC Nordic Skiing World Championships from 22 January- 1 February.
In Sochi, Marthinsen's sit-ski broke down during that race whilst she was enjoying a two second lead. German Andrea Eskau went on to win ahead of Ukraine's Lyudmyla Pavlenko and American Oksana Masters.
"In Cable we're aiming at the 5km first and foremost. That's the gold we didn't get in Sochi," Broks Pettersen said.
"Everything was aimed at the sprint and the 5km in Sochi. After she claimed the gold in the sprint I felt confident she would have a medal in the 5km. Sadly her sit-ski device broke down after 1.2km. This equipment failure is part of our motivation heading for Cable 2015."
The Norwegian kept up her outstanding form from last season going into March's Paralympic Winter Games by winning gold in the 1km cross-country sprint sitting, fending off American superstar Tatyana McFadden with a time of 2:30.61.
That victory followed a very successful 2013-14 season, including a triple win at the IPC Nordic Skiing World Cup in Canmore, Canada, across short middle and long distance races. Throughout the whole of the season, she finished no lower than fifth in any competition she entered.
After competing for much of her career in the pool, winning a bronze medal at Beijing 2008, Marthinsen has benefited from experiencing a lot of different competitions in both winter and summer sports. It is these experiences that she believes have increased her desire to win.
"I have been competing for 11 years now, and yes, I am absolutely more confident. At the start, 10-11 years ago, it was all different," the 29-year-old said.
"I don't put the same pressure on myself as before, I do this because I love the sport and being physically active and having fun. If I don't succeed, it's not the end of the world. But of course, I hate losing in the competitions."
Her good results recently have been down to training regime that has been carefully thought out between her and Broks Pettersen.
Going into Sochi, Marthinsen completed twelve training sessions a week to prepare.
Emphasis in training is pinned on increasing her aerobic capacity and her upper body strength and she has got used to this for four years with Broks Pettersen. Her successes have come as no surprise to him.
"Working as Mariann's coach is fairly easy. She's been an athlete for so many years she's got the attitude and the culture under her skin."
The 2015 IPC Nordic Skiing World Championships in Cable, Wisconsin, USA, run from 22 January-1 February and will feature over 150 athletes from 20 countries in the biggest competition since Sochi 2014.