Matt Skelhon: I thought about quitting
British Paralympic shooter now focused on training for 2018 Worlds after Rio disappointment.
19 Jul 2017
Imagen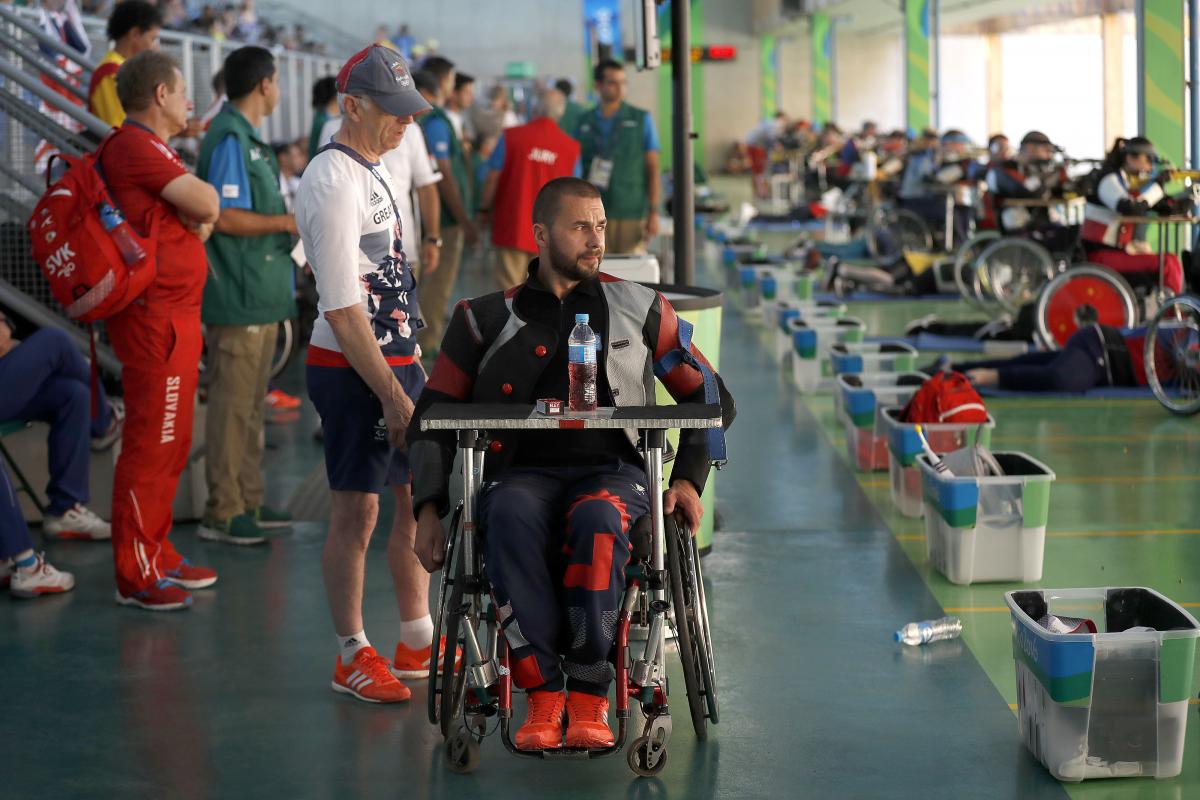 ⒸWagner Meier
By By Rebecca Schaefer | For the IPC
"I felt worse than after my accident in 2005 which put me in my wheelchair. I was depressed and had no motivation to shoot again."
He had hoped to win two Paralympic golds at Rio 2016, but came back empty-handed. For Matt Skelhon, perhaps Great Britain's most renowned Paralympic shooter, it has been a tough year.
"Honestly, it has been difficult for me to even talk to you about what happened in Rio in this interview. I did not really want to go back into it," the 32-year-old Peterborough native said.
He medalled at two Paralympic Games in the past, taking gold at Beijing 2008. Skelhon had been confident he could win two golds in Rio.
"My training was going really well and I had the belief in my ability to make it happen," he said.
The first setback, however, came before the Games even started.
"As the competitions drew closer, my scores in the R3 [mixed 10m air rifle prone SH1 – in which he had won gold in 2008 and silver in 2012] were dropping," Skelhon recalled. "I was losing interest in the event and struggling to motivate myself to shoot it."
But he believed that with his experience and technical skills, it could have worked out on the right day.
It did not.
He finished the R3 qualification round in 11th place, thus missing the final. But he still had high hopes for the R6 (mixed 50m rifle prone SH1).
"I was still fully confident of achieving my gold in R6. R6 was my stronger event and I knew that I had what it would take to win that day," he said.
Initially, all seemed to go as planned. Skelhon topped the rankings after the qualification and even shot a new Paralympic record. But something did not feel right.
"I did not think my qualification round was a stellar performance at all actually. I was looking for a world record, maybe trying a little too hard," he said.
On paper, Skelhon was still on track for the gold medal. But after a solid start, his performance in the finals suddenly dwindled.
"It was the wrong command given by the range officer to stop shooting after the first shot of a three-shot string that messed it all up for me," Skelhon explained. "I should have been able to deal with the mistake. We train for these sorts of problems all the time. But you can never replicate the intensity of a Paralympic final."
"I completely lost my focus and started to question myself as to whether or not I should be shooting three shots or if it was singles on command. It really messed with my head. My adrenaline increased, my heart rate went up, and that was that – game over."
Coming back from Rio empty-handed was one of the worst experiences of his life, Skelhon admitted.
"I felt worse than after my accident in 2005 which put me in my wheelchair. I was depressed and had no motivation to shoot again. I was on the verge of quitting, and even after starting to train again I left many camps angry and ready to throw in the towel. As an athlete you sacrifice so much and train so hard for one competition on one day, and if that goes wrong you are screwed."
While he said he is shooting just as well now - if not better - than he was before Rio, he is still not entirely sure where his future lies.
"I am going to train hard for the World Champs in Cheongju, South Korea, next year in order to go there as confident as possible. Then, after my wedding at the end of June 2018, I will decide what I am going to do next," he said.
Skelhon made it clear though that he does not want to retire: "That is not my plan."