Metro Cup tests teams ahead of European Champs
Five of the top 12 wheelchair rugby teams will see how they match up ahead of June's European Championship.
28 May 2017
Imagen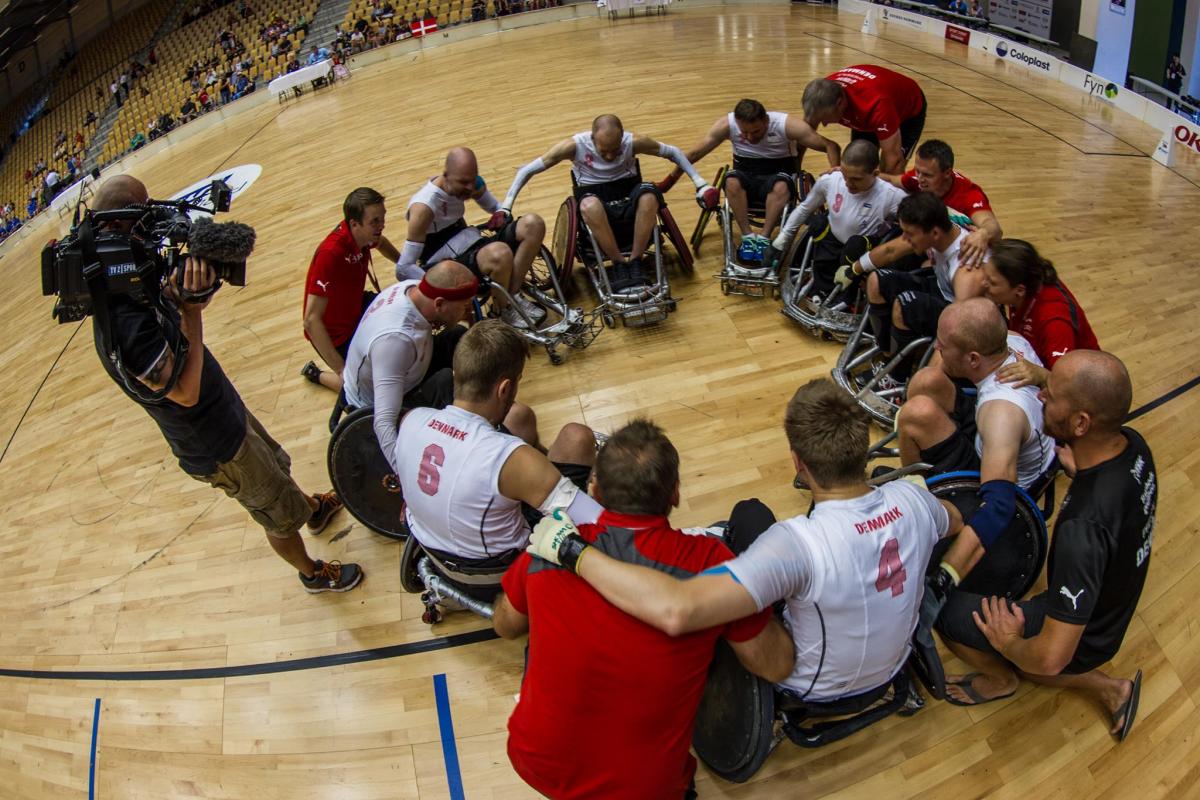 ⒸWheelchair Rugby Denmark
By Beau Greenway | For the IPC
The 2017 Metro Cup will provide a number of Europe's top wheelchair rugby nations with a much-needed hit-out ahead of the International Wheelchair Rugby Federation (IWRF) European Division A Championship.
This year's Metro Cup will be staged from 30 May - 4 June at the Ursynow Arena in Warsaw, Poland. The annual event will see host Poland test themselves against quality European opponents Denmark, France, Germany and Sweden in an impressive tournament field for early bragging rights, before meeting again for the European title in Koblenz, Germany, from 24 June - 1 July.
Here is a glance at the teams contesting the 2017 Metro Cup:
Denmark
Denmark will contest its first official tournament under new head coach Jason Regier at this year's Metro Cup. The former US player has vast experience in the sport, which can only be a good thing for the Danes' aspirations of moving higher up the rankings. Leon Jorgensen has been a standout player for Denmark for many years and will again be their main focal point in attack.
Head coach: Jason Regier
Athletes: Thomas Pagh, Morten Elmholt, Leon Jorgensen, Sofie Skoubo, Camilla Bach Didriksen, Jesper Kruger, Kristian Bak Eriksen, Sebastian Frederiksen, Mark Peters, Mikkel Schottel.
France
France put together an excellent run of form in the early parts of last season to qualify for the Rio 2016 Paralympic Games. Their appearance at Rio has assured they sit in seventh in the world rankings and will be eyeing Sweden in sixth spot with a good performance at the Metro Cup. The French side is vastly different to the one that competed at Rio, but captain Jonathan Hivernat remains and will be a threat for any opponent.
Head coach: Oliver Cusin
Athletes: Brice Maurel, Adrien Chalmin, Rodolphe Jarlan, Corentin Le Guen, Giani Colangelo, Jordan Ducret, Alexandre Bento, Jonathan Hivernat, Arthur Paumard, Christophe Salegui.
Germany
The Germans have lacked consistency in their game in recent years, with regular coach and player changes not allowing the team to fully settle. The Metro Cup will help them see where they match up and also gel as a team ahead of the European Championships.
Head coach: Christoph Werner
Athletes: Marco Herbst, Fabian Muller, Tanja Fecke, Christian Riedel, Steffen Wecke, Thorsten Altmann, Artur Bertram, Jens Sauerbier, Steve Diederich.
Poland
The host nation has recently moved into 12th in the IWRF world rankings and will look to improve on that mark in the coming weeks. While they will start the tournament as underdogs, the Polish side will look to make the most of its home court advantage and potentially cause a few upsets.
Head coach: Janusz Kozak
Athletes: Krzysztof Kapusta, Pawel Szoztak, Rafal Rocki, Krzysztof Kosider, Tomasz Witkowski, Arkadiusz Henicz, Dominik Rymer, Tomasz Bidus, Adam Stasicki, Mateusz Wawczak, Izabela Sopalska-Rybok, Lukasz Szalabski.
Sweden
Europe's No.2 ranked team will face some tough competition from the rest of the Metro Cup field in 2017. The team has experienced a challenging period since its sixth place finish at the Rio 2016 Paralympic Games, with a big turnover of players and a lack of training camps due. However, Sweden has managed to maintain experienced players Tomas Hjert and Tobias Sandberg, who will play a vital role at the Metro Cup.
Head coach: Benoit Labrecque
Athletes: Glenn Adaszak, Fredrik Johnsson, Lars Vernerud, Claes Bertilsson, Tobias Sandberg, Roger Lindberg, Conrad Hildebrand, Marko Norrbacka, Stefan Jansson, Andreas Lilja, Tomas Hjert, Alfredo Alvarez.
More information on the 2017 Metro Cup can be found on the event website.