Mexican swimmers dominate first day at Toronto 2015
Swimmers from Mexico won seven golds on the first day of action at the Parapan American Games with Sanchez and Herrera both winning two golds each.
09 Aug 2015
Imagen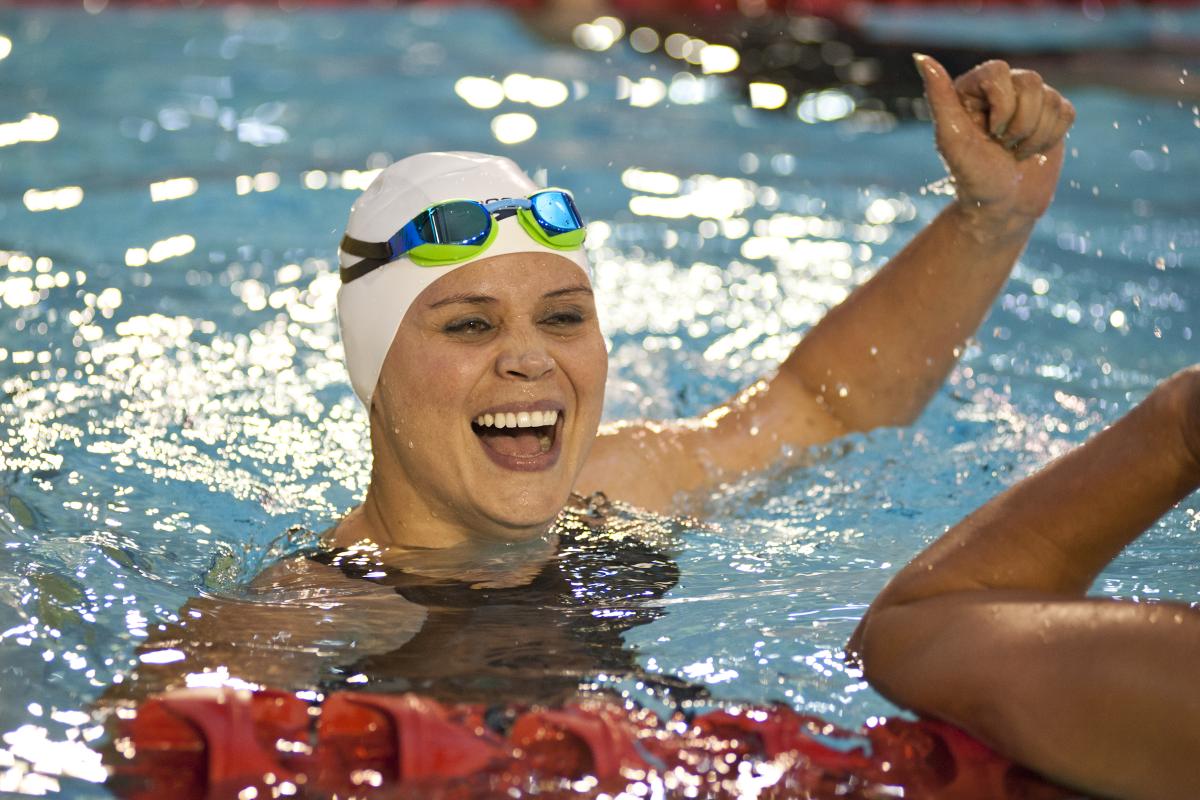 ⒸLuc Percival Photography. All rights reserved.
By IPC
"The crowd helps a lot and I hope they will be here for the next few days."
Nely Miranda capped off a sensational opening day of swimming for Mexico at the Toronto 2015 Parapan American Games on Saturday (8 August), winning her second gold of the day with a superb world record.
Mexico won 14 medals, including seven golds from 16 events, with eight-time world champion Miranda leading the way with victory in both the 50m and 100m freestyle S4 events.
After breaking the Games record over the longer distance in the morning's heats, she smashed her own Americas record in the final to take her first gold. Her time of 1:31.35 was nearly three seconds quicker than her previous best. Brazil's Edenia Nogueira (1:56.09) took the silver and hosts Canada picked up their first swimming medal of the Games thanks to a bronze from Tammy Cunningham (2:00.77).
In the final race of the day, Miranda (39.90) was in blistering form breaking her own world record which she set at last month's World Championships by 0.18 seconds. Brazil's Nogueira (54.35) again took silver, whilst Mexico's bronze medallist Patricia Valle (56.96) set a new Parapan record in the S3 class.
Mexico's gold rush started in the morning session when Christopher Tronco (59.68) beat his teammate Luis Burgos (1:03.45) to the wall in the men's 50m freestyle S3. Bronze went to Colombia's Fredy Diaz.
Gustavo Sanchez (1:26.93) won gold in the first race of the afternoon session, the men's 100m freestyle S4, to continue Mexico's run. Brazil's Ronystony Cordeiro (1:38.20) took silver and Sanchez's teammate Jesus Hernandez (1:44.03) the bronze.
"I did very well. We just came from the World Championships so this is my last competition of this year. We finished very well at worlds and we hope to get more golds here and continue with our efforts to get as many golds as possible," said Sanchez, who completed the double with gold in the penultimate race of the day, the men's 50m freestyle S4.
The 21-year-old (40.64) eased home ahead of Brazil's Coderio (43.60) for the second time in the session. Bronze went to another Mexican Juan Reyes (44.23).
There was a Mexican clean sweep in a thrilling women's 400m freestyle S6. With nothing separating Valeria Lopez and Vianney Trejo with 50m to go, the crowd rose to their feet to cheer the two swimmers home. Lopez (6:01.19) took the win in a Games record with Trejo (6:01.35) second. Dorami Hernandez (6:04.89) made it an all-Mexican podium in third.
Beatriz Resendiz (2:21.62) won Mexico's fifth gold of the day in the women's 200m freestyle S14 after pulling away from Canada's silver medallist Kirstie Kasko (2:25.13) with 75m to go. Bronze medallist Leslie Cichocki (2:26.07) picked up the USA's first medal in the Parapan pool.
There was a surprise winner in the men's 400m freestyle S6 as Cuba's Lorenzo Perez (5:14.45) not only beat Brazilian favourite Talisson Glock (5:21.11) into silver, but also broke his Americas record. Colombia's Nelson Crispin (5:29.39) completed the podium.
The home crowd almost lifted the roof off the CIBC Pan Am/Parapan Am Aquatics Centre as Canadian swimmers challenged for medals in the men's 200m freestyle S14. Neck-and-neck with 50m to go, Brazil's Felipe Caltran (2:03.31) took gold, edging out the Canadian duo of Maxime Rousselle (2:04.91) and Gordie Michie (2:05.40) into silver and bronze.
"It was to win and get the gold medal for Brazil. I have been training a lot so I knew that I would be good on the last turn. I was hoping this result would happen and it did," said Caltran.
Luckily gold came for the home crowd in the very next race as Nicolas Turbide (2:19.89) led from start to finish in the men's 200m individual medley SM13 to win Canada's first swimming gold in a Games record time. Devin Gottell (2:26.62) made it a Canada one-two, finishing ahead of Brazil's Guilherme Batista (2:27.99).
"I was expecting a big race this afternoon and I got what I wanted," said Turbide. "My strategy was to work on my weak strokes, mostly breaststroke, and try to be as efficient as I can, and for me to do as usual as that normally goes well.
"The crowd helps a lot and I hope they will be here for the next few days."
Two years after winning three golds at the Parapan Am Youth Games, Argentina's Facundo Arregui (5:05.93) set a Games record to top of the podium in the men's 400m freestyle S7. Colombia's Carlos Serrano (5:12.13) and Brazil's Italo Gomes (5:18.29) were second and third respectively.
A second Argentine gold soon followed with Pipo Carlomango (1:10.34) setting a Games record on his way to the win in the men's 100m backstroke S8. Brazil's Caio Amorim Muniz (1:12.43) took the silver and the USA's Tom Miazga (1:13.49) the bronze.
The USA appear to have unearthed a new star in the form of Ahalya Lettenberger (1:24.41). The 14-year-old broke a Games record during the morning's heats and in the final of the women's 100m backstroke S8 won gold. Canada's Camile Berube (1:26.96) and the USA's Mallory Weggemann (1:24.74) joined her on the podium.
Brazil's Daniel Dias (1:12.98) opened up his account to win eight Parapan titles with a win in the men's 100m freestyle S5. He won comfortably ahead of teammate Clodoaldo Da Silva (1:18.57), whilst Mexico added another medal through Diego Lopez (1:25.25).
Brazil's Joanna da Silva (1:25.81) was just outside the Americas record, but secured a Games record, as she stormed to gold in the women's 100m freestyle S5. Her 16-year-old teammate Esthefany de Oliveira (1:38.80) claimed silver whilst bronze went to the USA's Haley Bernanbaum (1:48.60).
In the morning session, there were two medal events, which included Colombia's Brayan Urbano (2:39.98) winning the first gold medal of the entire Games with victory in the men's 200m individual medley.
The 21-year-old beat Cuba's Yunerki Ortega (2:41.82), who had led for most of the race, into silver and his teammate Leider Lemus (2:50.65) into bronze.
Swimming will continue on Sunday with hosts Canada hoping it will be "Super Sunday" courtesy of seven swimmers who are strong favourites to take gold.
To buy tickets, please visit Ticketmaster.
You can watch all the finals action live here.