Mexico City 2017: Gutierrez brothers excited to compete on home soil
Raul and Juan Jose target success at the World Para Swimming Championships
28 Nov 2017
Imagen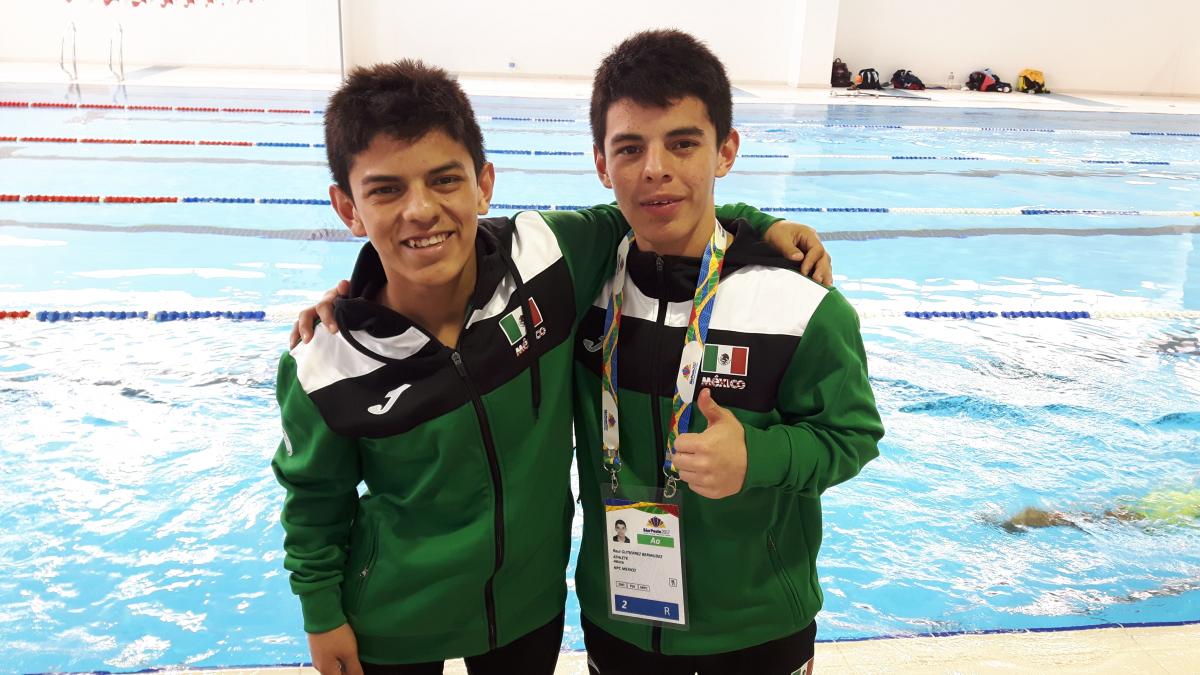 ⒸIPC
By Becki Ellsmore | For the IPC
"I feel good about my nickname. I think Batman and Robin suits us well because we are brothers, always together and almost never separate. It feels good and motivates me because they are comparing us with superheroes."
Raul and Juan Jose Gutierrez are Mexico's newest Para swimming stars. At the ages of just 18 and 16, respectively, the brothers are set to represent their country at the rescheduled World Para Swimming World Championships in Mexico City, from 2-7 December.
They've already done well this year, becoming the two first medal winners of the Youth Parapan American Games in Sao Paulo, Brazil in March, with Raul winning gold and Juan Jose silver in the men's 100m freestyle S6.
The World Championships is the first opportunity for the brothers to show what they can do at the senior international level, and they are all the more important for being held in their home country.
"It is a great privilege to be in our first World Championships and to represent our country," said Raul. "We are going to be very enthusiastic and go for Mexico. It is my first Worlds and it is in my country, I am very proud to represent Mexico in our own home.
"We did very well in Sao Paulo, Brazil, and right now, if everything goes well, we are going to place ourselves in a good ranking position during this World Championships.
"My expectation is to improve my personal best and place myself between the bronze medal and the fifth place. I'm going to participate in the 50m freestyle, which is my strongest event, in the 100m breaststroke and relay."
"I will compete against my brother in the 100m breaststroke. It feels exciting because aside from being my brother, we are rivals in the pool, but without grudges or anything. We feel a lot of emotions; we always say that 'the best wins' and it will go well. Sometimes, we achieve the 1-2."
Juan José added: "I feel very excited because it is my first international competition at this level. We know that strong competitors will come. I feel very confident too because it's going to be here in Mexico. We are capable and ready to represent our country well at home.
"The 100m breaststroke is not my brother's strong event, it is mine. So I hope to place myself in a medal position. It feels very exciting because, whoever wins, we are from the same family, we are brothers. However, it gives you an extra emotion to compete against your brother and is a special motivation that we have between the two [of us]."
The brothers train together as well as racing against each other, with an average weekly training schedule including two sessions a day from Monday to Friday and one session on Saturdays. They have also trained at higher altitudes and worked on mental preparation with psychologists and assistants. The training sessions are different for each member of the team.
Unexpected journey
They are very recent additions to the team, as they only took up swimming very recently. Juan Jose described their unexpected journey to the World Championships. "We started swimming about a year and two months ago. First, we went to some swimming lessons, we learned to swim and we left it.
"However, after five months, they called us and invited us to try sports; firstly, athletics, then our state coach Blanca Delia Hernandez found us and, with her, we started training for our first National Paralympics and it went very well. There, we met national coach Fernando Gutierrez Velez and now we are here."
Coach Velez has given the brothers their nicknames of 'Batman and Robin'. "He gave my brother and me the nickname of Batman and Robin or the 'dynamic duo' in Sao Paulo, because we always walked and were together and won many medals in Brazil," said Raul. "As a result, since I am the oldest, Vélez made me Batman and Robin is my brother."
Juan Jose takes this with humour. "I feel good about my nickname. I think Batman and Robin suits us well because we are brothers, always together and almost never separate. It feels good and motivates me because they are comparing us with superheroes."
They are currently taking a break from their studies to focus on the World Championships, but will be resuming them after the event. In the long term, both brothers have their sights set on winning medals at the Tokyo 2020 Paralympic Games, as well as focusing on reaching the podium at the 2019 Parapan American Games in Lima, Peru.
'Only the one who gives up is defeated', said Juan Jose.
More information is available on Mexico City 2017's website.