Mexico City 2017: Huang's high hopes
Chinese swimmer wants to break more records after remarkable Rio 2016.
17 Aug 2017
Imagen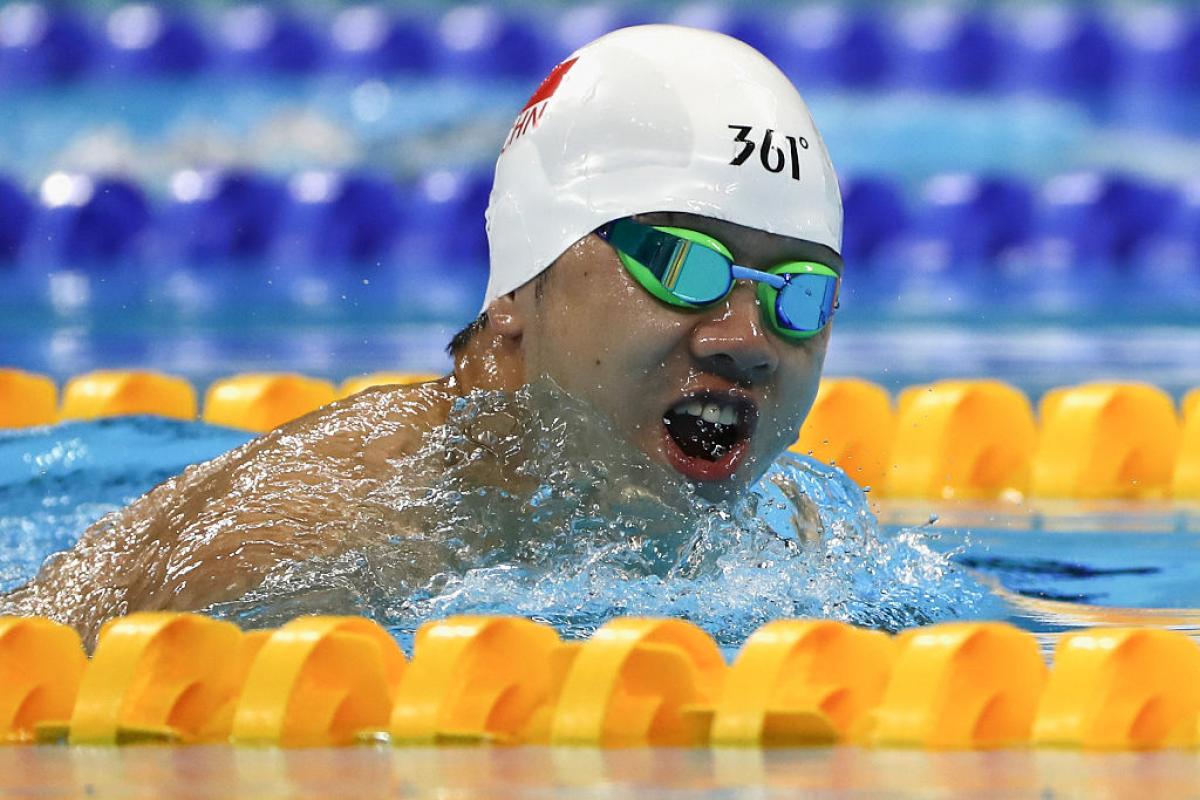 ⒸBuda Mendes - Getty Images
By Becki Ellsmore | For the IPC
"Destiny may be unfair, but effort is enough, as long as you try and try hard, there will be accomplishment. Never dream of getting without doing."
After a memorable Paralympic debut, Chinese swimmer Huang Wenpan has plenty to prove at the upcoming 2017 World Para Swimming World Championships in Mexico City.
He made a splash at Rio 2016, where he finished as the third-most decorated Paralympian, after winning five gold medals all in world record fashion.
"Keep or even break my [world] records," Huang simply said about his goals at Mexico City 2017.
However, Huang was prevented from a clean sweep of golds by Ukraine's Dmytro Vynohradets, who finished ahead of Huang in the 50m backstroke S3. The Ukrainian had been narrowly beaten into second place by the 21-year-old in three of their races.
But it is not only Vynohradets whom Huang knows will be a challenge at Mexico City 2017.
"Everyone who makes it to the finals is strong and admirable," Huang said.
Vynohradets, 32, has competed at three Paralympic Games and four World Championships since 2006, winning four gold medals and one silver medal at the last Worlds in Glasgow, Great Britain, in 2015. Experience would be on Vynohradets' side.
For Huang, he took up swimming in 2010, having previously been a table tennis player. He started learning to swim when the local disability federation came to his hometown in a search for new swimmers.
Each race he comes out of is a good feeling.
"I have more and more confidence after participating in two international competitions. The World Championships will be my third international meet, so I am no longer nervous," he said.
After the intense training and preparation in the lead-up to Rio, Huang has taken time out before returning to training.
"Now I just started training after a long vacation since Rio. I am doing four hours training for five days a week, including strength training. When it's closer to the competition, it will be less intensive."
As for any specific preparation for Mexico, Huang is cool, calm and collected: "There is nothing special except keeping up with the coach's training plan."
He also has some words of wisdom to help him through the training schedule.
"Destiny may be unfair, but effort is enough, as long as you try and try hard, there will be accomplishment. Never dream of getting without doing."
Looking further into the future, Huang has Tokyo 2020 in his sights. "I am hoping for it. The meaning of life to me is continuous competition and learning."