Mumuni uses para-cycling to improve lives in Ghana
The London 2012 Paralympian hopes to use his experiences to inspire people with impairments in his country to take up sport.
28 Dec 2015
Imagen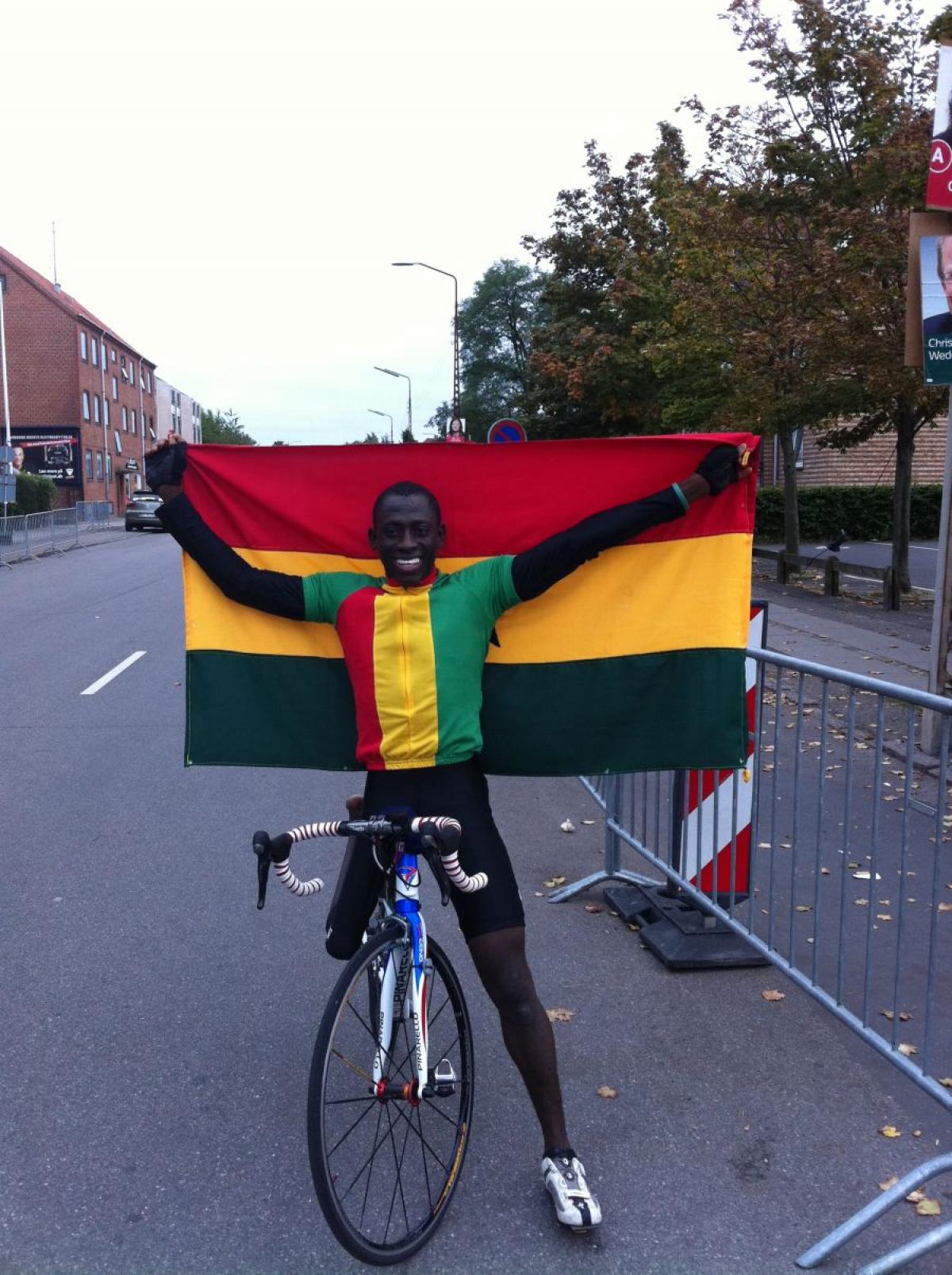 ⒸRight to Dream
By UCI
"I got fame (as a result of the Paralympics) and that had a lot of impact on society. It gave me connections and introduced me to people who supported my cause."
Ghana's first Paralympic cyclist Alem Mumuni has used his notoriety to create the Alem Foundation and help his country's under-privileged children and their families.
Mumuni made history in 2012 by becoming the first para-cyclist from Ghana to qualify for the Paralympic Games. His final two months of preparation were spent in Great Britain, and at the London 2012 Opening Ceremony, he was the proud flag bearer for his country's four-strong Paralympic team. Then he was stopped in his tracks by chicken pox, followed by a chest infection. Determined to live his Paralympic dream, he lined up at the start despite his poor health, finishing last in the time trial and, too weak to continue, pulling out of the road race the following day.
"Every athlete's dream is to be at the highest level of their sport," Mumuni said. "For me, that meant the Paralympics. It was my greatest dream. After qualifying and doing all the training, to be brought down by chicken pox was tough and very painful."
Mumuni's Paralympic legacy
However, even without the desired results, his Paralympic campaign was a tremendous success.
"We (the Ghanaian team) were representing our country and our continent but most importantly we were representing people with disabilities on the continent," Mumuni said.
"It has made a huge change in Ghana to the perception that persons with disabilities are social parasites… beggars."
On returning to Ghana after London 2012, Mumuni set up the Alem Foundation together with Great Britain's Alexandra Main, who had coached the Ghanaian Paralympic team to London 2012, and Business Development Manager Alistair Lamond.
"I got fame (as a result of the Paralympics) and that had a lot of impact on society," Mumini said. "It gave me connections and introduced me to people who supported my cause."
His cause is to educate children and provide basic amenities to less privileged villages in his country. The Alem Foundation currently sponsors 33 children in the village of Akosombo to attend school. While waiting to raise the USD 22,000 necessary to build a water treatment plant in Old Akrade, the foundation has already bought water filters for 72 families. Other projects include registering children in the public healthcare system, funding necessary operations for disabled or sick children, and refurbishing a school. The list goes on.
A polio survivor and schoolboy
A quick look back at Alem Mumuni's earlier life explains his desire to provide families with clean water and a good education.
At the age of 2, the young Ghanaian contracted polio, for which one of the known causes is contaminated water. Amazingly, he survived, but without the use of his right leg. He spent the next eight years crawling until he eventually learned to walk with the help of a wooden stick. Meanwhile, one of his cousins, recognised that he was extremely intelligent, relentlessly campaigned his father to send him to school.
"I was 10 when I started walking and 12 when I started school. My family didn't understand how I would get through school but my cousin kept insisting. I was the first child in my family to go to school."
It was a turning point in his life, and he relished the chance to learn, despite the difficult 5km walk to school each day. While people with impairments were often treated as outcasts, Mumuni was not going to let preconceptions get in the way of his life: "I got involved in anything that other kids could do."
That meant riding a bike. After many falls, he got the hang of it and discovered mobility. In 2004 he moved to the capital, Accra, to further his education and joined the Ghana Society of Physically Disabled. He played basketball, volleyball and football, and was part of the Ghana National Amputee Soccer Team that qualified for the World Cup. But finally the all-round athlete decided to concentrate on cycling.
He entered his first-ever African Championships in 2009, winning the continental title in the C2 sport class. Other international races followed, including UCI Para-cycling Road World Cups and the 2011 UCI Para-cycling Road World Championships, as he tried to secure qualification for the London 2012 Paralympic Games.
Chasing qualification for Rio 2016
More than three years on, it is still possible to detect the immense frustration of his untimely illness in London. However Mumuni has a proverb for every situation. For this one, he quotes American inventor Thomas A. Edison: "Our greatest weakness lies in giving up. The most certain way to succeed is always to try just one more time."
The Ghanaian athlete is doing just that. Rio 2016 is just around the corner and the three-time African Champion is chasing qualification points. He attended the UCI World Cycling Centre's para-cycling training camp in November to get the highest level coaching advice possible. He will need to compete in some international competitions to try to guarantee a slot in Rio next year. It is a huge investment, mentally, physically and financially, but he knows why he is doing it.
"I love cycling but I am also using it to give back to society. My biggest aim is to give children the opportunity to get an education and to give them a quality of life to be our future leaders. So finally, when people ask me if my disability has been a curse, I can honestly say: `No, it has been a blessing.´"