Name the mascot for 2016 swimming European Open
A social media poll has been launched for fans to vote between the names Funcho, Caco and Poncha.
30 Oct 2015
Imagen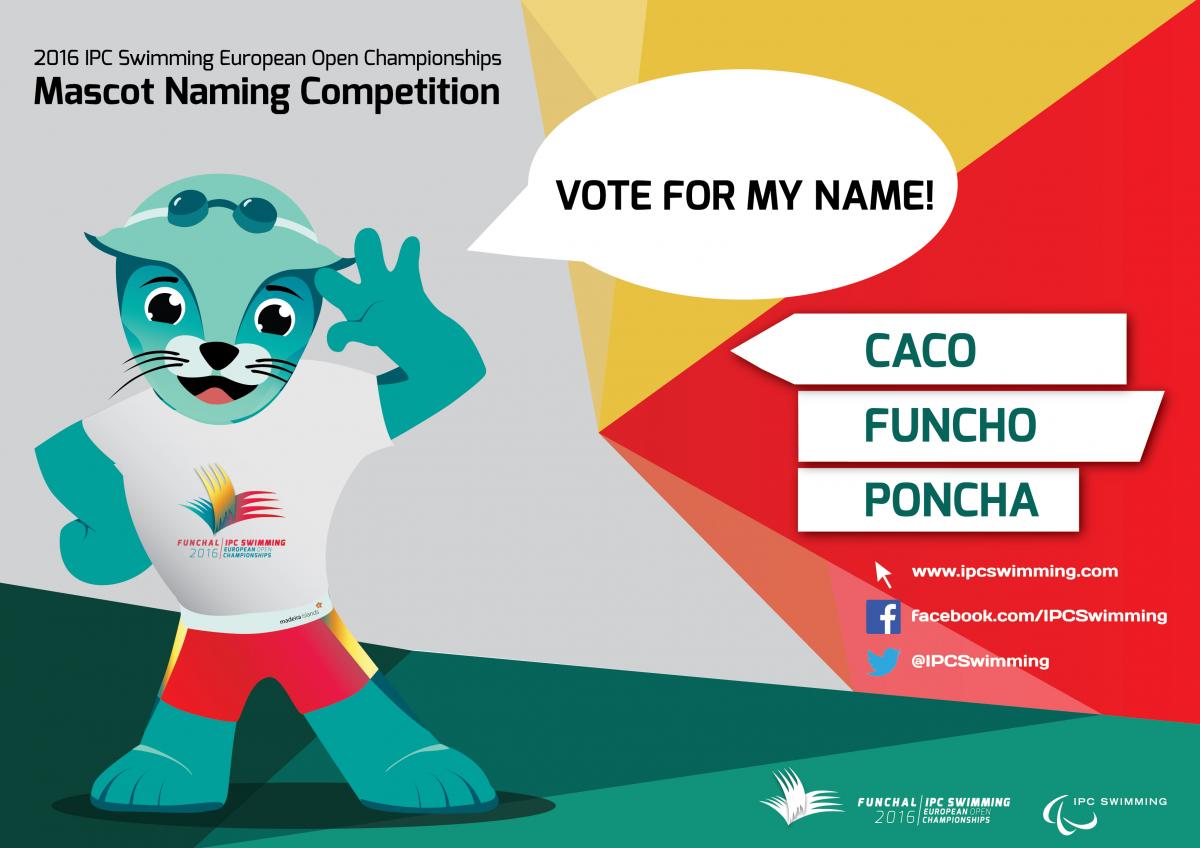 By IPC
Para-swimming fans are being given the chance to vote for the name of the mascot for the 2016 IPC Swimming European Open Championships, to celebrate six months to go until competition gets underway on 30 April in Funchal, Portugal.
The mascot, a monk seal unveiled on Friday (30 October), represents the unique setting for the Championships which will be hosted on the island of Madeira. The monk seal is a protected species and a colony lives on the island.
The Championships talisman is a colourful, friendly character complete with goggles on his head, t-shirt and a pair of swimming trunks.
Fans can vote for their favourite name at Facebook.com/IPCSwimming by liking the image with their favourite name or @IPCSwimming by retweeting their choice. The name with the most combined likes and re-tweets will be the winner.
The three names, selected by the Local Organising Committee of Funchal 2016 to reflect the culture on offer in Madeira, are:
1. Funcho – Madeira's local plant which gave the name to the archipelago's capital – Funchal. It is frequently used to make tea, lollipops, sweets and cakes.
2. Caco – Traditional bread well known for its use in local cuisine.
3. Poncha – Traditional local drink that can be made with local fruits such as passion fruit, banana or pineapple.
Voting ends at 4 pm on 6 November 2015.
The 2016 IPC Swimming European Open Championships are expected to feature around 450 athletes from 50 countries between 30 April – 7 May.
The event is organised locally by the Portuguese Swimming Federation (FPN) and will take place at the Complexo Olimpico de Piscinas da Penteada.
As well as competing for European titles, athletes will also have the chance to test themselves at the last major competition, and qualifier, ahead of the Rio 2016 Paralympic Games.
Media accreditation for Funchal 2016 was also opened with six months to go at Funchal 2016 website.
Portuguese
Funcho, Caco ou Poncha? Vote no nome para mascote do 2016 Europeu Open
Lançamento na net de campanha para votação para nome da mascote para o Europeu de natação adaptada Funchal 2016, IPC Swimming Championships European Open.
Começa hoje a votação junto dos adeptos da natação para a escolha de um dos três nomes para a mascote dos campeonatos: Funcho, Caco e Poncha.
Quando faltam seis meses para o 2016 IPC Swimming Championships – Europeu Open, que decorre no Funchal de 30 de abril a 7 de maio -, a organização pretende marcar essa data dando oportunidade aos fãs da modalidade para votar na escolha do nome da mascote, o 'lobo marinho', uma espécie única que vive em território português, nas Ilhas Desertas do arquipélago da Madeira.
A mascote, apresentada esta sexta-feira, será o símbolo dos campeonatos que decorrem na Madeira. A imagem é colorida, amigável, com óculos de proteção na cabeça, t-shirt e uns calções de banho.
Os fãs podem votar no seu nome favorito no Facebook.com/IPCSwimming com 'likes' na imagem com seu nome favorito ou IPCSwimming através de retweets sua escolha. O nome com mais 'likes' mais 're-tweets' será o vencedor.
Os nomes, pré-selecionados pelo Comité Organizador Local do Funchal 2016, reflete a cultura e os símbolos da Madeira:
1. Funcho - planta local da Madeira, que deu o nome à capital do arquipélago - Funchal. Uma erva medicinal frequentemente usada para fazer chá, doces e bolos.
2. Caco - Pão tradicional bem conhecido por seu uso na culinária local.
3. Poncha - bebida local que pode ser feita com frutas locais, como maracujá, banana ou abacaxi.
A votação termina às 16.00 de 6 de novembro.
Os 2016 IPC Swimming Championships European Open terão cerca de 450 atletas de 50 países a competir no Funchal entre 30 abril - 7 maio.
O evento é organizado localmente pela Federação Portuguesa de Natação (FPN) e decorre no Complexo Olímpico de Piscinas da Penteada.
Para além de competirem pelos títulos europeus, os nadadores terão uma das derradeiras oportunidades para se qualificarem para os Jogos Paralímpicos Rio 2016.
A creditação para a imprensa para o Funchal também foi aberto a seis meses do inicio do evento em Funchal 2016 website.