No relaxing weekends for Carlotta Gilli
Italian swimmer takes part in able-bodied events to prepare for Tokyo
30 May 2019
Imagen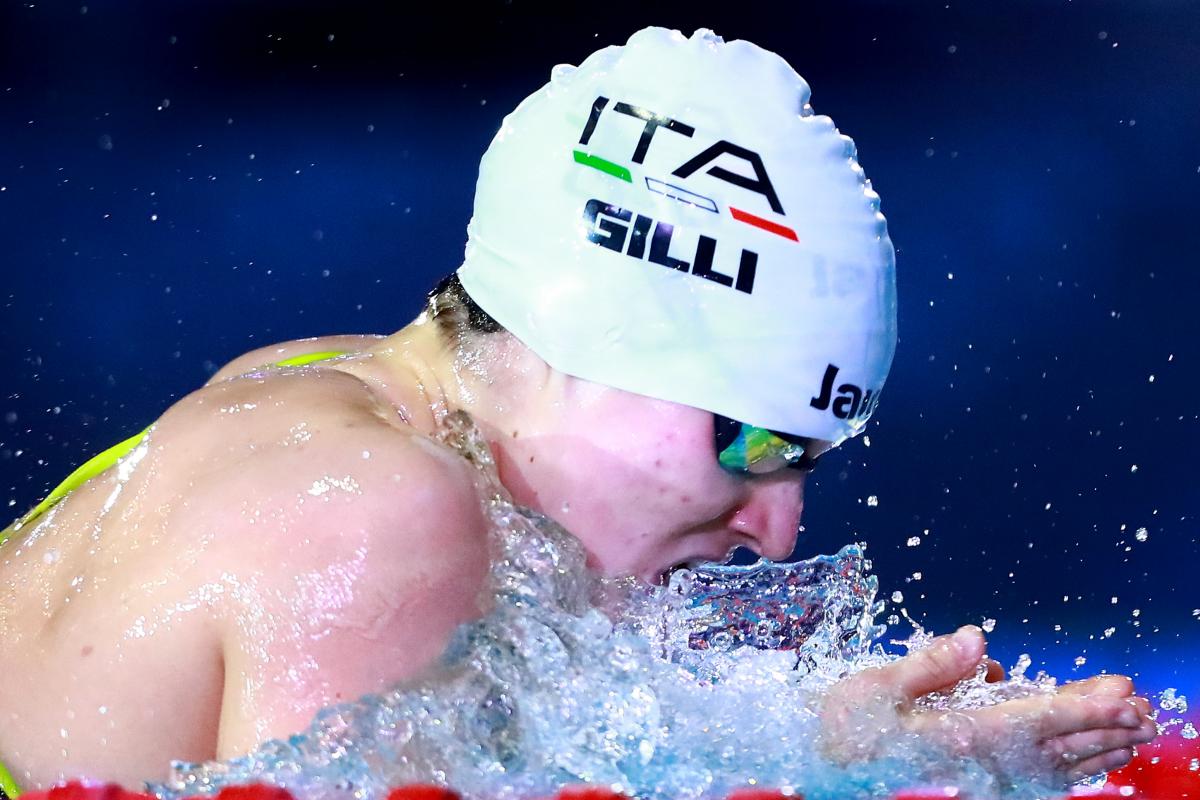 ⒸGetty Images
By Amp Media | For World Para Swimming
Aiming for her first Paralympic Games, Carlotta Gilli mixes Para swimming with able-bodied swimming competitions in her home country Italy.
"I like this balance very, very much," the 18-year-old said.
"I started out competing only with them [able-bodied] and then I arrived in the Paralympic world. So I think that personally it's very, very important that I continue to compete there because I can watch those athletes in competition, how they prepare it, and for me this could be very important."
Another benefit from competing with able-bodied is that it means less time spent training.
"I really like doing the competitions and I don't really like the training," Gilli admitted.
"So I always do a lot of competitions, throughout the year. Some friends say that I'm crazy for this because sometimes they say 'come on, just relax for a weekend' but I say that I prefer doing competitions. When I have the opportunity to compete I go for it."
Since visually impaired Gilli was classified as a Para swimmer two years ago, she has indeed gone for it.
At her first major international event, the Mexico City 2017 World Para Swimming Championships, she won five gold medals and one silver and at the Dublin 2018 European Para Swimming Championships she proved it had not been beginner's luck adding four gold and a bronze to the collection.
"Obviously all of this was fantastic," she said.
"But in my life, nothing has changed. I continue to study in my school, to train with my group and to do the same competitions as before. But this gives me the opportunity to do more competitions, also internationally, so I can also travel around the world and swim and that's fantastic."
Inspiration from Rio on TV
Gilli was six when started to lose her eyesight, suffering from a condition called Stargardt disease.
"I don't remember what was before, so for me this life is normal and I try to do everything I want," she said.
Having taken her first strokes in a pool when she was four, she started to swim in a club in 2011. The sport immediately became a big part of her life.
"Swimming is my life. I can't imagine a life without swimming, training, going on competitions and being with my team. I'm so happy with my life and I want to continue living it like this," said Gilli, who has trained alongside Olympic medallists such as Filippo Magnini and Federico Cappellazzo.
The big dream is to win at the Tokyo 2020 Paralympic Games, however, Gilli is aware that there is still a long way to go.
"I think that if I could go it'd be like a dream that became reality. I think that every athlete thinks that the Olympic and Paralympic Games are the best competitions that you can go on so I continue to do the competitions and train to go there," she said.
"In Rio I was watching the Paralympics on TV and saw all the Italian athletes winning a lot of medals, so if I could go there, it would be a very, very happy moment for me."
Judging by her recent results, the Italian is on the right path to pursue her Paralympic dream next year. In the last weekend of April, she won four medals at the World Para Swimming World Series in Glasgow, including a 100m backstroke win ahead of Alice Tai (GBR) and Xinyi Wang (CHN) who both swam in world record times in their respective classes.
"I know that qualifications for Tokyo are not so easy because it's the most important competition in the sport," she said.
"But I don't want to change anything (in the preparations) because it's going well and I stay well with my group and my coach so I want to continue with him this way and see what happens."
Now full focus is on the next World Championships, in the London Aquatics Centre in September. However, before that, Gilli will get to compete in front of a home crowd as the WPS World Series comes to Lignano Sabbiadoro this week.
"I think that it's very, very important to host this," she said.
"Both for us Italian swimmers, so that we don't have to do a very long travel, but it's also an opportunity to host an international competition at home."
Family support
Gilli picked up Para swimming having met Rio 2016 SB5 100m breaststroke fourth-placed Marco Dolfin, who is also from her hometown Turin. She hopes that the World Series event could get more Italians to take up the sport.
"Maybe some athletes who don't know the Paralympic world can come to Lignano, see the competitions and join it," she said.
With the home support she won two events and a total of five medals at 2018's Lignano World Series stop.
"Last year was very, very beautiful because you're in your country so you know a lot of people and it's easier for your family to come there than to come to, for example, Glasgow," Gilli said.
Her parents and grandmother have however travelled to Mexico City, Dublin and many other places to follow her competitions, and there is no doubt about who will make most noise at Lignano.
"It will definitely be my grandmother," Gilli said.
"Since I was a child, she has followed me in every moment, also in training. She has learned everything about the times and the events in Para swimming and it's always been fantastic to have her in the stands."