Oliveira prepares to take world title in Lyon
Brazilian training hard to claim title and world record in France this summer.
30 May 2013
Imagen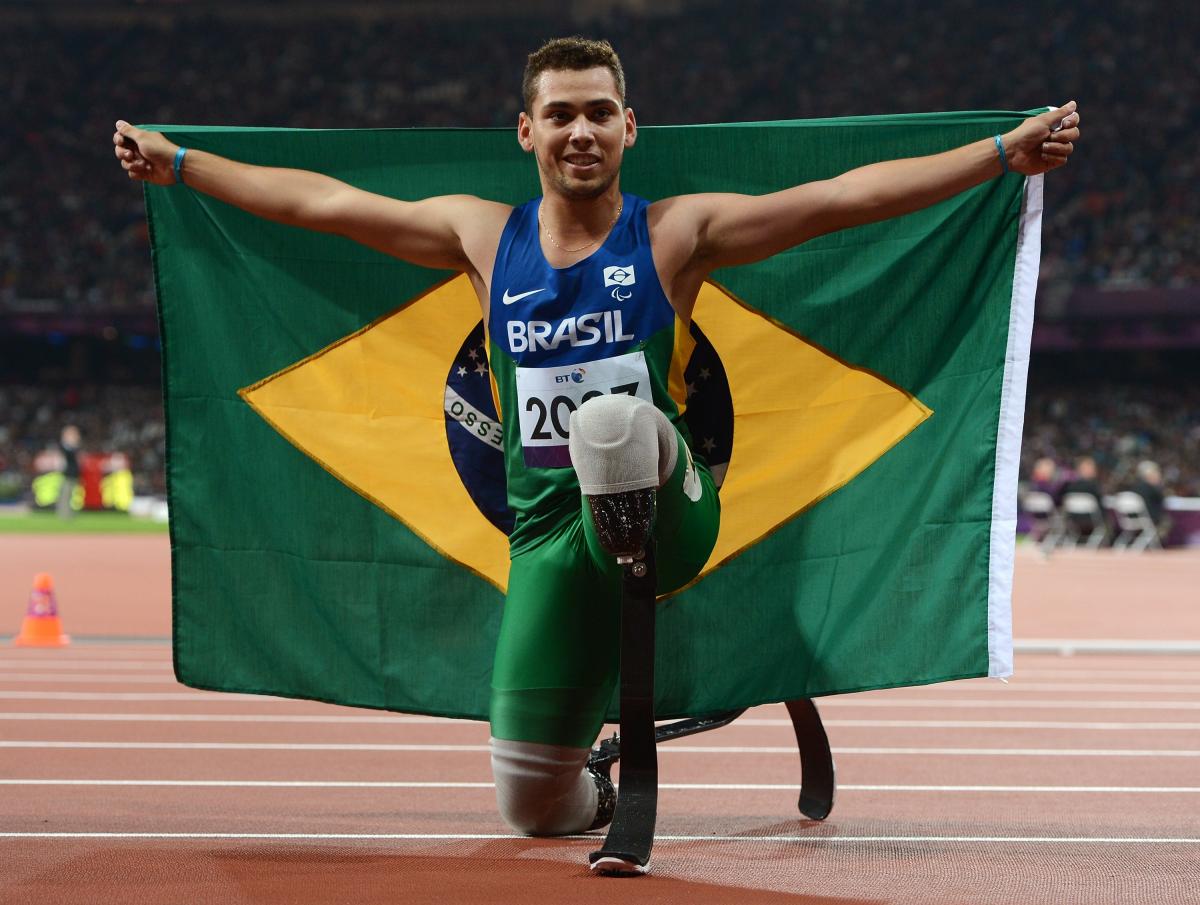 ⒸGetty Images
By IPC
"It's a dream to be the world champion and of course to get the best time in the world as well"
With just 50 days to go until the start of the 2013 IPC Athletics World Championships in Lyon, France, Brazil's Paralympic champion Alan Oliveira believes he is on track to clinch the 200m T43/44 world title and add the world record to his ever-growing list of achievements.
Oliveira raced in to the history books nine months ago at the Paralympic Games in London when he clinched victory in the 200m T44, taking the title from the two-time 200m T44 Paralympic and World Champion from South Africa, Oscar Pistorius.
Oliveira clocked 21.45 seconds over 200m in London, just 0.15 seconds shy of the T43 world record set by Pistorius in the heats, but now he believes he has what it takes to make that record his own.
"It's a dream to be the world champion and of course to get the best time in the world as well," he said. "If it comes at the same time it's better, but if not I need to be patient and each thing will come at the right time – but it's definitely possible."
The win in London propelled Oliveira on to the front and back pages of newspapers around the world. As the first man to beat Pistorius over 200m, he quickly became the face of Rio 2016 and a celebrity in his homeland.
Since the Games, Oliveira has - amongst a host of accolades and public appearances - received Brazil's Order of Merit; he was also named in SportsPro magazine's list of the world's top 50 most marketable athletes.
But success certainly comes at a price. When he steps out in the streets in Brazil, crowds gather round: "It can be hard, when you win a gold medal and your life doesn't carry on in the same way," he admitted.
But Oliveira has not let his newfound celebrity status get in the way of hard work on the track. The quietly spoken 20-year-old remains focussed on what is still most important to him – training hard, and winning races.
"Life changed a lot, especially in the beginning of the year. At the time I couldn't reconcile with it, but now it's much better and I am able to train. And I am ready to train even more to be ready for the World Championships," he said.
Still, Oliveira doesn't shy away from his supporters – racing at the BT Great CityGames in Manchester, Great Britain last weekend (25 May) he waved to the crowd and soaked up the cheers as he paraded the length of the city centre track after winning the 200m. "I was very happy with the reception in Manchester as the British have been great to me," he added.
Prior to that memorable day last September, Oliveira was a relative unknown, despite medalling at the Paralympics in 2008 and at the World Championships in New Zealand two years ago. There's no denying the stakes are now higher, but any added pressure he just takes in his stride.
"There is definitely much more pressure upon me," Oliveira explained through his translator. "But I really like the pressure and it will really motivate me to go ahead and get the best results.
"I just try to do my work and do my training, and worry about the competitions - nothing else."
It may be just as well he doesn't mind any added pressure, for there are a number of other young athletes, hungry for success, and with the ability to match, all trying hard to race out of his shadow.
South Africa's Paralympic 100m T44 bronze medallist Arnu Fourie and US Paralympic 200m T44 bronze medallist Blake Leeper are just two of the many talented young sprinters close on the Brazilian's heels. But that doesn't worry him.
"For me, it is much better to have stronger competitions, as that means Paralympic sport is growing much more," he explained. "I'm always looking to do the best for myself; I know there are loads of athletes that want to beat me in the race but that is the right thing. If I had won the silver medal in London I would be training hard to win the gold medal, so that is what is happening to the other athletes.
"But I'm not worried about the other athletes, I'm just looking forward to my work and nothing else. Each competition that I go to I'm going to try and do my best and put on the best performance, and then I just try to make sure everything goes right on the day."
The 2013 IPC Athletics World Championships will take place from 19-28 July in Lyon, France.
Around 1,300 athletes from 90 countries will compete in the biggest gathering of international athletes since London 2012.