Opening day of sailing contest has all the elements
Leading Para sailors deliver – as does the weather – as the sailing competition gets underway at the Rio 2016 Paralympics.
12 Sep 2016
Imagen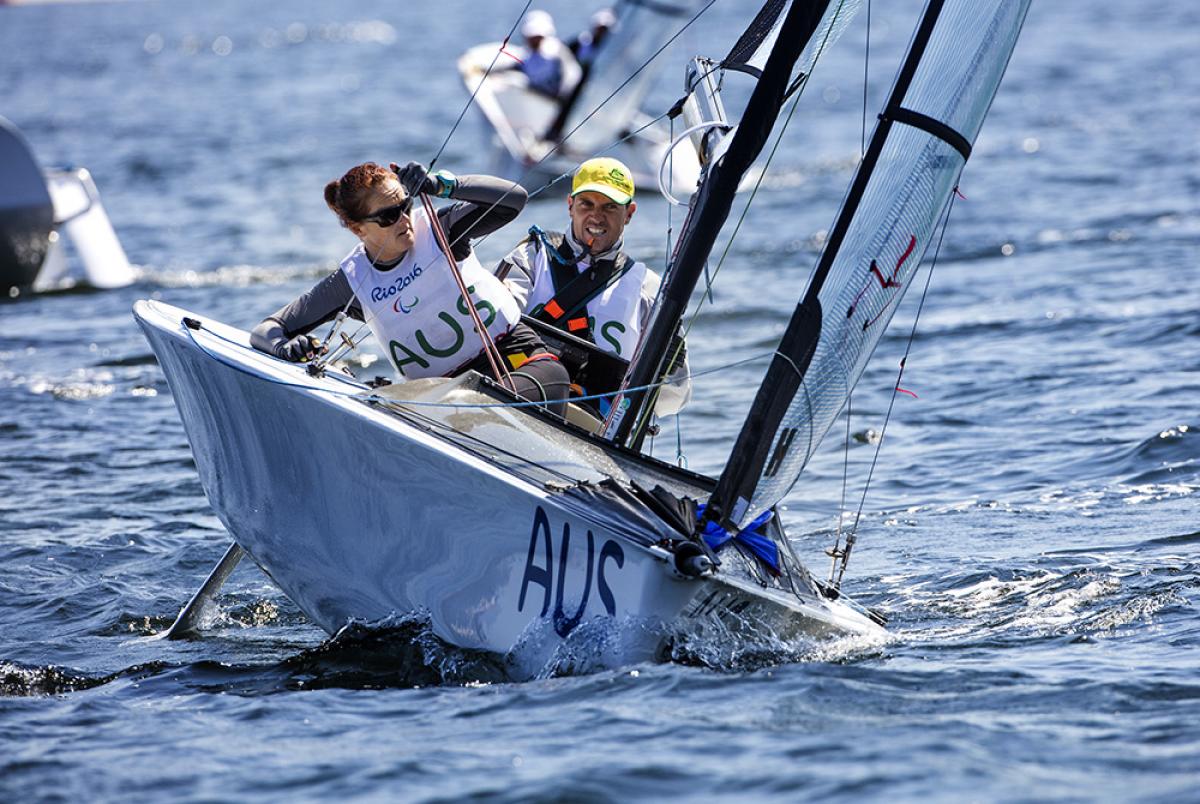 ⒸWorld Sailing
By World Sailing
Glorious sunshine and a 10-knot wind provided the perfect weather conditions for the opening day of the sailing competition at Rio 2016 on Monday (12 September).
And it was not just the elements that delivered as current Paralympic champions continued where they left off from London 2012, leading their respective fleets.
In the hotly-contested 2.4 Norlin OD class the pre-Games favourites all justified their tags with a bunched top six. But it is current Paralympic champion, Great Britain's Helena Lucas, who has edged in front with an impressive first race win and second placed finish on the Pao de Acucar (Sugarloaf Mountain) race area to end the day on three points.
Lucas said: "The first race was a little bit easier for me because I managed to get my nose out in front from the word go and had a little bit more breathing space. But the second race was an absolute fight.
"I think there were six of us just fighting like crazy for second place. It was snakes and ladders the whole time. Luckily I finished on a ladder not a snake. It was really close racing."
Germany's Heiko Kroeger, who seemed to be one step behind the Briton all day, sits in second overall on five points for his opening day efforts.
In the SKUD18 competition the champions continued to reign as Australia's Daniel Fitzgibbon and Liesl Tesch took a bullet and a second place to sit top of the leader board on three points.
Fitzgibbon said: "I don't think we have pressure on us but if we sail well we know we will be competitive so what happens, happens and we are just happy to be out here. We're just going to give it a go and put pressure on and see who can handle it."
With compatriot Matt Bugg going well in the 2.4 Norlin OD and the SKUD18 team leading the way in their fleet, it was down to Colin Harrison, Russell Boaden and Jonathan Harris to carry the baton for Australia in the Sonar to end a good day for the land down under.
The Australians led at every mark on the Escola Naval race area in race one to take the bullet and followed it up with a second place to sit on top of the leader board with three points.
Harrison said: "It was about getting a clear lane early, focusing on boat speed and then just working the shifts. It wasn't tough in that they were huge shifts but there was enough pressure and you had to be on the right side of it."
Before the competition began there was a moment of reflection as Technical Delegate David Staley led a moment of silence for Ian Harrison MBE who died in August. A pioneer of disabled sailing, Harrison was key to the sport being accepted as a Paralympic medal sport in 2000.
Racing continues on Tuesday (13 September) with two races scheduled for all fleets. There will be a switch in the race areas as the 2.4 Norlin OD and SKUD18 race on the Escola Naval area and Sonars move to the Pao de Acucar (Sugarloaf Mountain) race area.