Overtime drama as Australia and USA secure victories
Incredible day of wheelchair rugby action sees sport's top nations finally confirm their places in semi-final line-up for Rio Paralympics.
16 Sep 2016
Imagen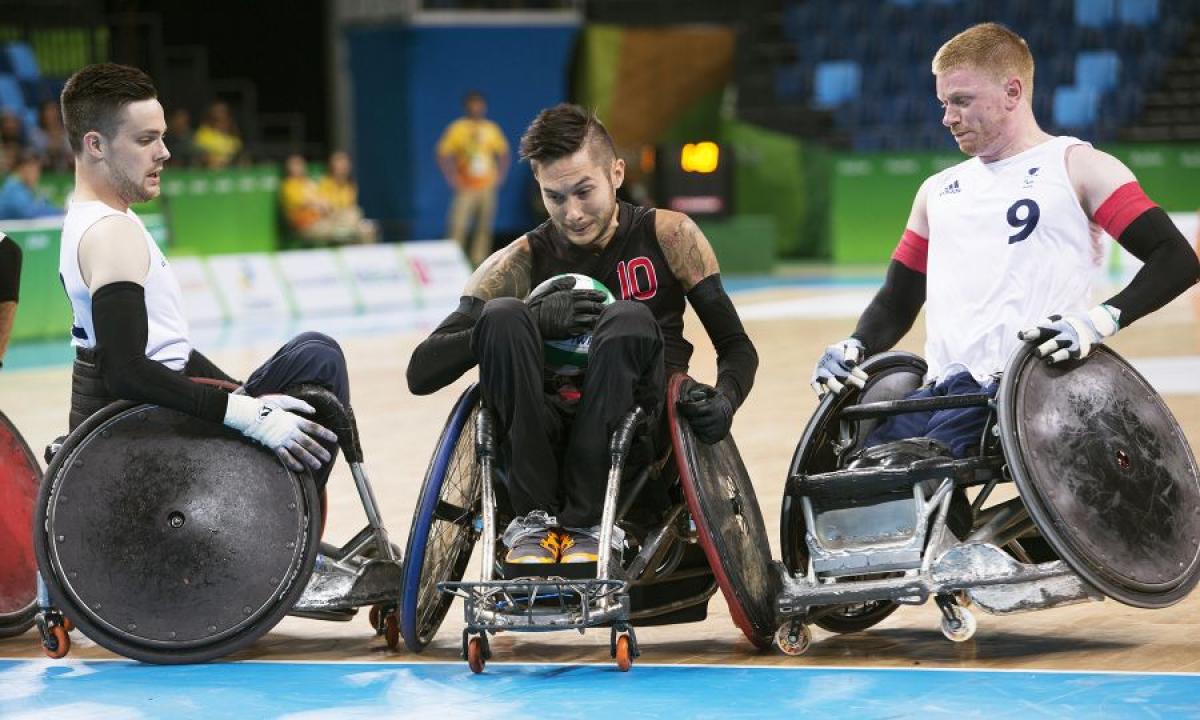 ⒸCWSA/Kevin Bogetti-Smith.
By By Beau Greenway | for the IPC
Final pool standings were decided after a remarkable day of wheelchair rugby action at the Carioca Arena 1 on Friday (16 September), with the world's top four ranked nations primed to fight for the medals.
Australia and the USA topped their respective pools with epic overtime victories against Canada and Japan in what will go down as one of the most memorable days of competition in the sport's history.
The day started with Sweden notching up its first win of the tournament with a much-improved performance against France, after a dominant second half gave them a 55-47 result.
High-pointer Tobias Sandberg said it was nice for Sweden get back to the way they know they can play.
"I think were afraid to win the other games and we didn't play the game we're used to, we kept going back and playing their (Japan and USA) game every time," Sandberg said.
"It felt like there was a lot of chaos and I'm not really feeling our game yet, I think we have a lot more to give, but it felt good to be back in the game today."
The Swedes will now face the Great Britain in the fifth and sixth place playoff tomorrow.
"Great Britain have stepped up a lot since Europeans last year and it's going to be a really tough game," Sandberg added.
France's Riyadh Sallem admitted fatigue was an issue for him and his teammates today.
"We were very tired, the same players have played a lot of minutes and we lost a bit of consistency," Sallem said. "In the third quarter, Sweden dominated and made a lot of space in the fourth quarter."
France must now regroup for the seventh and eighth place playoff to ensure they don't finish the competition in last position.
"It will be a nice match and we hope to be perfect," Sallem said. "I would also like to bless the organisation and the Brazilian public for their support."
Great Britain were able to snap their losing run with a dominant 52-32 win over Brazil to qualify for the fifth and sixth place playoff.
Young gun Jamie Stead said while it was disappointing to be out of medal contention, the group wanted to put on a professional performance.
"We had a chat last night and have a good team spirit so we wanted to come out fighting to show everybody what we're capable of," Stead said.
"It's been absolutely amazing, I've enjoyed every minute and it is so great to get off the mark and get my first win as a Paralympian. Hopefully there is more to come."
Sweden await Great Britain in their final game of the tournament in what will be a replay of the 2015 IWRF European Championships final.
"It's a very important game, we had a close final with them at the Europeans where we won by one, but we'll go out there and put on a show again," he added.
Brazilian captain Higino said the form of Jim Roberts and Ajaz Bhuta from the beginning made it very difficult for his side to catch up.
"It has been a big learning curve for us and we need game like this to improve our game," Higino said.
"I think we have improved a lot since the Para Pans in Toronto last year, we have a new player Julio Braz who didn't play then and he is going to be a very big player for us."
Despite being relegated to the seventh and eighth place playoff tomorrow, there is still plenty at stake for the Brazilians and they hope the home crowd can come out one last time to support them.
"If we win we will move up 12 positions in the world rankings, which is important for us to try to get to the World Championships in 2018 and Tokyo 2020," Higino said.
"It has been amazing, even if we lose points they (the crowd) stay with us. I don't have words to describe this, it's incredible."
USA and Japan met in defining match for the make-up of Pool B, with the world No.1's holding off a talented Japanese side in overtime to top the group in epic fashion.
A Josh Wheeler break in the final stages of regulation time led to Chuck Aoki scoring with less than a second on the clock to send the game into an additional three-minute period.
With the scores locked at 56-56 with just over five seconds on the clock in overtime, the game look destined to be extended further, until the pair combined again with a Hail Mary pass from Wheeler landing in the lap of Aoki who scored the most unlikely of goals to win the match for the USA.
USA coach James Gumbert expressed his relief after a match which could have easily gone either way.
"We were fortunate enough to come away with the victory against a quality team," Gumbert said. "From our view on the bench it looked like Chuck didn't see the ball for a second. He might have lost it in the lights, but when he caught it we weren't sure if he was going to have enough time.
"We pushed every push with him, made every pass with him from the side lines and score every goal with him, so honestly that entire team scored that goal tonight."
The USA will come up against Canada in the semi-finals.
"It will be a rematch of some kind, at the end of the day the fans will be the ones that win because we are able to put on a fantastic show," he said.
Japan's Seiya Norimatsu said it was the speed of the USA team which ultimately proved the difference.
"This was the first time we went into overtime against them and we were this close to beating them, so it was certainly my best match against the USA," Norimatsu said.
"Regardless of the result, we feel very confident we take on any team and we will be playing to win the next match."
Australia and Canada rounded out the evening in a rematch of the London 2012 gold medal game, and it turned into another overtime classic, with the defending champions seeing off the Canadians 63-62.
A crucial turnover went Australia's way in the extra period which allowed their experience to shine through and came away with an extremely hard-fought win.
Australian captain Ryan Scott said his side wanted to earn it and fight hard.
"That was fun, but I don't know how much more the fans and our hearts can take it," Scott said.
"We backed ourselves in regulation time and we backed ourselves in extra time.
"We made it a bit difficult for ourselves because we had it set up for the win and let it go a bit, but we've prepared a lot for extra time and we knew this Paralympics was going to be the toughest it has ever been and would produce overtime games.
"I think it's going to set us up for finals because the next two games are going to be even tougher."
Australia's next opponent is Japan, but Scott has already got his eyes on a showdown with the Americans.
"I want to face them (USA) no matter what," Scott said. "People have said there is an asterisk over us after London, but if they're not there in front of us we can't play them."
Canada's Cody Caldwell reflected on his team's performance over the past two days, which have featured back-to-back overtime clashes.
"It would be nice to win every game in regulation time, but everyone is so competitive and it's hard," Caldwell said. "We did a great job fighting back both days and forcing overtime. Some days you get the bounces; you can't just pinpoint one in a game like that where there was over 120 goals.
"There is no give-up in this team. It stings right now, but we'll get over it and come back strong tomorrow against the USA."
Caldwell expects Saturday's match-up to be no different than the past two days in terms of intensity.
"Just like our last two games, it will be a hard-fought battle. We're really familiar with them and played them multiple times last year and had success against them," he said.
"I think we're pretty prepared and I'm sure they are too, so we'll come out tomorrow and fight till the end and see if we can win it before overtime."