From part-time exercise, to state-of-the-art training in 50 years
A look back on how training changed for the stars of Paralympic sport since the Tokyo 1964 Paralympic Games.
08 Nov 2014
Imagen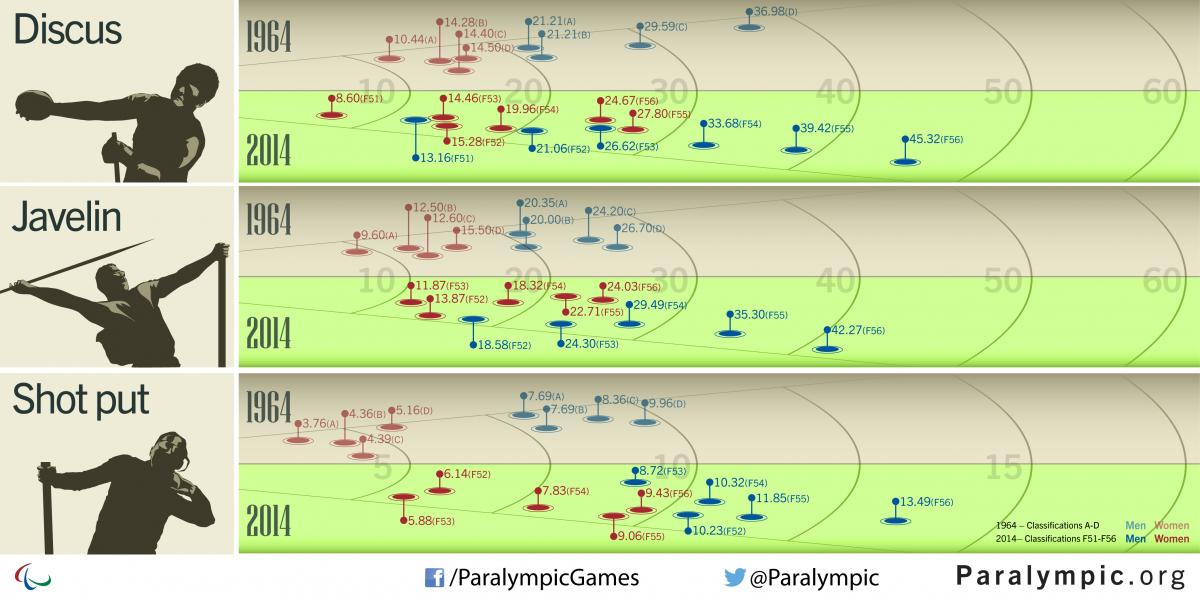 ⒸIPC
By IPC
"I started as a swimmer, but in those days, primarily because of finance, if you didn't multi-sport, then you didn't get selected because there wasn't enough money to take an athlete for an individual event."
Tokyo will become the first city to host the Paralympic Games for the second time in 2020 – the first time being 50 years ago in 1964.
Since then, the Games have changed dramatically.
Great Britain's Caz Walton was just 17 years old when she competed in her first Paralympic Games in Tokyo, and has since seen the Movement change out of recognition from her sporting debut.
In the Games of today, athletes are specialists in their chosen field, dedicating their lives to the training and lifestyle needed to reach the top of their game.
In 1964 however, if you didn't spread your sporting interests across multi-disciplines as Walton did, your chances of competing at the Paralympic Games were greatly reduced.
"I started as a swimmer, but in those days, primarily because of finance, if you didn't multi-sport, then you didn't get selected because there wasn't enough money to take an athlete for an individual event," she said.
"So I was training in about four or five sports, but I think probably athletics has been my most successful sport. It was the first ever track event - albeit 60m - in Tokyo, so I was lucky enough to be in athletics right from the beginning."
Training all hours
McKenna Dahl is one of the USA's brightest Paralympic talents. The 18-year-old shooter has recently moved to the Olympic and Paralympic Training Centre in Colorado Springs, the USA, to become a full-time athlete with the aim of competing at the Rio 2016 and Tokyo 2020 Paralympic Games.
The Training Centre allows athletes to be coached full-time, whilst being surrounded by the latest in sports science and technology.
"At the training centre, we usually try and shoot about four hours a day," said Dahl.
"Then we try to do workouts, mental training, journaling and everything like that, so we usually end up spending a lot of time thinking and working on shooting, as well as anything else we are working on now."
For Walton, who worked full-time to support her sporting aspirations, becoming a professional athlete was something unfathomable.
"I really had no concept that you could ever be a full-time athlete, and I needed to go out and earn a living so the job had to be done," she said.
"At that time I was just a receptionist at a building company, but I was absolutely nuts on sport and very competitive, so I put in an awful lot of training, but it was after work and it was at weekends."
She added: "Also, there wasn't any money around, so you had to pay for everything yourself and get annual leave off work to compete."
Technology breakthroughs
In 1964, technology and para-sport hadn't become intertwined like they are today. The Games saw the first athletics competition, but prosthesis and customised wheelchairs were still a long way off.
"When I raced first, I raced in my day chair and it was a thinner track which wasn't helpful," said Walton.
"Nowadays equipment is a huge part of an athlete's performance – that has been a gradual evolution. I think people were pretty much still using their day chairs for things until we went to Toronto in '76".
Technology has now advanced to unmeasurable levels, with Dahl benefiting from the latest developments to make sure she can achieve the best results at future Games.
"We have an altitude chamber, which you can go into for a little while and try to adjust to a different altitude." She said.
"You can change the humidity and how much air there is, so before Rio, we can go in there to adjust to what it is going to be like and get used to that climate."
Dahl also benefits from the latest in medical research, ensuring that she can recover quickly from any injuries and push her competitive levels to the max.
"We have access to doctors' right on the complex, and if they don't know what is going on, then we have a hospital right next door," she said.
"We get treatment for anything right away, which means we can get back to training as soon as possible, which is also really important in the lead up to the games."
The anniversary of the Tokyo 1964 Paralympic Games takes place from 8-12 November, with the Tokyo 2020 Paralympics scheduled for 25 August - 6 September 2020.