Peacock tweet ignites rivalry with Browne
"Do it when it counts and from the front then maybe I'll take notice……. ;)" Peacock tweets after Browne equals 100m world record
12 Jun 2013
Imagen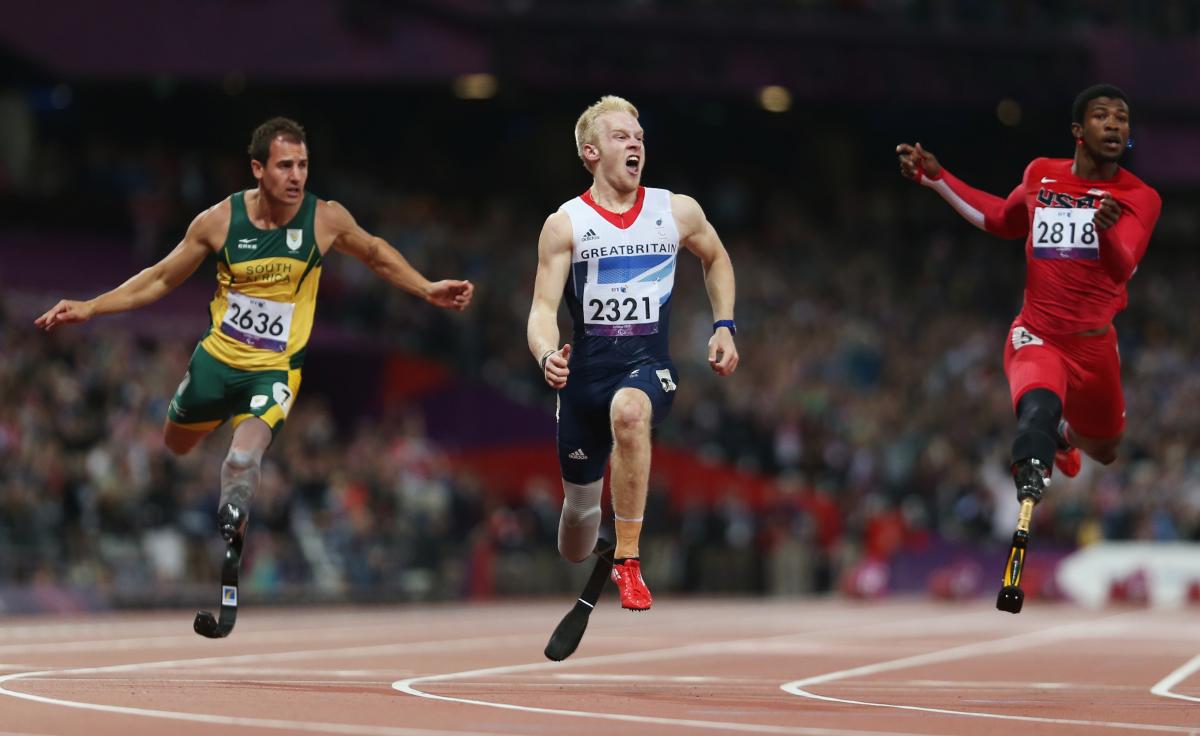 ⒸGetty Images
"do it when it counts and from the front then maybe I'll take notice……. ;)."
Great Britain's 100m T44 Paralympic champion Jonnie Peacock ignited his rivalry with Richard Browne ahead of next month's 2013 IPC Athletics World Championships by apparently dismissing the American's world record equalling performance from the weekend via Twitter.
On Saturday (8 June), 21-year-old Browne ran 10.85 at a meeting in Florida to equal Peacock's world record set last July. However, because the race at the Star Athletics Sprint Meet was not sanctioned by IPC Athletics, Browne's time will not stand meaning Peacock remains the sole record holder.
But on Monday night (10 June), 20-year-old Peacock appeared to show a lack of concern for Browne's performance by tweeting: "do it when it counts and from the front then maybe I'll take notice……. ;)."
Peacock's tweet appears to be a direct reference to London 2012, where, in front of 80,000 supporters, he led from the front to win Paralympic gold in a time of 10.90 seconds, leaving Browne to settle for silver in what was then a personal best time of 11.03.
Browne, a former high school American footballer, replied by laying down the gauntlet further to Peacock tweeting: "Look past Worlds!! It's really a race to 10.0 if anybody can do it it's either me or @JonniePeacock."
With just over a month to go until the World Championships in Lyon, France, Peacock appears raring to go and excited to renew his rivalry with Browne.
"@winged_foot congrats on the run!! Glad to see a sub 11!! Can't wait to get racing big man!! #respectthespeed," Peacock tweeted Browne.
He later added: "My legs have the jitters!! Just wanna go out and runnnn!! Have to keep it bottled up until the right time though!! #impatientboy."
Browne responded to Peacock's congratulatory tweet with "@JonniePeacock thanks man, C u at worlds. We'll give them another show!!!"
At London 2012, the men's 100m T44 final was one of the highlights of the Games with all eight finishers running under 12 seconds, and just 0.18 seconds separating Peacock in first and South Africa's Arnu Fourie in third. The final at the World Championships in Lyon is scheduled for 23 July.
Browne will aim to make the US team for Lyon and potentially break Peacock's 11 month old world record this weekend when he competes at the US Paralympics Track and Field National Championships which take place from 14-16 June in San Antonio, Texas.
To follow the rivalry between Peacock and Browne in the lead-up to Lyon you can follow both on Twitter – Jonnie Peacock @JonniePeacock, Richard Browne @winged_foot or IPC Athletics @ipcathletics
The 2013 IPC Athletics World Championships will take place in Lyon, France from 19-28 July. It will be the biggest gathering of international athletes since London 2012, with 1,300 athletes from 90 countries expected to compete.
For further information, please visit the official website for the 2013 IPC Athletics World Championships Lyon.
Related Images