Perales's incredible come-back
Spain's six-time Paralympic champion Teresa Perales made a stunning return at the 2014 Euros after serious illness and is more determined than ever for Rio.
28 Aug 2014
Imagen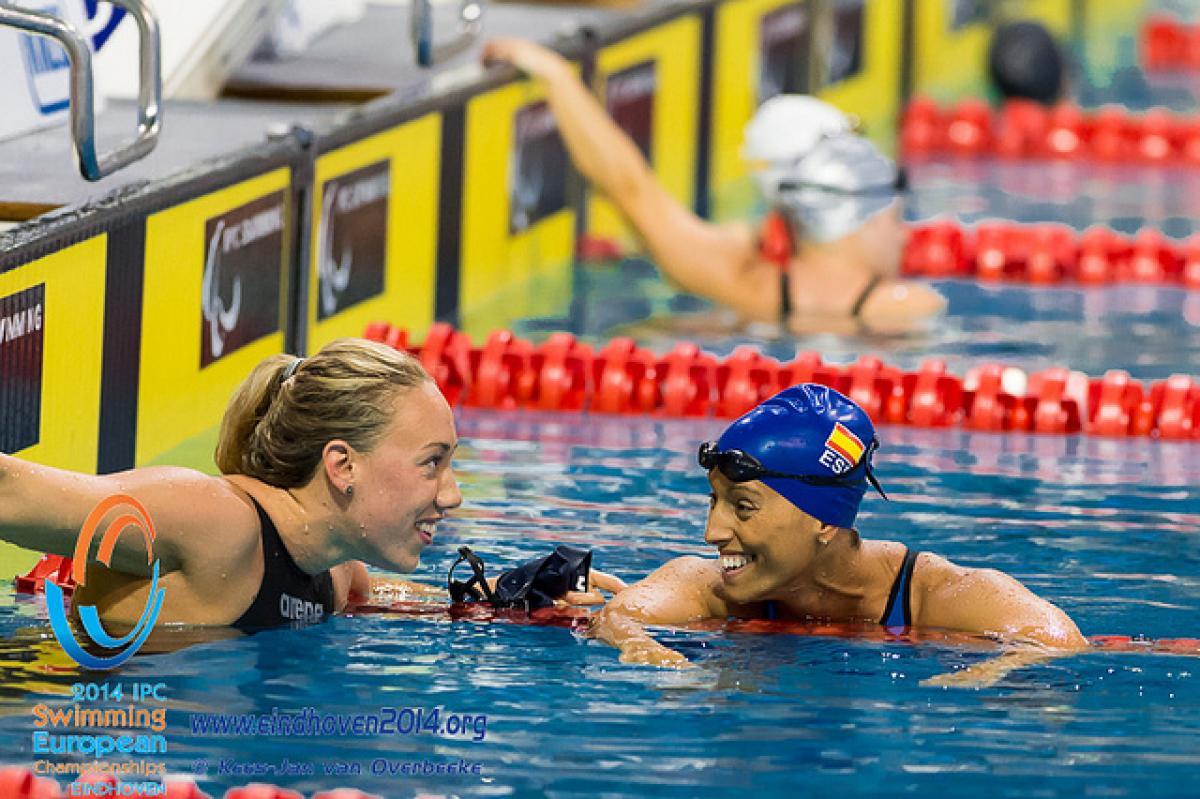 ⒸKees-Jan van Overbeeke
By IPC
"I don't want that my final race in Rio will be my last. I would like to enjoy this race and for that I need to keep training for one year more."
Teresa Perales, one of Spain's most successful ever Paralympians, has revealed her master-plan to get back to full fitness ahead of the 2015 IPC Swimming World Championships and Rio 2016 Paralympic Games.
The 38-year-old S5 swimmer, who missed the 2013 Worlds because of an illness that left her hospitalised, returned to competition at August's European Championships in Eindhoven, the Netherlands and won a stunning four gold and three silver medals.
"This coming back is really good for me," said Perales. "It means a lot of things. That I'm here, that I'm still competing. I look towards Rio and I hope to be there and I am training well."
Worryingly for her competitors, Perales has said that this season was just a baseline for 2015 and 2016.
"This is not my best year. It probably won't be my best races but I don't mind. Next year is the World Championships and I will try to do better," explained Perales who has won 22 medals at four Paralympic Games.
"I think, and I hope, that I can still bring my times down. I have done a lot of work in May and June, concentrated in two months. It has not been as good as I would like but I think I have done what I can."
It was not just illness that prevented Perales from training last year. Her local pool closed and then she did not have a dedicated lane in a 50m pool to swim in.
However, with the problem solved, Perales is confident of going into the 2015 World Championships in Glasgow, Great Britain – her first since 2006 - even stronger. She knows though that two swimmers in particular will pose a real threat to her medal chances.
"I have seen Sarah [Louise Rung of Norway] and Imbal [Pezaro of Israel] and I think they are very strong," Perales said. "They are always strong. Sarah is amazing, a very good swimmer with a very good technique. Her body is very strong.
"Imbal has experience and everything she needs to win."
Double Paralympic champion Rung won four gold and four silver medals in Eindhoven, beating Perales in three out of the five events they went head-to-head in.
Despite younger competition, Perales says her son, her character and an element of defiance drive her to keep competing.
"Everything is in my mind and my spirit. I love swimming," she said. "I want to win but not for me, for my son. I would like to bring him another medal in Rio. I want to hear him say again 'mummy champion'. He will be six-years-old in Rio and this is the best motivation for me and why I am still training and competing.
"Maybe also because a lot of people are saying 'you are very old, you should retire' and I say 'I am not prepared to'. When I speak to people at conferences I say you can do whatever you want and the best way to demonstrate that is to do it myself."
For Perales, her ultimate goal after 2015 is to get to Rio 2016 in the best form possible. Afterwards she will retire, but not immediately.
"I don't want that my final race in Rio will be my last. I would like to enjoy this race and for that I need to keep training for one year more."
Her long-term plan is to make her current side-line as a motivational speaker a full-time career.
The mantra that she uses in public speaking and throughout her 16-year career still stands.
"Maybe you see the wheelchair, but it is behind my bottom and not in my head."
The 2015 IPC Swimming World Championships will be held in Glasgow, Great Britain, from 13-19 July and will attract more than 650 athletes from 50 countries.
Results can be found at the Eindhoven 2014 event website.