Peruvian Rimas hoping World Cup events can act as a catalyst to Rio 2016 gold
The para-cycling world champion is hoping May's two events will put him on the road to Peru's first Paralympic gold for 16 years.
15 Apr 2016
Imagen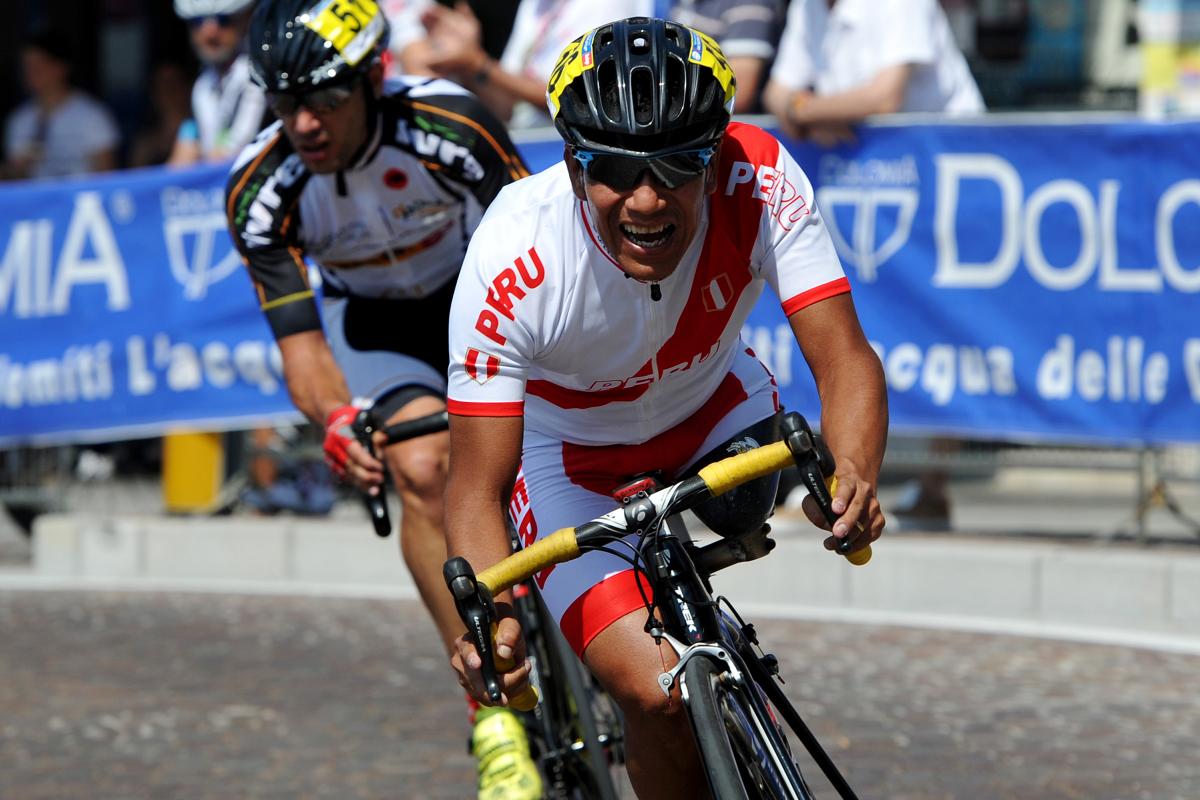 ⒸUCI
By IPC
"I want to compete at Rio 2016 with dignity and humility. I want to show the world what a Peruvian can do."
With five months to go until Rio 2016, Israel Hilario Rimas is hoping two upcoming UCI Para-Cycling Road World Cup events will put him on course to win Peru's first Paralympic gold medal since 2000.
At the Sydney Paralympic Games swimmer Jaime Eulert won gold, adding two bronze medals four years later in Athens. Now, after winning a world title and two World Cups in 2015, Rimas is hoping to top the podium this September at his first Paralympics.
Ahead of the Games he will compete at two legs of the UCI Para-Cycling Road World Cup in Pietermaritzburg, South Africa, from 6-8 May and in Ostend, Belgium, from 20-22 May.
"The World Cup will be important as part of my preparation for Rio. But it is a very important competition by itself as well. I cannot forget about that and just focus on the Paralympics," the 41-yeard-old said.
"Rio 2016 is obviously my main goal for this season, but first I have to face these two events with utmost seriousness and expect not to get injured."
Ahead of a busy season Rimas is currently following a strict training routine in Barcelona, Spain.
"Europe is the continent where I can best develop my cycling skills, which is why I came here," he said.
"I train hard every day. It is important to have clear goals."
The cyclist admits it is difficult for him to stop thinking about his Paralympic target.
"Cycling is my passion and I devote every day of my life to it.
"Every athlete has a dream. Qualifying for the Paralympic Games is the biggest of all. Only hard work can take you there.
"I want to compete at Rio 2016 with dignity and humility. I want to show the world what a Peruvian can do. Winning a medal would be fantastic."
Despite recent success, Rimas prefers a cautious approach. He knows that Germany's reigning Paralympic champion Tobias Graf, Spain's Maurice Eckhard Tio and China's Guihua Liang are all strong candidates to challenge for the podium in Rio as well.
"They are all training hard for the day of the race, when anything can happen. You need some luck on your side too," he said.
Rimas, who finished third in last year's world rankings for the C2 class, does not underestimate the importance of Latin America's first Paralympic Games.
"They will be a huge showcase," he said proudly. "Rio 2016 will be so important for people with impairment to display their skills."
"I especially want the people of my country to see that our flag does not distinguish able-bodied from disabled people. We are all Peruvians and can all equally contribute for a better society."
___
Sport fans from around the world can now buy their Paralympic tickets for Rio 2016 from authorised ticket resellers (ATRs).
The IPC's Global ATR is Jet Set Sports, and Rio 2016 tickets and packages can be purchased on the CoSport website.
Residents of Brazil can buy 2016 Paralympics tickets directly from the Rio 2016 website.