Phelipe Rodrigues looks back on Rio 2016
Brazil's four-time Paralympic swimming medallist highlighted the importance September's Games had in raising awareness of Para sports in his country.
10 Oct 2016
Imagen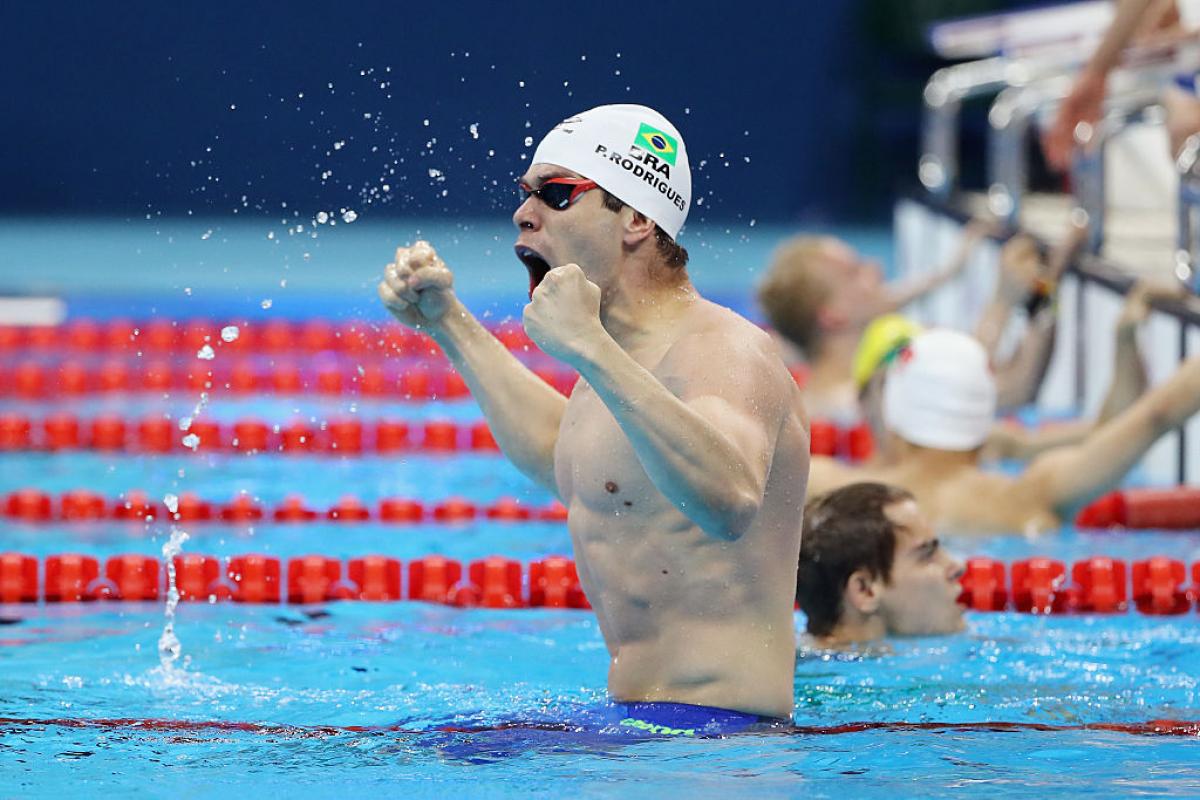 ⒸBuda Mendes, Getty Images
By IPC
Almost once month since the Closing Ceremony of the Rio 2016 Paralympics, Brazilian swimmer Phelipe Rodrigues has hailed the legacy of the Games and turned his attention to next year's World Championships.
Rodrigues won two silvers and two bronzes at last month's Games and the 26-year-old thinks the success of Latin America's first Paralympics will lead to many positive changes.
"For sure, the disability awareness was the biggest legacy from this Paralympic Games," said Rodrigues.
"Besides, Brazilian people throughout the whole country, and especially in Rio, embraced the Paralympics like never before. The environment was very good.
"Also, everyone, including volunteers and staff, was working as a team. Everyone was so friendly and was enjoying the Games so much that you could never see a grumpy person.
"And even though I thought we would have some issues with the organisation, we did not."
This was Rodrigues' third Paralympic Games after taking part in Beijing 2008 and London 2012, winning two silvers in the former and one in the latter.
But Rio 2016 was special for him as for every Brazilian athlete, as they had the unique opportunity to compete in front of their cheerful home crowd.
"Representing my country at the world's biggest event made me feel proud and happy, but even more since it was at home with my whole nation watching and supporting me," he said.
"This was definitely something special, not just for me, but for the Paralympic Movement in Brazil, showing society what we are capable of."
Rodrigues was the hero in both the 4x100m medley relay - 34 points and the 4x100m freestyle relay - 34 points finals, swimming the anchor legs and helping Brazil take bronze and silver, respectively.
"We are a very good and united team, and we always believed in each other to perform to the fullest and to never give up until the last centimetre," he said.
"The only thing I needed to do was to give my best like my teammates."
Rodrigues also claimed silver in the 50m freestyle S10 and bronze in the 100m freestyle S10, ending with four medals overall, one more than he expected.
"I can say I surpassed my goal in terms of medals won, but not so much concerning my times and the medals' colours," he said.
"I am not going to lie; I wanted to go under the world record in the 50m and 100m freestyle S10. But I was really pleased with my time in the latter, setting a personal best by half a second. In the 50m, I did something wrong with my strategy which costed me a few hundredths of a second."
"I was also expecting to win gold in the 50m freestyle S10 but we never know what can happen in a Paralympic final."
With Rio 2016 over, Rodrigues already targets Tokyo 2020, but is aware that other important challenges wait for him before next Paralympics.
"I want to improve for next year's World Championships in Mexico and chase the gold," he said.
"I want to represent Brazil at Tokyo 2020, but I am not sure if I will retire or not after those Games.
"As a high level athlete, I have always dreamed of winning a gold medal. I will train to do my best there and, like always, I will be looking for gold and hopefully retire with the medal I want."