Philippines' Lairca Nicdao dazzles on floor at Worlds
17-year-old Nicdao crowned as one of the seven champions on day one
30 Nov 2019
Imagen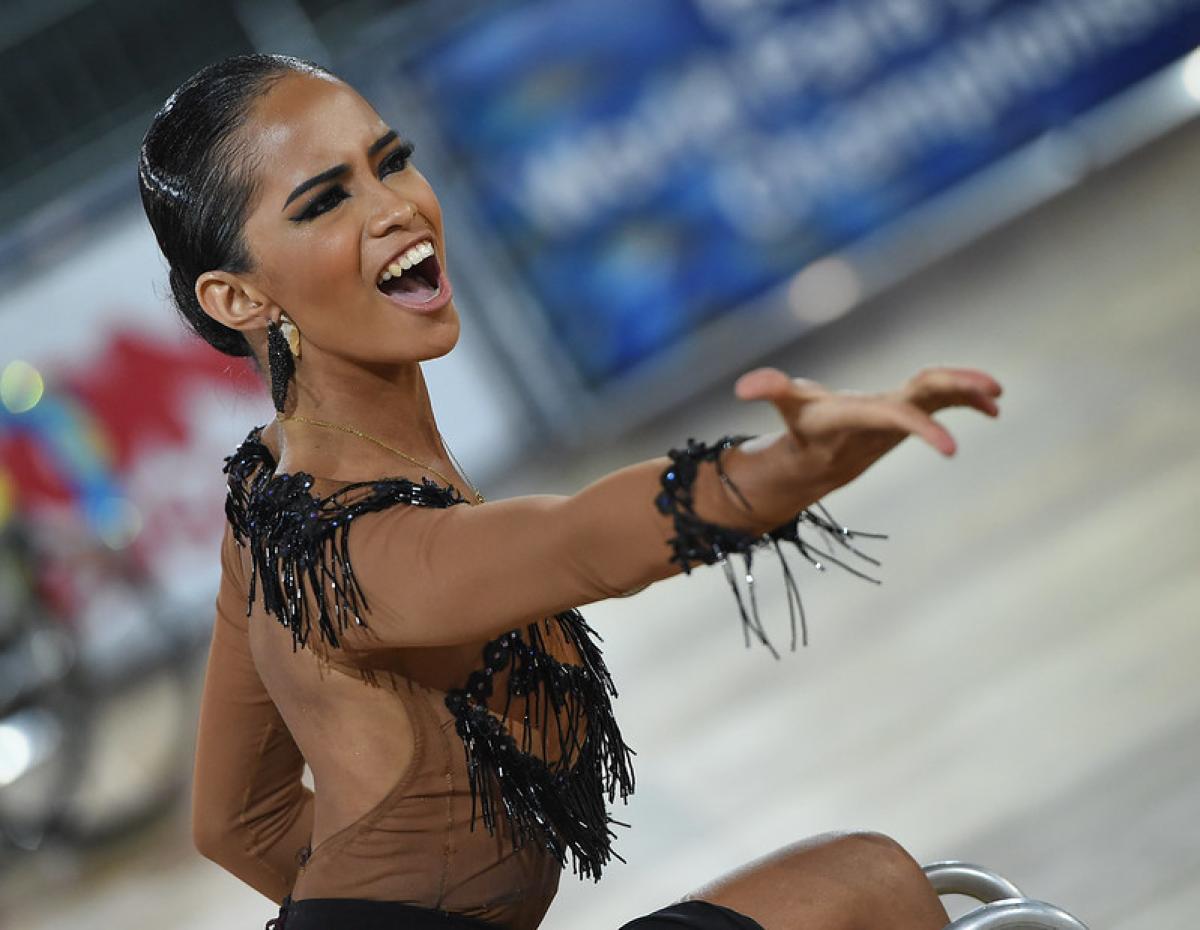 ⒸEva Pavía / #BizziTeam
By Ros Dumlao | World Para Dance Sport

The Philippines' Lairca Nicdao made a dazzling debut as the curtains went up on the 2019 World Para Dance Sport Championships in Bonn, Germany on Friday (29 November).
The 17-year-old mesmerised the spectators with her immense grace and skill from the moment she took to the floor.
With such poise she performed that it was hard to believe this was her first major international competition.
And she proved this would be the first of many Championships to come as she celebrated gold in the women's junior single 1+2.
The event was making its debut at the Worlds and Nicdao got the better off the experienced Haydee Guerrero. The Mexican was clearly the favourite going into the contest, especially after a promising Worlds debut in Malle, Belgium, where she captured silver in the senior category, two years ago.
"I felt nervous because of all the athletes from countries like Europe and the Americas, but I also felt excited and overwhelmed because I knew I needed to fight for my country," said a thrilled Nicdao, who was swarmed by her teammates after the results were announced.
"It feels so good, all our hard work and sleepless nights were worth it and it motivates us to get more," added Nicdao, who took to the sport last January after multi-world champion teammate Julius Jun Obero – a technician who was one day fixing her prosthesis – invited her to try the sport.
"The first time I started dancing, I felt a lot of nerves and insecurities to do all the different movements," recalled Nicdao.
"After school, from 6p.m. we would start our training that would go on until 11p.m. or even 1a.m. This is why I'm able to have these (beautiful) movements in my arms," added Nicdao displaying her medal.
"I also knew early on I wanted to improve myself to reach the finals at each competition," said Nicdao, who also competed in three of the seven events lined-up on Friday.
Along with standing partner Filemon Baguio, the pair became a spectator favourite with their romantic, heartfelt combi freestyle 2 routine.
It encaptivated the audience so much, that spectators booed the judges when the scores were announced and the Filipinos missed out on a podium finish.
The combi freestyle 2 was so competitive that another Filipino power couple - Rhea Marquez and Julius Jun Obero - also could not defend their title.
The 2017 world champions had to settle for the second spot after Russia's Svetlana Kukushkina and Maksim Sedakov pipped them with a score of 26.131.
"We were hoping to win but it's totally different when you actually win, and we were in tears on the dance floor (when our winning score was displayed)," Sedakov said. "We're very happy and thankful for each other."
"We have seen how the Filipinos dance so we knew what they were capable of. But we have different styles. They have more acrobatic styles and it's all up to the judges' decisions."
Marquez and Obero's beautiful ballet rendition had an array of lifts and twirls that appeared to hit all the marks. Their impressive score of 25.26 skyrocketed them to the top spot.
The Russian's dance had the opposite mood, exhibiting similar skill level but with flare and attitude to Michael Jackson's "Bad." They were the only couple to reach above 26 points.
"First we have to thank our coach because he inspires us and always has different ideas and pushes us to put passion into the freestyle. That's why we like it," Kukushkina said.
RUSSIAN RAVE
It was a Russian takeover at the Hardtberghalle dancefloor.
The nation won four of the gold medals on offer. Galina Ryzhkova notably took back her title from 2015 in the women's single 2.
Ukraine's Olena Chynka had taken over the category since, winning the 2017 World gold medal, as well as the 2016 and 2018 European Championship titles.
Sporting a new blonde look on Friday, Chynka stood out beautifully on the dancefloor amid several dancers trying to charm the judges. But she proved to be no match for her Russian rival and had to be content with silver.
"I'm very happy to be winning again after such a long break," Ryzhkova said. "Coming back to the dance floor and dancing and winning was important to me."
The Latin 2 crown was won by Aleksandra Berdnik and Sergey Antonov, who spoiled the second opportunity of gold for Ukraine.
"It was important for me to come back and confirm our status for our country as a whole. In 2015 when Antonov and I were competing in the Latin, we got the silver so now we could prove we are strong in the Latin discipline," said a delighted Berdnik.
Iuliia Davydova and Igor Davydov gave their nation its fourth gold in the duo Latin 1.
But Illona Slugovyna prevented Russia of a fifth title, as she completed back-to-back victories in the women's single 1 to land Ukraine's first gold at Bonn 2019.
KASICKA KEEPS RETURNING
Having won multiple titles with former standing partner Peter Vidasic, Helena Kasicka decided she would continue with a new partner.
The decision was worth it, as the Slovakian collected her second combi freestyle 1 world title; it was her first with Stefan Stropko.
"This gold medal was very important because before I was always winning with Peter Vidasic and now when I returned, I wanted to win with this new challenge," Kasicka said.
"First thing, Peter is tall and Stefan is much shorter," she laughed when comparing her two dance partners.
"Peter is a big man and experienced in dancing with able-bodied dancers and wheelchair dancers while Stefan is young but he is very enthusiastic and passionate," she added.
Kasicka was thought to have retired since winning a trio of golds at the 2016 European Championships with Vidasic.
She did not compete at the 2017 Worlds, and returned to the 2018 Europeans but only in the women's single freestyle. Somehow, the dance floor keeps calling her back.
"What inspired our freestyle dance was we wanted to show that we can dance quick step, even if I'm afraid of taking quick step. We also wanted to show energy and power," Kasicka said.
The Bonn 2019 World Para Dance Sport Championships continue until Sunday (1 December), and more information is on the event website https://www.paralympic.org/bonn-2019