Bonn 2019: World Para Dance Sport Championships to steal city's spotlight
Para dance sport's biggest World Championships set to make history at home of Paralympic Movement
28 Nov 2019
Imagen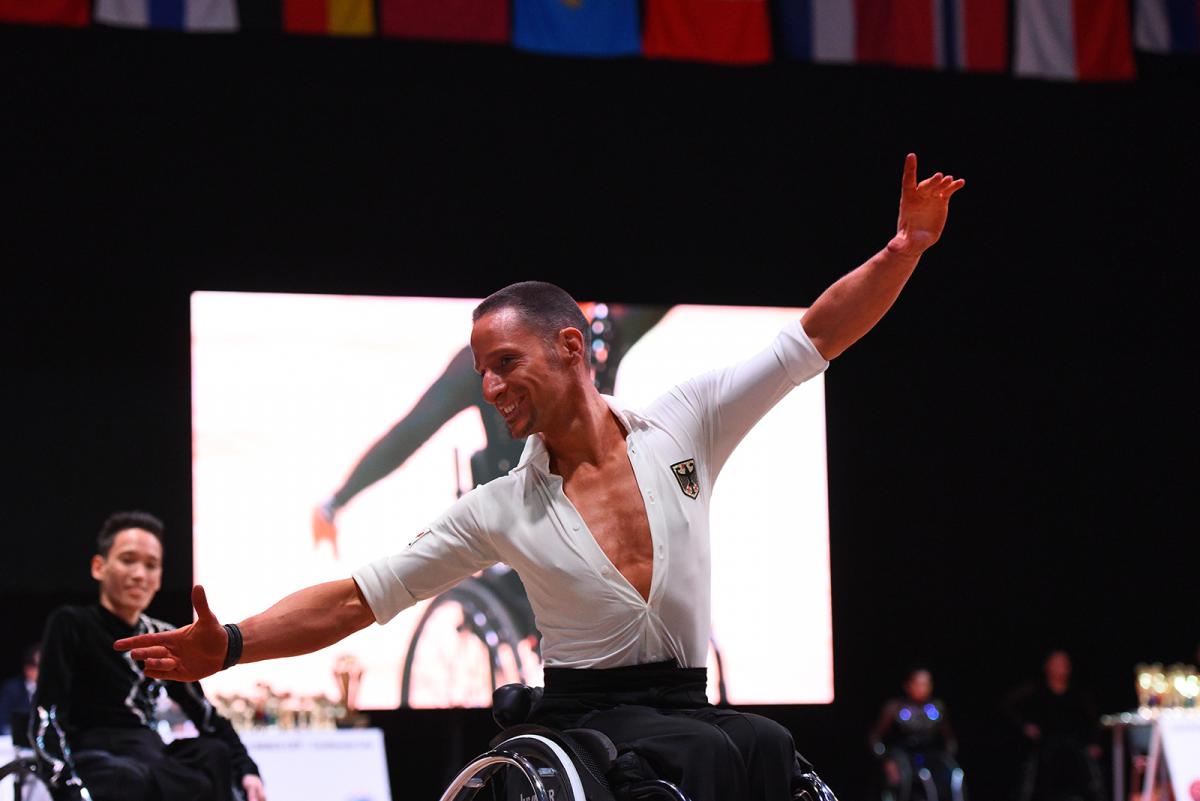 ⒸTatiana Diachinskaya
By World Para Dance Sport
Nach unten scrollen für die deutsche Version
The home of the Paralympic Movement – Bonn, Germany – is ready to welcome its first major Para sport event when the 2019 World Para Dance Sport Championships kick off Friday (29 November) at the Hardtberghalle. 
The event will be historic for Bonn, which has headquartered the International Paralympic Committee (IPC) since 1999. 
Furthermore, the 2019 Worlds will be a milestone for Para dance sport itself.   
With the support of the City of Bonn, Aktion Mensch and Deutsche Gesetzliche Unfallversicherung (DGUV), Para dance will see its biggest World Championships ever with 225 athletes (124 female and 101 male) from 26 countries competing across 21 medal events.
The competition runs until 1 December, with three full days of action. 
DAY 1: Philippines and Ukraine set to light up Bonn 2019
Everyday will be packed with seven medal events. Friday will start with the women's single class 1 and class 2; duo Latin class 1 and 2; combi freestyle class 1 and 2. 
Watch for Filipino power couple Rhea Marquez and Julius Jun Obero in the combi freestyle 2. Their emotional, winning performance at the 2017 World Championships in Malle, Belgium, has set expectations for Bonn 2019.  
One of the strongest individual dancers will take the floor in Olena Chynka. The Ukrainian has been unbeatable in the women's single 2, winning the last two European Championships, and is also the defending world champion. However, Chynka will be tested with the return of 2015 world champion Galina Ryzhkova from Russia.
Chynka will later join forces with wheelchair dancer Oleksandr Onishchenko as they try to defend their crown in the duo Latin 2. But Mexicans and 2017 runners-up Guadalupe Cajero and Jesus Angeles would like to excel in their native discipline. 
Another Ukrainian Illona Slugovyna is expected to charm the judges in the women's single 1. But South Korea's Hye-Jeong Jang has a chance to upset the world champion and upgrade her 2017 silver medal.
Bonn 2019 will set the stage for the sport's future generation, as the first world champions will be decided in the women's junior single class 1+2 that consists of female dancers between 13-20 years old. 
DAY 2: Germany's golden hope
The men's single class 1 and class 2 take their turn under the spotlight, and eyes will focus on home favourite Erik Machens.
The 36-year-old will try to become a world champion for the first time in the class 2 category. He had fallen just short at the last two Worlds, and breaking that spell on German territory would be fitting.
However, his class is among the fiercest.
Ukraine's Ivan Sivak has stolen the judges' top marks at last year's European Championships and the 2017 Worlds. Mexico's 2017 Worlds bronze medallist Jesus Angeles has always possessed elements of surprises. Add the comeback of Russian Maksim Sedakov – the 2015 world champion – and every movement on the dancefloor will matter.
Combi standard class 1 and class 2, which pairs a wheelchair dancer with a standing partner, will encaptivate the audience. Belarus have been strong in this discipline, with the graceful reigning world champions Hanna Harchakova and Roman Usmanov a must-see in the class 2. 
The women's freestyle class 1 will spice up the night. Kazakhstan's Karlygash Tynabekova might take a risk with a new routine as she targets back-to-back titles. 
Spectators will also witness the Worlds debut of duo freestyle class 1 and class 2.
DAY 3: Trio of thrills
The Bonn 2019 World Championships will close with a taste of all three disciplines – standard, Latin and freestyle.
Olena Chynka will hope to conclude with a pair of world titles. Her impersonation of Mexican artist Frida in the women's single freestyle class 2 has won her the 2017 World and 2018 European titles. The mystery remains if she will perform a different dance. The Ukrainian will have to save her strength for the duo standard class 2 with wheelchair partner Oleksandr Onishchenko. 
The combi Latin class 2 is also expected to be hotly contested. Two-time world champions Rhea Marquez and Julius Obero are again the favourites. But they will have to out-perform 27 other couples on the dance floor.
The Bonn 2019 World Para Dance Sport Championships will be streamed live on the event website, and more information including the competition schedule are available online.
Also follow the World Championships on Instagram, Facebook and Twitter @paradancesport with the hashtags #Bonn2019 and #paradancesport.
(Deutsch)
Bonn 2019: Die Para Dance Sport Weltmeisterschaft zu Gast in der Heimat
Ein Event, das neue Maßstäbe setzt. Und Geschichte schreibt
Seit Wochen laufen die Vorbereitungen für die Para Dance Weltmeisterschaft, die ab dem 29. November in der Bonner Hardtberghalle stattfindet, auf Hochtouren. Dabei hat die Veranstaltung für die Macher in diesem Jahr zusätzlich noch ganz besondere Bedeutung: Vor genau 20 Jahren hat die Paralympische Bewegung in der Bundesstadt am Rhein ihre Heimat gefunden und kann sich jetzt endlich über das erste Event seiner Art vor der eigenen Haustür freuen. 
Die Macher sprechen von einem Meilenstein für den Para Dance Sport: Bei der größten Weltmeisterschaft aller Zeiten treten unglaubliche 225 AthletInnen (124 Frauen und 101 Männer) aus 26 Ländern bei 21 Medaillenveranstaltungen an. 
Mit freundlicher und engagierter Unterstützung der Stadt Bonn, der Aktion Mensch und der Deutschen Gesetzlichen Unfallversicherung (DGUV), wartet der Wettbewerb bis zum 1. Dezember mit drei voll gepackten Eventtagen auf.
Tag 1: Philippinen und Ukraine geben Vollgas
Ab sofort gilt es, eine der Medaillen zu ertanzen, die bei den täglich sieben Verleihungen vergeben werden. Den Anfang machen am Freitag die Einzel-Teilnehmer, die Duo Latein und die Kombi-Freestyle – alle jeweils in den Klassen 1 und 2.
Besonderer Augenmerk liegt dabei auf dem Team Philippinen, mit Rhea Marquez und Julius Jun Obero, in der Kombi-Freestyle Klasse 2. Ihre hochemotionale und siegreiche Leistung bei den Weltmeisterschaften 2017 im belgischen Malle, hat die Latte für das philippinische Power-Couple ganz nach oben gelegt. Können Sie dem bei Bonn 2019 gerecht werden?
Und auch die ukrainische Einzeltänerin Olena Chynka wird auf dem Parkett ordentlich mitmischen. Sie hat nicht nur die letzten beiden Europameisterschaften gewonnen, sondern ist auch noch internationale Titelverteidigerin. Sie steht in direkter Konkurrenz zur russischen Weltmeisterin von 2015, Galina Ryzhkova, die in Bonn ihr Comeback feiert. 
Und Chynka hat noch eine weitere Krone zu verteidigen: Gemeinsam mit dem Rollstuhltänzer Oleksandr Onishchenko will sie sich den ersten Platz im Duo Latin 2 ertanzen. Wird sie den Atmen ihrer Verfolger im Nacken spüren? Die Zweitplatzierten von 2017, Guadalupe Cajero und Jesus Angeles aus Mexiko, sind ebenfalls bereit an ihre Grenzen und darüber hinaus zu tanzen. 
Im Damen-Einzel geht mit Illona Slugovyna eine weitere Ukrainerin an den Start. Dicht auf Ihren Fersen: Die Südkoreanerin und Silbermedaillengewinnern von 2017, Hye-Jeong Jang, die diesmal ganz oben aufs Treppchen will. 
Bei Bonn 2019 wird heute schon an morgen gedacht. Denn zum ersten Mal werden hier auch die Weltmeister in der Junioren-Einzelklasse 1 und 2 der Damen gekürt. Die Sportlerinnen befinden sich im Alter von 13 bis 20 Jahren. Man kann also sagen, hier werden die Weichen für die zukünftige Generation gestellt. 
Tag 2: Auftritt Deutschland
Der zweite Wettbewerbs-Tag steht ganz im Zeichen der Herren-Einzelklassen 1 und 2. Dabei im Mittelpunkt: der deutsche Favorit Erik Machens!
Der 36-jährige wird erneut versuchen, den Weltmeistertitel in der Klasse 2 nach Hause zu bringen. Bei den beiden letzten Weltmeisterschaften war er nur knapp unterlegen und ist nun mehr als bereit, den Bann zu brechen. Seine Klasse gehört jedoch zu den anspruchvollsten. 
Der Ukrainer Ivan Sivak ist amtierender Europameister und hat bei der WM 2017 erst die Herzen der Jury und dann die Bestnoten eingefahren. Und auch mit dem Bronzemedaillengewinner von 2017, Jesus Angeles aus Mexiko, ist zu rechnen. Zusätzlich bringt das Comeback des Russen und Weltmeister von 2015, Maksim Sedakov, jede Menge Spannung ins Teilnehmerfeld. 
Weiter geht es mit den Kombi-Standardklassen 1 und 2, in der ein/eine RollstuhltänzerIn mit einem/einer stehenden PartnerIn das Publikum begeistern wird. Ganz vorne dabei: Die Weißrussen und amtierenden Weltmeister in dieser Disziplin, Hanna Harchakova und Roman Usmanov.
Bis zum Abend ist hier Highlife angesagt. Denn im weiteren Verlauf wird Kasachstanerin Karlygash Tynabekova auftreten und eine ganz neue Seite von sich auf der Tanzfläche zeigen. Ob sie damit ein Risiko eingeht?
Und noch ein erstes Mal werden die Bonner Zuschauer in Bonn erleben: Die Duo-Freestyle Klassen 1 und 2 geben ihr WM-Debüt.
Tag 3: Dreifacher Nervenkitzel
Bevor die Weltmeisterschaft Bonn 2019 endet, zeigen die TeilnehmerInnen nochmal in allen drei Disziplinen (Standard, Latein und Freestyle) was in ihnen steckt. 
Olena Chynka möchte sich gemeinsam mit ihrem Rollstuhl-Partner Oleksandr Onishchenko den Titel holen. Deshalb bleibt es auch fraglich, ob sie im Einzel-Freestyle 2 mit etwas ganz Neuem überrascht oder ob sie erneut die Künstlerin Fria verkörpert. Ihre Performance der Mexikanerin hat ihr bereits mehrere Titel eingebracht – international und auf europäischer Ebene.
Und auch in der lateinamerikanischen Kombi 2 wird es heiß her gehen. Die zweimaligen Weltmeister Rhea Marquez und Julius Obero gelten zwar erneut als Favoriten, müssen aber erstmal an 27 anderen Paaren vorbei in Richtung Medaille tanzen. 
Die Para Dance WM Bonn 2019 wird live auf der Website des Veranstalters übertragen. Weitere Informationen und der Live-Stream selbst sind hier verfügbar:  https://www.paralympic.org/bonn-2019
Verfolgen Sie die Weltmeisterschaften außerdem in den Sozialen Netzwerken @paradancesport:
Die offiziellen Hashtags zur Veranstaltung lauten #Bonn2019 und #paradancesport.