Bonn 2019: New dance partner gives Hye-Jeong Jang new aspirations
South Korean Para dancer is grateful for her partnership
25 Nov 2019
Imagen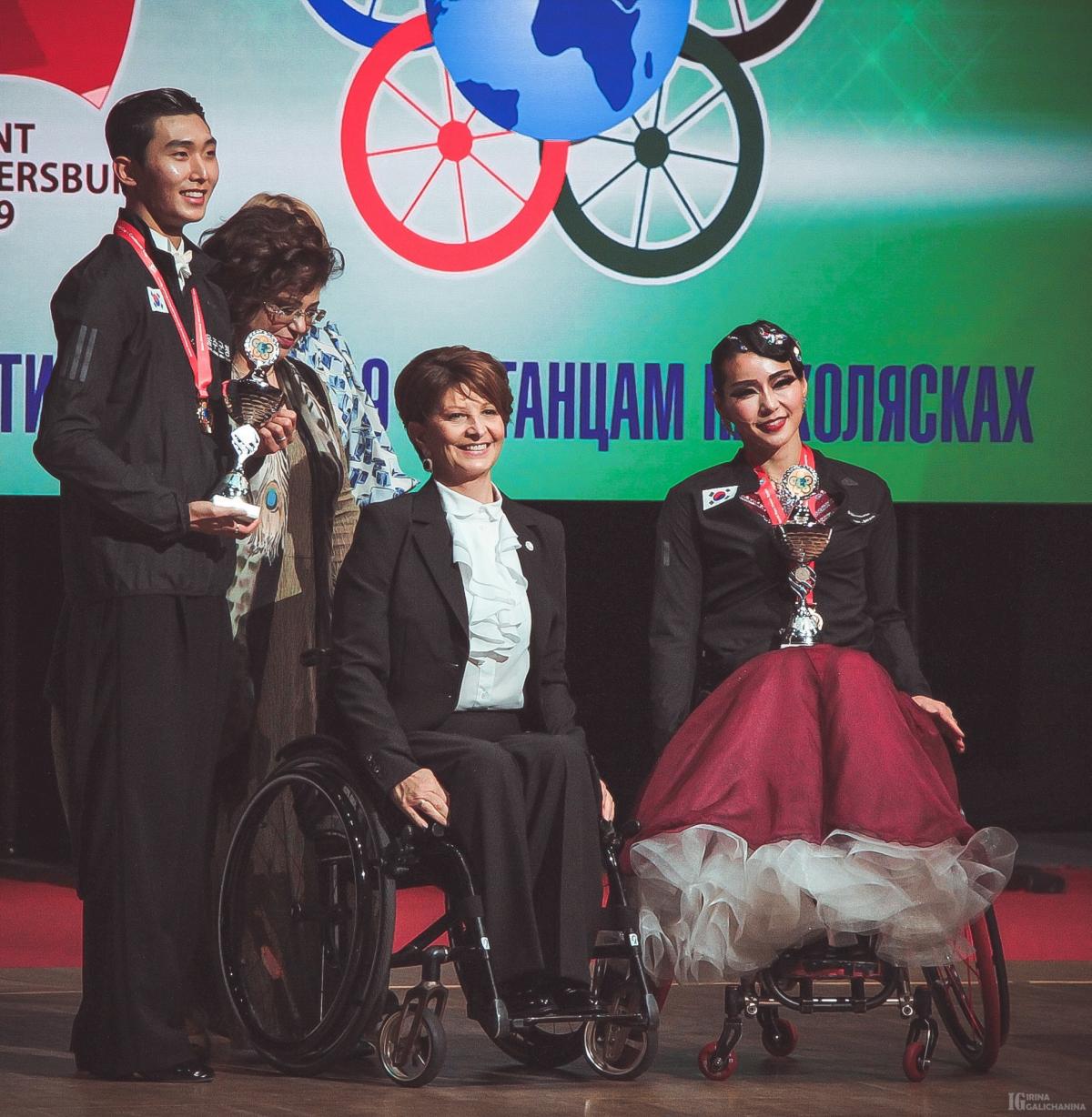 ⒸKorean Dance Sport Federation for the Disabled
By EJ Monica Kim | For World Para Dance Sport
South Korea's Hye-Jeong Jang feels her new dance partner has unleashed a confident side to her as they enter the 2019 World Para Dance Sport Championships set to begin Friday (29 November) in Bonn, Germany. 
Jang is aspiring to become the country's first gold medallist in the combi standard class 1, and she has hope with standing partner Jeongbu Bae. 
"These days I heard that my dance moves look more effortless than before," Jang said. 
"I've never felt like I was dancing properly until this year since I took up the sport in 2011. It's all thanks to Bae."
The pair came together in 2018, and the next year they won gold at the Beigang Open in Chinese Taipei and World Cup in Saint Petersburg, Russia. 
Jang made her World Championship debut in 2013 in Tokyo, Japan. She won a one silver with her first standing partner Jaewoo Lee at the 2015 Worlds in Rome, Italy. 
Jang needed a new partner after Jaewoo Lee left for South Korea's compulsory military service. With Ikhee Lee, the pair just missed the podium at the 2017 Worlds in Malle, Belgium.
Now at her fourth Worlds, Jang is having to adjust with another partner. But it has not been a difficult transition.
"Currently, I'm having a lot fun to create our one-of-a-kind element that combines able-bodied dance sport movements with the help of him," she said.
She will also compete in the singles event, but not in the duo standard due to her partner Youngho Lee's lumbar disc surgery; they were the 2013 world champions.  
Her biggest supporter
Jang would prefer to forget the 2017 World Championships, as her mother Kim Geum-Ran was hospitalised during the time.
"I was desperately trying to take home a gold medal in order to cheer her up. That was the only thing I could do for her."
Despite bringing home a pair of silvers and one bronze from Belgium, she was frustrated to miss the podium in her main event.
"I had never thought that my impairment would've been a big deal in my life. But, after my third Worlds, I felt my limits as a dancer, so I was even considering retirement," said Jang, who has used a wheelchair since age four.  
 
But her mother encouraged her to continue.
"She said to me, 'You look the most beautiful and joyful when you're dancing. I'd like you to keep doing it for the rest of your life'," said an emotional Jang, whose mom passed away in July 2018. 
Importance of a partner
The-43-year-old wanted a fresh start, and she met Jeongbu Bae. 
 "I think that in class 1, moves and expressions are up to how much a partner can maintain my body balance," she explained.
"I strap myself in with five strings in my wheelchair. As I dance by relying on them, I'm struggling not to lose my balance. It is very stressful.
"However now my mistakes can be redirected into a part of the choreography by Bae." 
The Bonn 2019 World Para Dance Sport Championships run until 1 December and more information is available on the event website.