Powerlifting's top quotes from Rio 2016
Siamand Rahman, Amalia Perez, Sherif Osman, Ndidi Nwosu, Dandan Hu and Ali Jawad share their emotions after a gruelling competition.
15 Sep 2016
Imagen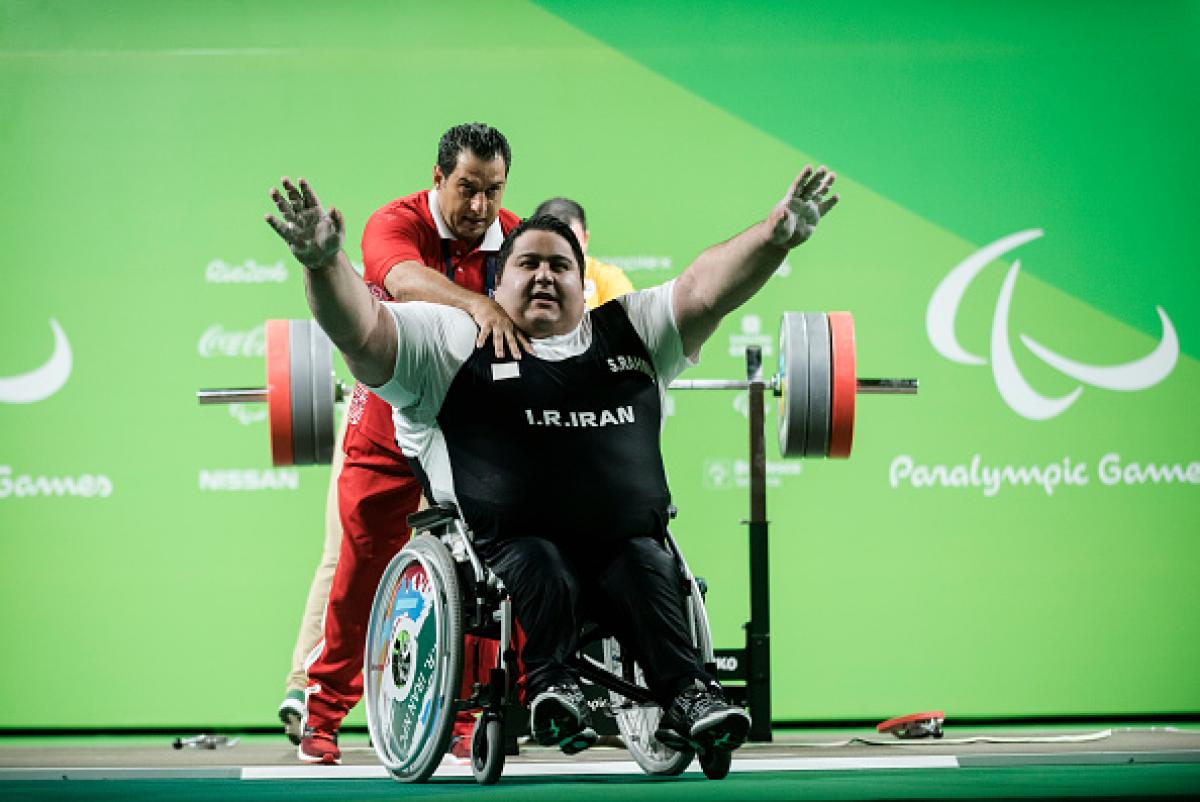 ⒸRaphael Dias/Getty Images
By Beau Greenway | For the IPC
Siamand Rahman – Iran (men's over 107 kg)
The world's strongest Paralympian was widely expected to break the 300kg barrier and he did so in style, leaving Rio 2016 with a world record mark of 310kg.
"I feel very happy and proud for having broken the 300kg barrier and for being the strongest Paralympian in the world," Rahman said.
"I want to be an inspiration for all people with impairment who stay at home and don't lead an active life, and especially for the youth."
Amalia Perez – Mexico (women's up to 55kg)
Mexico's Amalia Perez who won her third consecutive Paralympic gold medal in stunning fashion.
After failing her first attempt at 120kg, Perez completed the lift on the second time of asking before raising the bar a further 10kg with her final attempt to set a new world record of 130kg.
"I saw how the other teams were making their strategy and I tried to make my own," Perez said.
"My blood started to boil in a good sense when I felt the Brazilian crowd cheering me on and I went and gave it my best.
"I felt the warmth from the crowd. While the crowd was cheering on everyone, it's different being Latina so I really felt that support.
"I also had my daughter in the crowd who is two years old, and that motivated me as well."
Sherif Osman – Egpyt (men's up to 59kg)
The men's up to 59kg saw Egyptian Sherif Osman reach new heights by winning the gold medal with his first attempt at 203kg, followed by a world record lift of 211kg with his fourth effort.
"I feel unbelievable and I feel I'm in the middle of the road because I have a very big dream to win six gold medals in Paralympic Games," Osman said.
"It's an amazing feeling and I must thank all of Brazil for their support.
"I love Ali (Jawad) so much because he competed really well at London in 2012 and, even though I took his record, it's there for him to take it back himself if he can."
Ndidi Nwosu – Nigeria (women's up to 73kg)
Nigeria's Ndidi Nwosu was a shock winner of the women's up to 73kg event, clearing 140kg to upstage heavy favourite and defending champion Souhad Ghazouani of France.
"I feel happy; I feel great," said a very excited Nwosu after pulling off one of the biggest upsets of the entire powerlifting competition.
"It was not me that lifted it, it was the power I've got.
"She is the champion and I didn't think I could beat her, but I drew on the power I've got and did it."
Dandan Hu – China (women's up to 50kg)
Hu was able to compose herself when it mattered most in order to claim gold in the women's up to 50kg category.
"I was very nervous last night and couldn't sleep at all, but when I came to the venue I felt much better and knew I could get the gold medal," Hu said.
A former wheelchair tennis player who competed at Beijing 2008, Hu capped off the perfect transition to powerlifting with her impressive performance at Rio 2016.
"In China, tennis is not at a high level so my coach thought I had the body to be a better fit for powerlifting and it has been better for me," she said.
Ali Jawad – Great Britain (men's up to 59kg)
Jawad said that he was glad to right the wrongs of London 2012, where he missed the medals, and return to the podium at Rio 2016.
"I'm speechless, it's taken four years to drum myself up again to attempt this and I finally got the reward I think I deserve," Jawad said.
"I'll be 31 by Tokyo so I should be at my peak, but credit to Sherif, for me he is the best of all time and it's not bad getting beaten by him.
"For a long time I've thought he has been in a league of his own, so I've got to go away now and think about how I'm going to try beat him in four years' time."