Prince George 2019: Mark Arendz aims for gold
Local hero wants to top whirlwind year with world title
20 Feb 2019
Imagen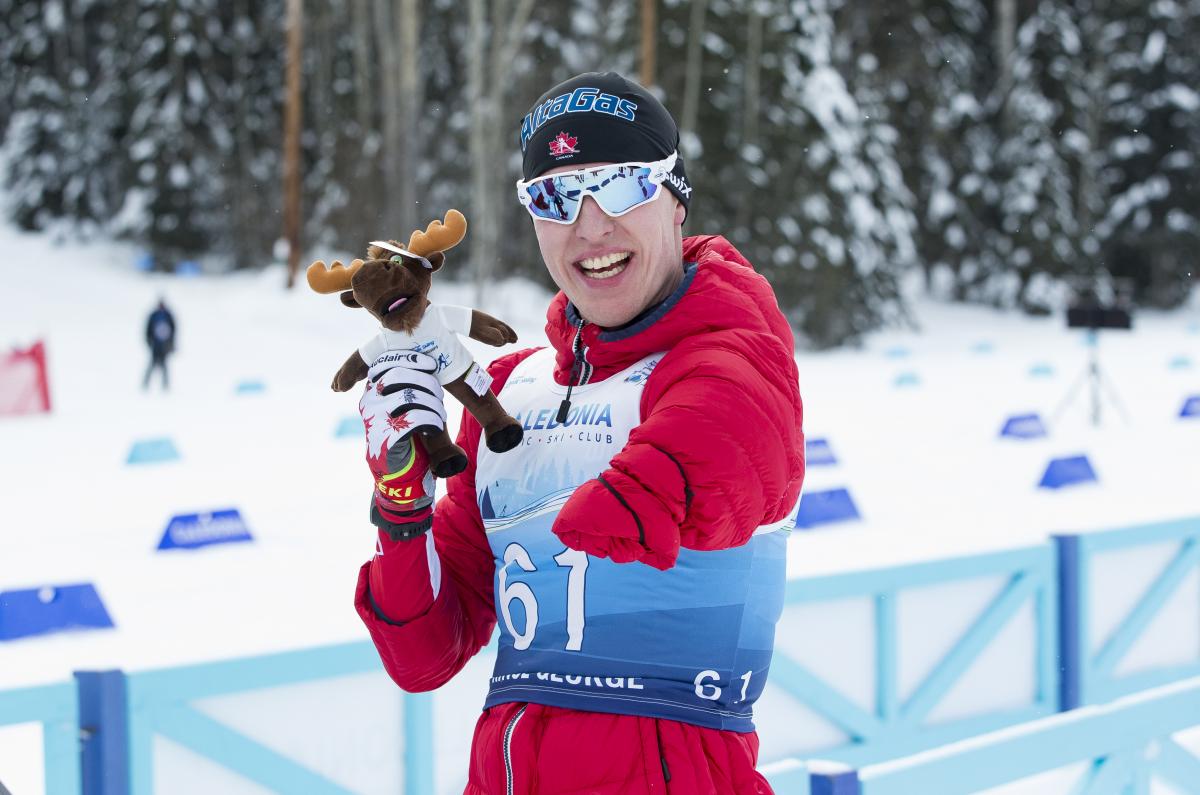 ⒸCanadian Paralympic Committee
By Teddy Katz | For World Para Nordic Skiing
"Over the last few years, I've realised one of the best ways for me to give back was through my results. I could give pride to the community and to the province. It shows that just because you are starting on the island doesn't mean there are limitations to where you can go."
Home favourite Mark Arendz is looking for the one medal that has eluded him so far at the World Para Nordic Skiing Championships - gold - when biathlon resumes on Wednesday with titles on the line in six different categories of the sprint event.
Arendz won bronze in the men's middle distance standing race on day one in Prince George, Canada. He followed that up with a silver in cross-country middle distance.
In both races he said afterwards he was not at his best. And it has proved tough to beat the 'Flying Frenchman' Benjamin Daviet, who already has a hat-trick with three world titles in three races at the championships.
Paving a new path
It was a whirlwind year in 2018 for Arendz and one he will not soon forget.
His home province is making sure of that.
Arendz had a stellar performance and was one of Canada's individual stars from the PyeongChang 2018 Paralympic Winter Games, winning six medals including one gold, two silver and three bronze. He was the flag bearer for Canada in the Closing Ceremony after helping the team to its best Winter Games performance.
After the games Arendz and the team were invited for a big celebration at Canada's Parliament Hill in Ottawa.
But that was only the beginning.
When he got home to Prince Edward Island, the smallest province in Canada with a population of just over 150,000, the party was just getting started.
Arendz was feted with the Order of Prince Edward Island, the highest honour his province can bestow. It is given to islanders whose accomplishments have been exemplary.
"It was a big surprise when it was announced," Arendz says. "Getting acknowledged with the Order of PEI was just incredible and makes me almost want to do more now."
Taking the Arendz name
But the recognition did not stop there.
Arendz already had a ski trail named after him when he brought home a silver and bronze from the Sochi 2014 Winter Paralympics.
After his success in South Korea, PEI's top officials wanted to go a step further. They named a whole park after him, something he has a hard time getting used to when he sees the photos on social media.
"It still feels a little strange. Throughout the winter, I've seen a lot more posts of the Mark Arendz Provincial Ski Park. It still looks and feels wrong."
He has always felt a special bond to his community because of what happened to him there as a child.
Giving back
When he was seven, he was involved in a farm accident and lost his arm.
"Right after the accident the community kind of rallied around me and my family through that time. Since then I've always wanted to give back."
He has done that by going back home and sharing his stories or volunteering at different community events.
But he has also shown his appreciation in another way.
"Over the last few years, I've realised one of the best ways for me to give back was through my results. I could give pride to the community and to the province."
That is why he is hoping for more medals at the Worlds. Arendz says with all the events he has gone to after the Games, he has not been able to do all the training he would have liked ahead of the championships.
Still he is feeling good.
"I'm happy with the shape I've had so far this year."
And he thinks the home crowd in Prince George can push him to the top of the podium just like it did for his teammate Collin Cameron on Monday.
"We get these opportunities very rarely. We've had a few World Cups but not the World Championships before. Friends and family are here cheering."
Becoming a biathlete
Arendz started competing in his sport after seeing biathlon on TV at the Salt Lake City Olympics in 2002.
He was intrigued at the balance between the physical strength and endurance of cross-country skiing and the mental strength and ability required to lower your heart beat for the shooting component of the race.
There was only one problem.
"I had never shot a gun," he laughs. "No, I was actually dare I say against rifles at the time. I had no interest in shooting at all."
He learned pretty quickly and actually has grown to love it. He's known as one of the top shooters in the event.
He has now moved to the other side of the country to train with a team and coaches in Canmore Alberta which has better snow conditions than Prince Edward Island.
But he is quick to point out that his international success started when he was on the Island. He says he was fortunate to have a place to try out the sport and learn the basics.
In 1991, Prince Edward Island hosted a multi-sport event that helps develop junior athletes in his country known as the Canada Games. They built a biathlon course and shooting range for that event.
It is set to host those games again in 2023, and Arendz hopes that will inspire a whole new generation.
"Hopefully I can share my story and create that interest in cross-country skiing and grow that on the island," he says, adding, "it shows that just because you are starting on the island doesn't mean there are limitations to where you can go."
You can catch all the action live from Prince George on World Para Nordic Skiing's website.