Queen honours Paralymians and LOCOG employees in New Years Honours list
29 British Paralympians and members of LOCOG recognised by Queen Elizabeth II for London 2012
29 Dec 2012
Imagen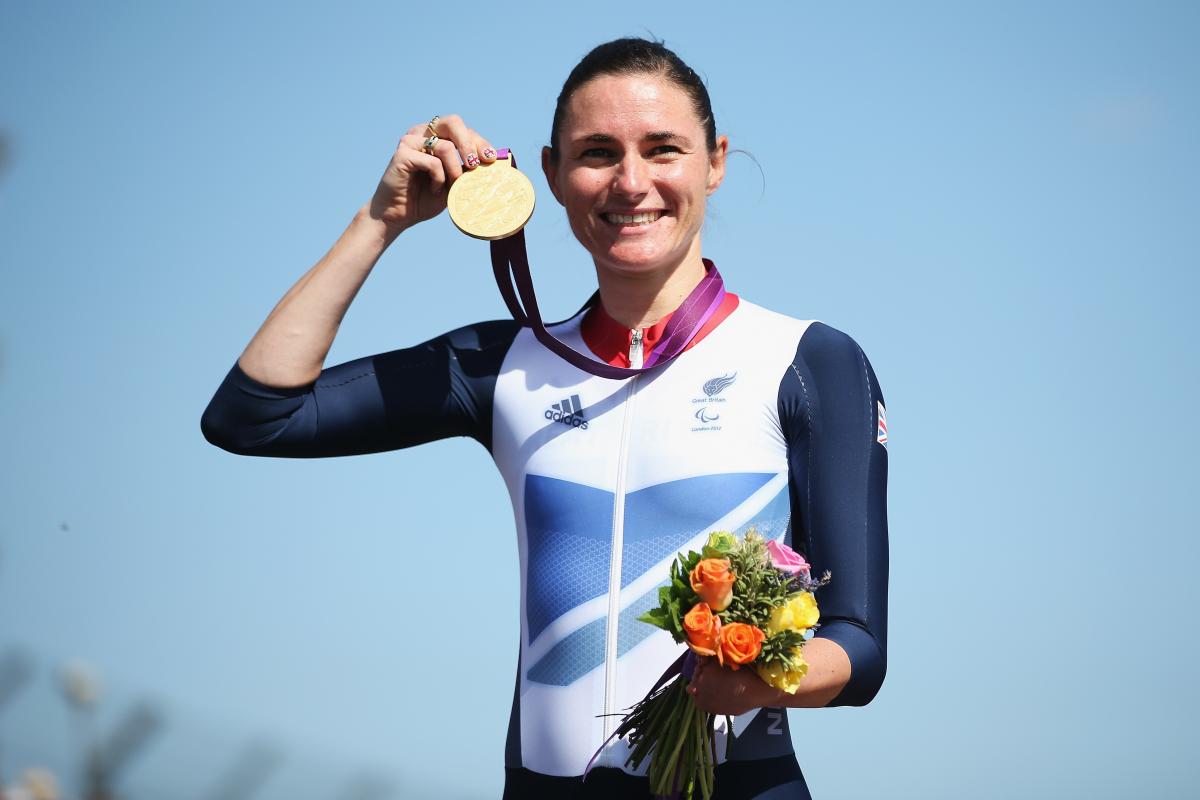 ⒸGetty Images
"Wow, I am speechless but incredibly honoured and extremely proud to be able to accept this. I never expected any additional awards after my sporting success. I love competing for my country and that is a huge honour in itself."
Queen Elizabeth II has recognised the achievement of 29 British Paralympians for their stunning performances at London 2012 by naming them, together with a number of LOCOG employees, in the New Years Honours list.
At London 2012 Paralympics GB won 120 medals, 34 of them gold, whilst LOCOG delivered what IPC President Sir Philip Craven described as "the best Games ever".
Four-time gold medallist at London 2012 Sarah Storey has been made a Dame of the British Empire (DBE). Storey has a total of 22 medals to her name (11 gold, eight silver and three bronze) from six Paralympic Games. She received an OBE following Beijing 2008.
Dame Sarah Storey said: "Wow, I am speechless but incredibly honoured and extremely proud to be able to accept this.
"I never expected any additional awards after my sporting success. I love competing for my country and that is a huge honour in itself."
David Weir, who also won four golds at London 2012 is awarded a CBE. Weir has six gold, two silver and two bronze medals from four Paralympic Games. He received an MBE following Beijing 2008.
Also recognised are triple gold medallist in equestrian Sophie Christiansen, who is awarded an MBE, and multi-medallist swimmer Eleanor Simmonds. Both were awarded MBEs following Beijing, where they both won two gold medals.
The full list of athletes and officials in Paralympic sport recognised in the New Years Honours list are:
Dames Commander of the Order of the British Empire
Sarah Joanne, Mrs STOREY, OBE – Cyclist (Greater Manchester)
Knighthoods
David John BRAILSFORD, CBE - Performance Director, British Cycling (Derbyshire)
David Whitlock TANNER, CBE - Performance Director, British Rowing (Middlesex)
Commanders of the Order of the British Empire
David Russell WEIR, MBE - Athlete (London)
Officers of the Order of the British Empire
Ms Sophie Margaret CHRISTIANSEN, MBE - Para-Equestrian (Berkshire)
Miss Eleanor Mary SIMMONDS, MBE – Swimmer (West Glamorgan)
Members of the Order of the British Empire
Miss Jessica-Jane APPLEGATE – Swimmer (Norfolk)
Miss Natasha BAKER - Para-Equestrian (Middlesex)
Miss Danielle BROWN - Archer (Shropshire)
Michael BUSHELL - Athlete (Shropshire)
Miss Hannah COCKROFT- Athlete (West Yorkshire)
Mark COLBOURNE - Cyclist (Monmouthshire)
William James Gray CONNELL - Performance Director, British Equestrian Federation (Leicestershire)
Josef CRAIG – Swimmer (Tyne and Wear)
Deborah, Mrs CRIDDLE - Para-Equestrian (Somerset)
Aled Sion DAVIES - Discus Athlete (Cardiff)
Neil FACHIE - Cyclist (Greater Manchester)
Jonathan FOX - Swimmer (Cornwall)
Miss Heather FREDERIKSEN - Swimmer (Cheshire)
Anthony HUGHES - National Performance Manager, Disability Sport Wales (The Vale of Glamorgan)
Oliver HYND – Swimmer ( Nottinghamshire)
Miss Helena LUCAS - Keelboat Sailor (Hampshire)
Craig MACLEAN - Cycling Pilot (Cheshire)
Nigel Patrick MURRAY - Boccia Player (Warwickshire)
Jonathan PEACOCK - Sprinter (Cambridgeshire)
Ms Josie Rachel PEARSON - Discus Athlete (Herefordshire)
Miss Pamela Lillian RELPH - Rower, Mixed Coxed Four (Buckinghamshire)
Miss Naomi RICHES - Rower, Mixed Coxed Four (Buckinghamshire)
James ROE - Rower, Mixed Coxed Four (Warwickshire)
David SMITH - Rower, Mixed Coxed Four (Inverness-shire)
Miss Lily Jacoba VAN DEN BROECKE - Cox (Durham)
Ms Sophie WELLS - Para-Equestrian (Nottinghamshire)
Richard WHITEHEAD - Sprinter (Nottinghamshire)
Tim Hollingsworth, Chief Executive of the British Paralympic Association, said: "The recognition of our Paralympic athletes in the New Year's Honours List is a wonderful way to bring this remarkable year to a close.
"Their performances on the field of play not only received rapturous applause from the crowds at London 2012 and viewers of the TV coverage, many of whom were experiencing Paralympic sport for the first time, but the 11 days of sport that we witnessed this summer also gripped the nation and changed many peoples' perception of disability sport."
Those who contributed to the success of London 2012 in a non-sporting capacity have also been recognised, including many from LOCOG, the Organising Committee of the Games.
They include Lord Coe, Chairman of LOCOG, who becomes a Companion of Honour, an order of the Commonwealth realms which consist of just the Sovereign, plus no more than 65 Companions of Honour.
Coe's deputy Sir Keith Mills, already honoured for his role in the London 2012 bid, receives the Knights Grand Cross, whilst Chief Executive Paul Deighton receives a knighthood.
A CBE has been awarded to Debbie Jevans, LOCOG's Director of Sport and also to Ruth Mackenzie, the Director of the Cultural Olympiad.
There are OBEs for Jame Bulley, Director of venues and infrastructure, Jackie Brock-Doyle, Director of Communications, and Therese Miller, LOCOG's general counsel who was Deighton's key aide.
Meanwhile Deborah Hales, producer of the torch relay, is made an MBE.
Commenting on the list, LOCOG Chairman Seb Coe said: "I am so proud of what my LOCOG team and our partners delivered this summer and delighted they have been recognised on behalf of their teams in this way. The New Years Honours lists mark a wonderful end to this unique Olympic and Paralympic year recognising the achievements of our sportsmen and women who inspired the nation."
Related Images