Rio 2016 creative director : 'You'll cry tears of emotion'
With two months until the Rio 2016 Opening Ceremony, Marcelo Paiva speaks about his sports experience and inspirations for the celebration.
15 Jul 2016
Imagen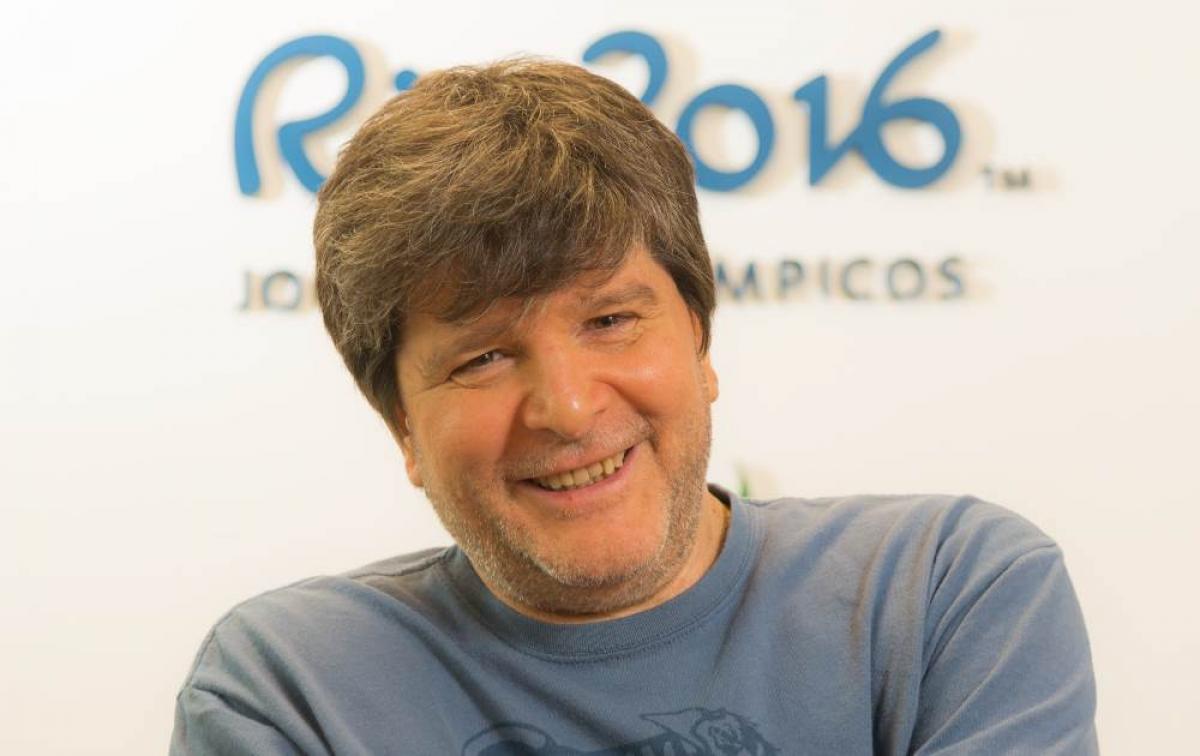 ⒸRio 2016/Alex Ferro
By Rio 2016
Over a beer and a typically carioca salted-cod croquette, Marcelo Rubens Paiva forgets for a minute that he holds the most coveted secrets surrounding the Paralympic Games. Without filter, he speaks freely on the details of the Opening Ceremony, every now and then coming out with "Oh, this can't be published!"
But after a few drinks, the celebrated Sao Paulo writer opened up a little bit about the huge, almost three-hour long celebration, which will take place in the Maracana on 7 September.
"We have politicised our ceremony," says Paiva, 57, who shares creative direction for the Opening Ceremony with artist Vik Muniz and designer Fred Gelli. The three of them have been working together since 2014, when they started a series of workshops. They have also travelled to the USA to carry out field research on shows in Las Vegas.
A wheelchair user since he was 20, and swimmer since he was six, Paiva is an award-winning writer, honoured for his novels and his plays, and this year he will launch his latest work about the Brazilian punk movement. In an interview with Rio2016.com, at one of his favourite bars in Rio, he talks about the influence of literature in the ceremony and his personal discovery of the Paralympic Games.
Rio 2016: What are your memories of the Paralympic Games?
Paiva: "I was invited to cover the Athens Games in 2004. I was more interested in the free flight, but when I arrived, I saw the Ceremony, the sheer number of athletes, delegations, and I was impressed. I realised that I had the eyes of someone who was prejudiced, who didn't know a thing about Paralympic sport, who thought they (the athletes) were poor souls just trying to replicate the sport of adults."
Did this trip to Athens have an impact on your life personally?
"I realised that I was on the outside. Because there is the traditional kind of person with an impairment, which is what I was like, who doesn't lift a finger, whose family does everything for them. Then there is the new kind of person with an impairment, the guy that goes after what he wants, who drives, who zips around in his wheelchair, who travels, scuba dives. I knew both sides, and I became more like the second side. I had a trophy from the Clube Paulistano (sports club), and after I had my accident, my mother sold it. This is the mentality of the old generation: "He won't do anything now.""
Has a lot changed for wheelchair users since you were 20?
"When I arrived at the School of Communications and Arts at the University of Sao Paulo (USP), there were stairs. My reaction was: "USP has nothing to do with my problem, I had the accident, it's my fault." My friends would carry me. That was until my friends got fed up and asked my classes be moved to the ground floor. I hadn't even thought about doing this, I was ashamed to make demands. Today, if I arrive at a place that just has stairs, it is they that apologise, not me. Everyone apologises."
What's it like to organise a huge party in a moment of such political instability in the country?
"It's been very difficult for me. I'm a lefty, rebellious, I protest against corruption. I feel that we are doing what needs to be done, accomplishing a mission. Only in a hundred years, if ever again, will there be another Olympic Games in Brazil. When the "nao vai ter Copa" (there will not be a World Cup) protests started, I saw it and said, "You are all ridiculous." There will be a World Cup and it will be beautiful. And it was."
What message do you want the Ceremony to send out to Brazil and to the world?
"We have politicised our Ceremony, intentionally, and I've left my impression on it. It starts with some humour to show that people with an impairment also laugh, also get themselves into funny situations, to shatter this stereotype of the sad little person. And to show solidarity, that we help ourselves, that people help us, out of good will. Throughout my whole life, I have never had someone refuse me help, and this is the same with all people with an impairment. We awake the good inside of people."
Can you give us an example of how we will see this in the Ceremony?
"I can't say too much, but at the end of the Ceremony, a person with an impairment will go through some kind of adversity and the stadium, in some way, will help. I took part in student politics, my family fought against the dictatorship. Ever since I became an activist for people with an impairment, I am politically active via movements in favour of people with an impairment."
Since you can't say what the Ceremony will be like, can you tell us what it won't be like?
"It won't be cheesy, it will make us proud. You will cry tears of emotion at some points. It will be almost like a magic trick, with lots of pop-ups, you know like the ones you find in kids' books. Lots of optical illusions. Vik (Muniz) loves magic."
How do you manage to make something full emotion and avoid being cheesy?
"It is something I am very proud of. And it wasn't just my presence that made it possible. Our team has quite forward-thinking people in it that live in and amongst diversity. It wasn't difficult at all to come up with ideas. Sometimes I had to call them back to reality."
What kind of reality?
"In the first workshops, sometimes I had to get them to escape from this common place, to reflect a little more deeply about Paralympic sport and how people with an impairment should be seen. It was really easy, they got it really quickly, because they are artists, brilliant people. I think cliche is merely laziness to create."
Is it going to be more Las Vegas, opera, Broadway or Carnival?
"It's going to be more Coney Island (island in New York famous for its theme park). You know the tricks, magicians, juggling, that kind of circus stuff. We went to about six shows in Las Vegas, from the most simple to the most sophisticated, and we decided to dedicate ourselves to reaching this professional quality."
The Olympic Ceremony has been given more money and attention. Is there any kind of rivalry?
"We want to do better than them, of course. They are under more pressure, and we have a bit more freedom, that's the good thing. We've exchanged lots of information and the teams work together. We know that the priority is the Olympic Ceremony. Our starting point is from the B-side, and the B-side is as good as the A-side, sometimes even better. We are the naughty kids at the back of the class, the crazy ones. We are putting forward crazy ideas and they are approving everything."
What do you bring from your literary experience to the ceremony?
"Every segment has a dramatic twist, it's really like an opera. And everything needs drama. Everything I learnt in literature will emerge here. What you will see is the funnel of a bucketful of ideas that have been kept in the reserves, many in my subconscious. A writer is a solitary being, and now I work with people at a very high level. I am the writer from Praça Roosevelt (a popular square dedicated to leisure and culture in the centre of São Paulo) who discovered Cirque du Soleil."
__
Sport fans from around the world can now buy their Paralympic tickets for Rio 2016 from authorised ticket resellers (ATRs).
The IPC's Global ATR is Jet Set Sports, and Rio 2016 tickets and packages can be purchased on the CoSport website.
Residents of Brazil can buy 2016 Paralympics tickets directly from the Rio 2016 website.
Visa International is the exclusive payment card and the official payment system for the Paralympic Games.