Rio 2016 preview: Men's up to 80kg
World champion Xiao Fei Gu has a chance to upgrade his Paralympic silver to gold.
26 Aug 2016
Imagen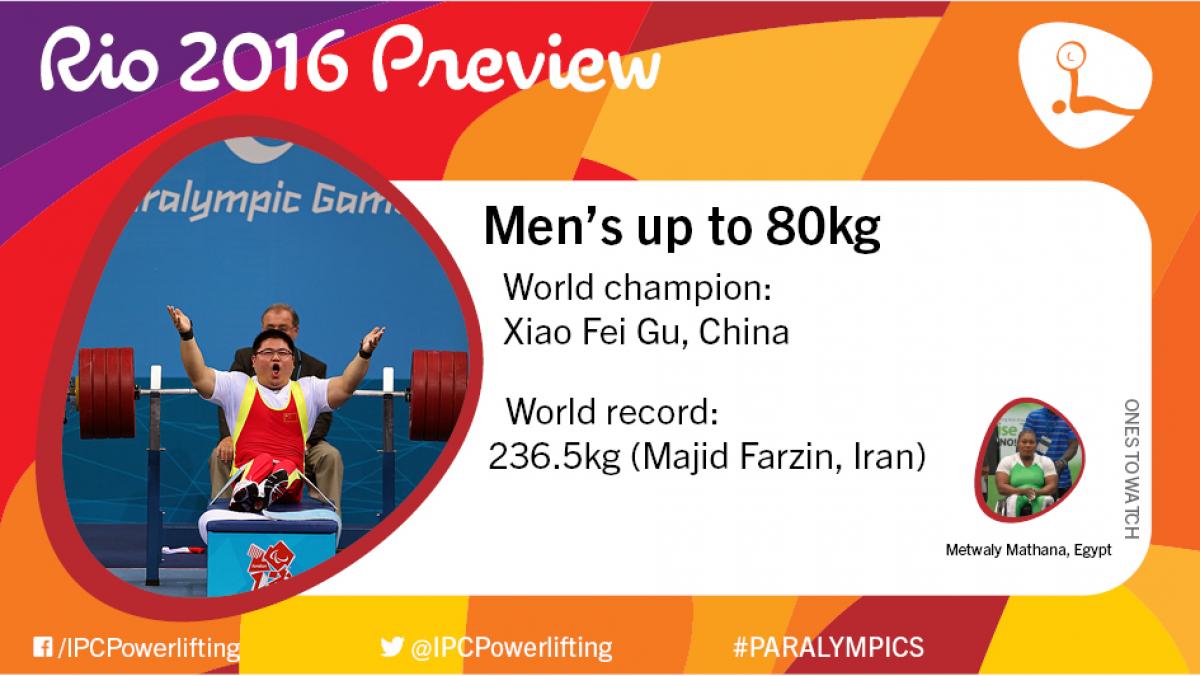 By IPC
Xiao Fei Gu appears ready to muscle his way toward his first Paralympic gold at Rio 2016. The Chinese powerlifter lifted a world-record 236kg, en route to the world title at Dubai 2014 in the men's up to 80kg.
He attempted to break his own world record earlier this year at the World Cup in Kuala Lumpur, Malaysia, but just could not reach that mark. Gu still took the gold in the event, and his best may have yet to come.
Egyptian Metwaly Mathana has finished one step behind Gu in the past – Paralympic bronze at London 2012 and world silver at Dubai 2014. At the World Championships, Mathana tried to one-up Gu with a 237kg lift in his third attempt, but did not clear the mark. The 41-year-old will make his sixth Paralympic Games appearance. Owner of three Paralympic gold medals and four world titles, Mathana would not want to settle for anything less at Rio.
Also keep watch for Colombia's Jainer Rafael Cantillo Guette, Mexico's Porfirio Francisco Arredondo Luna and Nigeria's Tolu-Lope Taiwo. All three lifted 200kg, 198kg and 197kg, respectively, this year, so expect a tight race for the podium.
You can catch the men's up to 80kg on 12 September at the Rio 2016 Paralympic Games. All Para powerlifting events will be contested at the Riocentro – Pavilion 2.