Rivard and Mereshko take gold on night of showdowns
Canada's Aurelie Rivard and Ukraine's Yelyzaveta Mereshko each won their races on another night of rivalries at Rio 2016.
13 Sep 2016
Imagen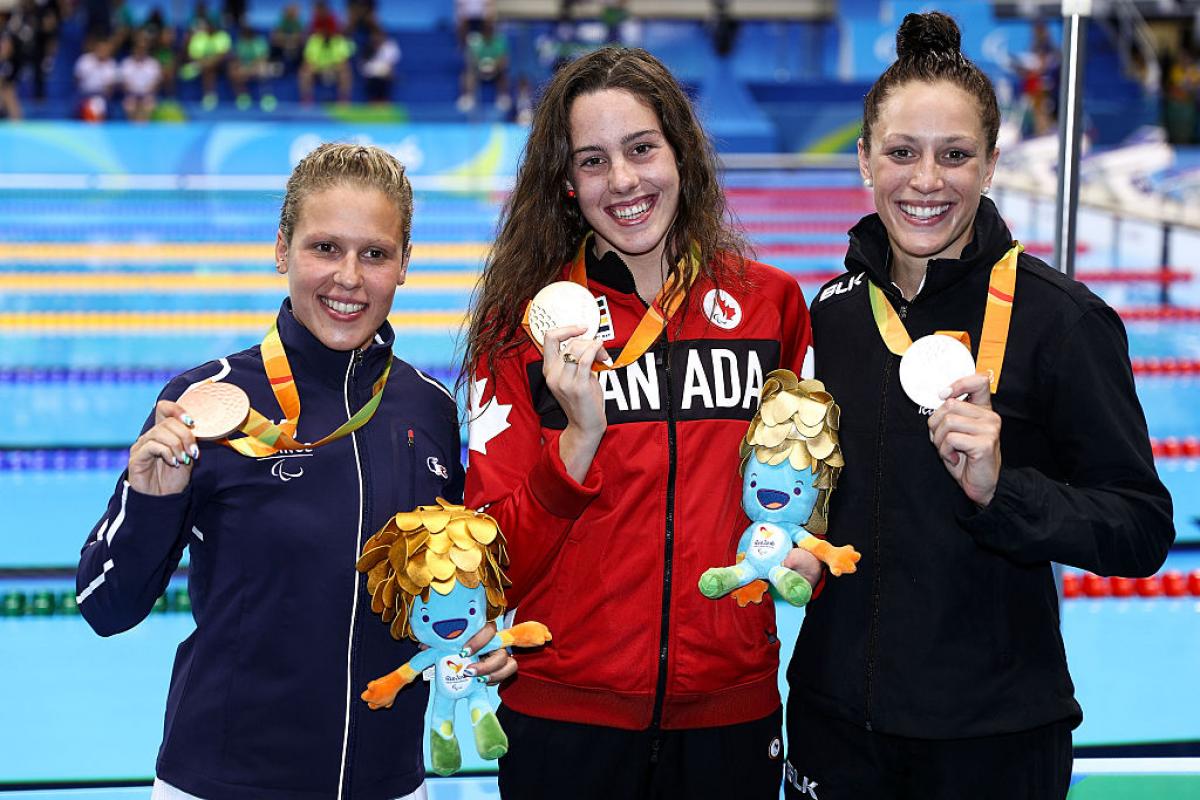 ⒸGetty Images
By IPC
"It was my world record and I wanted to beat it. I died in the last few metres."
Rivalries were renewed and four world records broken on day six of swimming action at the Rio 2016 Paralympic Games.
Canada's Aurelie Rivard and Ukraine's Yelyzaveta Mereshko were among 15 Paralympic champions crowned at the Aquatic Centre on Tuesday (13 September).
In a tight race to the wall, Rivard out-touched New Zealand rival Sophie Pascoe in the women's 100m freestyle S10. The 20-year-old Rivard (59.31) captured the gold, resetting the Paralympic record twice in one day.
Pascoe, who beat Rivard by a nano-second for gold at last year's World Championships, took silver in 59.85. France's Elodie Lorandi (1:01.13) completed the podium.
Despite her win, Rivard – who was 14-tenths of a second off her world record – admitted she was "a little bit disappointed" with her performance.
"It was my world record and I wanted to beat it. I died in the last few metres," she said straight after the race. "But I am sure that [disappointment] will go when I am on the podium."
Rivard said of Pascoe: "She is super intimidating in the call room. She gives me these killer stares, so I try not to look at her too much. I'm really glad to beat her this time."
Tuesday's final was Pascoe's last race of a successful third Games. The 23-year-old is leaving with five medals (three golds, two silvers), including a world record.
After 10 races in five days, Pascoe admitted it was "a relief" to have completed her demanding schedule. "There is no disappointment," she said. "I left it all out there, I gave it everything."
On competing against Rivard, she said: "We're rivals in the pool but friends outside. That is one of the special things about swimming, the rivalry and the friendships."
What had been billed as a close clash in the women's 400m freestyle S6 turned into a dominating performance from Mereshko. The Ukrainian now owns both the world and Paralympic records.
The reigning world champion was well ahead of her British rival Eleanor Simmonds, extending her lead after every turn to win in 5:17.01. China's Lingling Song earned the silver in 5:21.37, and Simmonds came away the bronze in 5:24.87.
"I just didn't have anything at all tonight," said Simmonds, who set a new world record in winning gold in the women's 200m individual medley SM6 on Monday night.
"I had a great warm-up. I don't know what happened to me. I've been in really good form; it's not what I wanted. (It was) a slightly slower time than I was training for."
Ukraine's Maksym Krypak was the unexpected victor in the men's 100m freestyle S10. The 21-year-old spoiled home favourite Andre Brasil's run for perfection in the event, just finishing ahead of the reigning Paralympic and world champion 51.08 to 51.37.
Krypak continues his successful Paralympic debut, taking his third gold in Rio. Defending world silver medallist Brazilian Phelipe Rodrigues (51.48) gave the home crowd more reason to cheer, however, sealing the bronze.
"Everyone is so strong, sometimes you get lucky," Krypak said. "To finish in front of such legends as Rodrigues and Brasil, I am so happy."
Three-time British Paralympian Stephanie Millward won her first Paralympic gold, securing the women's 100m backstroke S8. The current world-record holder clocked 1:13.02, lowering the Paralympic record she set in the morning heats. Australian 17-year-old world champion Maddison Elliott (1:17.16) came in second. The USA's Jessica Long, who took silver at the 2015 Worlds, secured the bronze in 1:18.12.
"I have been dreaming about this for 18 years and eventually my dream has come true," Millward said. "I've been running it around in my head, 'just imagine what would I say? Just imagine if I have that gold medal in my hand, what's it going to be like?' I seem to have been dreaming about this forever."
Ukraine's Ievgenii Bogodaiko lowered his own world record, en-route to continuing his dominance in the men's 200m individual medley SM7. The reigning world and Paralympic champion won in 2:30.72. The USA's Rudy Garcia-Tolson (2:33.87) set an American record for the silver medal, while Australia's Matthew Levy (2:36.99) also set a regional record in his bronze medal finish.
In her second Paralympic appearance, New Zealand's 17-year-old Nikita Howarth captured her first Paralympic gold, taking the women's 200m individual medley SM7 in 2:57.29. Canada's World Championship runner-up Tess Routliffe (3:02.05) took home the silver, followed by the USA's reigning Worlds bronze medallist Courtney Jordan (3:04.17).
"My first Games I was 13, I was more there for the experience, now I am here to compete," Howarth said. "I felt kind of confident, I mean everyone gets nervous but I was pretty confident."
The USA's world record holder Michelle Konkoly secured her second gold medal in two days in Rio, this time in the women's 50m freestyle S9. The 24-year-old Paralympic debutant won in 28.29, a new Paralympic record that she set earlier in the morning. Australia's Ellie Cole did one better than her finish at London 2012, taking silver in 29.13. After just missing the podium at the 2015 World Championships, China's Jiexin Wang (29.30) took the bronze in her Paralympic debut.
"The 50 is anybody's race so I just had to go into it and give it the best I had," Konkoly said. "My phone was blowing up, that was the hardest part. So much love pouring in from my friends and family in the US. I had to remember that I'm still here to do a job and that what happened yesterday [Monday] doesn't change what happens today."
It was too close to call in the men's 50m freestyle S9. In his Paralympic debut, Great Britain's Matthew Wylie (25.95) edged Australia's Timothy Disken (25.99) and Japan's Worlds silver medallist Takuro Yamada (26.00).
China's Bozun Yang successfully defended his Paralympic gold in the 100m breaststroke SB11 – and did so in a world-record time of 1:10.08. The USA's Tharon Drake (1:11.50) claimed the silver, followed by Japan's 2015 world champion Keiichi Kimura (1:12.88).
China's Xiaotong Zhang replicated her countryman's performance in the women's equivalent, winning gold with a world record of 1:23.02. The Netherlands' Liesette Bruinsma (1:25.81) finished with the silver, and Sweden's reigning world champion Maja Reichard (1:26.60) took the third spot.
After setting an Asian record earlier in the morning, China's Cong Zhou followed up with a world record in the men's 100m backstroke S8. Zhou won in 1:02.90. Bronze medallist from the London 2012 and World Championships, Great Britain's Oliver Hynd (1:04.46) captured the silver, just beating out the USA's Robert Griswold (1:04.68). Griswold set the Paralympic record in the early heats and this time found redemption from missing the podium at the last year's World Championships.
Belarus' Uladzimir Izotau finally captured his eluded Paralympic gold, winning the men's 100m breaststroke SB12 in 1:06.82 – lowering the Paralympic record he set four years ago at London. Azerbaijan's Dzmitry Salei (1:08.80), runner-up at the 2015 Worlds, finished second. Ukraine's Maksym Veraksa (1:09.00), gold medallist back at Beijing 2008, took home the bronze.
"The [training] conditions have changed, the conditions are much better now," Izotau said about the difference from finishing silver at London 2012. "Athletes have a new training centre which provided good conditions for development and training."
After not medaling at London 2012, Italy's Francesco Bocciardo did not leave empty-handed this time. The reigning world champion added gold to his resume, winning the men's 400m freestyle S6 in 5:02.15. The Netherlands' 19-year-old Thijs van Hofweegen (5:07.82) took silver in his Paralympic debut, and Cuba's Lorenzo Perez Escalona (5:14.44) set an American record en-route to the bronze.
Chinese Paralympic debutant Wenpan Huang reset the world record twice on Tuesday to win the men's 50m freestyle S3 in 39.24. Ukraine's world champion Dmytro Vynohradets (41.41) took silver, setting the European record, and China's Hanhua Li (42.18) joined his teammate on the podium.
South Korea's world champion Gi Seong Jo added another gold to his Paralympic debut, winning the men's 200m freestyle S4 in 3:01.67. The Netherlands' Michael Schoenmaker (3:03.81) took the silver, and China's Zhipeng Jin (3:03.94) claimed the bronze.
Competition returns to the Olympic Aquatic Stadium on Thursday (14 September). Live coverage and results of swimming is available at Paralympic.org. Live updates will also be posted to IPC Swimming's Facebook, Twitter and Instagram.