Sam Schroder spoils Dylan Alcott's swansong
Shingo Kunieda, Diede de Groot net Australian Open titles
27 Jan 2022
Imagen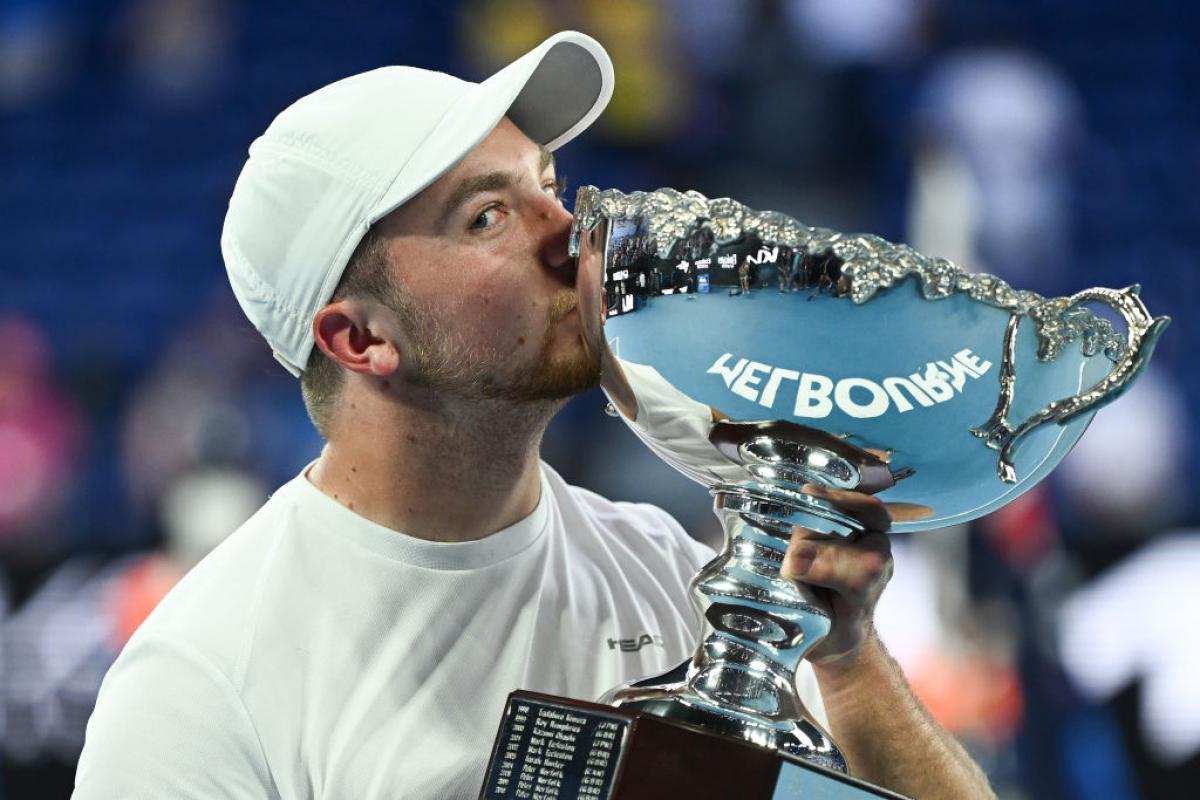 ⒸQuinn Rooney/Getty Images
By Marshall Thomas | For the ITF
Sam Schroder, Shingo Kunieda and Diede de Groot claimed the quad singles, men's singles and women's singles titles at the Australian Open, with Dylan Alcott ending his playing career on one of the biggest stages in world tennis despite not achieving the dream result for an expectant nation.
If there was a script for the last day of wheelchair matches at Melbourne Park then Schroder obviously had not read it as the 22-year-old Dutch second seed beat seven-time quad singles champion Alcott 7-5, 6-0 on Rod Laver Arena, which was packed full of Australian fans hoping to see Alcott lift his eighth successive title before heading into retirement.
Instead, they witnessed World No. 2 Schroder claim his second Grand Slam singles title, having won his first at the 2020 US Open, where he also beat Alcott in the final.
As Alcott broke Schroder's serve to love in the opening game, some may have thought that it was a taste of things to come, but far from it. Schroder not only kept pace with Alcott, but clinched the last three games of the opening set, wrapping it up with successive cross court backhand winners.
The only player to have beaten Alcott in the last two years, Schroder went on to make it nine games in a row as Alcott took his opponent to deuce only three times in the second set.
"It's amazing to win a Grand Slam," said Schroder. "It's my second one so far. He's an amazing opponent to play against. I have a lot of respect for him. To beat him at a tournament like this, with all the people, the crowd was amazing.
"The game plan today was, you know, Dylan likes to just bring the ball back and wait for me to make a mistake. So I knew that I had to be very patient and just bring those balls back the same way, keep the pressure on him to do something."
"I was definitely a bit nervous before the match. I think once I got on court today the nerves kind of went away. Then, you know, during that first set they kind of came back a little bit when we started getting really tight in the score. But overall I was mostly just enjoying myself more so than feeling pressure to try and beat him."
While Schroder clinched his second Grand Slam title, for Kunieda there was a 47th Grand Slam title as the World No. 1 surprised even himself with his performance level in the final set of a 7-5, 3-6, 6-2 victory over World No. 2 Alfie Hewett.
Kunieda made a quick start to the men's final, establishing a 3-0 lead before Hewett hit back to lead for the first time at 5-4. However, Kunieda manged to regain control to put together a second run of three games to take the opening set.
Hewett's consistency and shot-making improved significantly in the second set as he took a commanding 4-0 lead, hitting winners off his forehand and backhand with more regularity and three winners in the space of five points earned him the set.
With just four points separating the two players at the end of each of the first two sets, Hewett found it hard to live with an inspired Kunieda in the deciding set, the ten-time champion surging into a 5-2 lead before Hewett battled to fend off four match points. However, a fifth match point saw the Briton attempt to lob an advancing Kunieda only for the ball to miss its intended target on Kunieda's.
After two hours and 12 minutes Kunieda was in possession of his 11th Australian Open title, something that maybe looked unlikely when he had to retire from his Melbourne Open final against Hewett due to a tight back just days before the start of the first Grand Slam of the year.
"This week I played no good tennis until this morning," said Kunieda, who appeared as amused by his performance as he was impressed. "I came in court, it was changed. I played really good, my best tennis in my career, especially the final set. I cannot tell how I did it. Very amazing. I really cannot remember what I did."
While Kunieda's tally of Grand Slam singles titles now stands at 26, De Groot reached half that number with a dominant performance that ended in a 6-1 6-1 win over fellow Dutchwoman Aniek van Koot.
Van Koot's first serve percentage stood at a mere 44 per cent at the end of the first set as a series of errors at the wrong time proved costly.
By comparison, De Groot's first serve at percentage at the end of the opening set was 74 per cent and although Van Koot improved in that department in the second set she soon found herself 5-0 down.
With the match seemingly at De Groot's mercy, the top seed shed some uncharacteristic errors in the sixth game, while Van Koot also found inspiration for a helping of winners in the second longest game of the match. However, in her bid to get another game on the board Van Koot was caught out by a De Groot lob that gave the latter three match points and World No. 3 Van Koot sent a backhand into the net to end her hopes of adding to her 2013 Australian Open title. 
"I feel really good, especially because last year was a very tough year with so many big tournaments, then the Games to sort of top it off," said De Groot after wrapping up her fourth Australian Open crown. "I'm super happy. It's the beginning of the year. I think I've showed everyone that I'm ready for the rest of the year.
At the end of 2021 De Groot said that one of her hopes for 2022 was to reach the stage where she was able to play the style and level of tennis that she showcased during the French clay court season of tournaments at the start of the European summer. With her 13th Grand Slam singles title now safely banked, she feels she is approaching that desired level.
"I feel very relaxed. Last year during Roland Garros I had the same sort of feeling," said De Groot. I was very confident about my game. I think this match was a display of that same time that I was in back then."