Schulz continues triathlon dominance in Italy
The German PT4 para-triathlete followed up his European Championship title with another victory in Italy.
21 Jul 2015
Imagen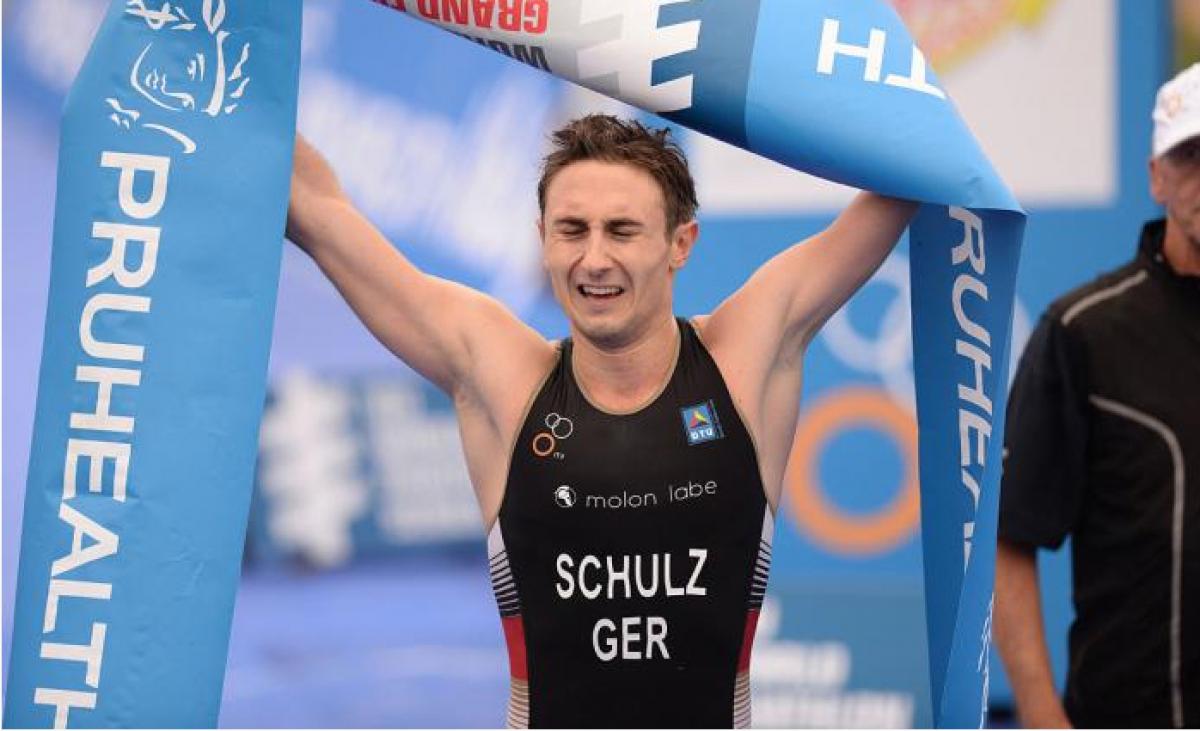 ⒸDelly Carr | ITU
By IPC
Germany's Martin Schulz continued to show strong form, taking the men's PT4 event at the Iseo - Franciacorta International Triathlon Union (ITU) World Para-Triathlon Event on Saturday (18 July) in Italy.
Schulz clocked the fastest time for para-triathletes on the course that day with 1:04.01, finishing ahead of Spain's second-place finisher Jairo Lopez (1:06.19). Russia's Alexander Yalchik (1:08.29) followed up in third.
Schulz's victory came about a week after claiming the European Championships in Geneva, Switzerland. It is also his second ITU World Para-Triathlon Event win in the year, making him a strong favourite for September's World Triathlon Grand Final in Chicago, Illinois, USA.
The men's PT2 was tightly contested, with Russia's Vasily Egorov edging France's Stephane Bahier (1:15.26) for the gold in 1:15.19. Italy's Michele Ferrarin came in third at 1:17.17.
A strong swim helped the Netherlands' Geert Schipper cruise to the PT1 victory in 1:09.02. Meanwhile, a matter of nano-seconds decided the second and third-place finishers, with Italy's Giovanni Achenza (1:12.20) beating out Great Britain's Joseph Townsend (1:12.55).
France's Arnaud Grandjean looked strong in the running portion, which was enough to win the men's PT5 category in 1:14.48. Great Britain's Iain Dawson came in second in 1:15.51, and Italy's Federico Sicura followed up in 1:22.06.
Austria's Oliver Dreier won the PT3 event in 1:16.17.
Australia's Katie Kelly clocked the fastest time for the women para-triathletes, winning the PT5 category in 1:17.33. Spain's Susana Rodriguez finished second in 1:18.01, and Hungary's Zsofia Lengyel came in third in 1:28.09.
France's Gwladys Lemoussu (1:21.25) had no trouble winning the women's PT4 event. Hungary's Petra Levay took the silver in 1:31.29, and USA's Sara Koehnke followed up in 1:43.04.
The Netherlands' Saskia Van Den Ouden captured the women's PT2 category in 1:33.46, while Finland's Liisa Lilja (1:37.14) edged France's Elise Marc (1:37.51) for silver.
Great Britain's Lizzie Tench (1:33.46) took home the women's PT1 event.
Next up is the Rio de Janeiro ITU World Para-Triathlon Event in August, which will mimic the Paralympic Games course as the sport prepares to debut at Rio 2016.
For complete results of the Iseo – Franciacorta ITU World Para-Triathlon Event, visit the ITU's website.