Schulz regains world gold in Rotterdam
After surrendering his title in 2015, the German Para triathlete had a dominant finish in this year's World Championships.
25 Jul 2016
Imagen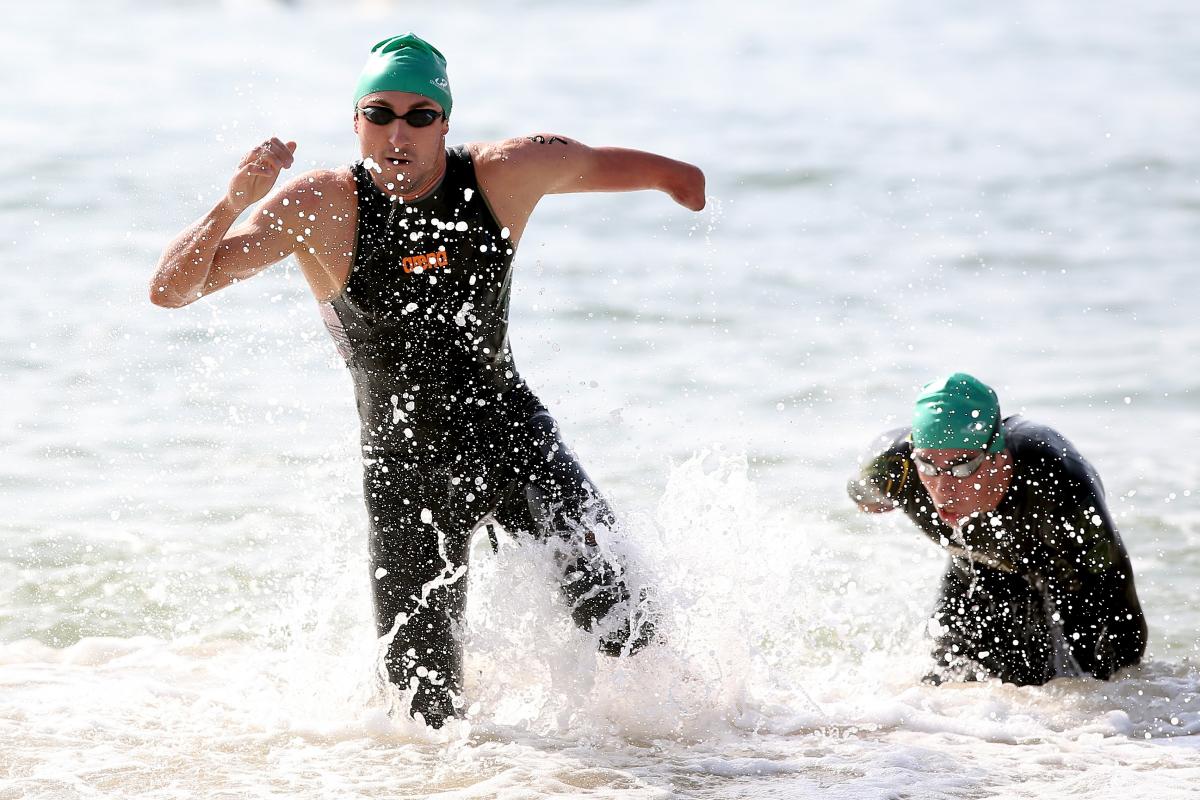 ⒸGetty Images
By Megan Mindel for the IPC; International Triathlon Union
Germany's Martin Schulz took back his PT4 title, and the USA's Allysa Seely once again showed her stronghold in the women's PT2 class as the 2016 International Triathlon Union (ITU) Para Triathlon World Championships concluded on Sunday (24 July) in Rotterdam, the Netherlands.
In addition to Seely's performance, the USA led the event with four wins. Great Britain took home two grand prizes, and the Netherlands, Germany, Russia and France each had one gold medal apiece.
PT1
The Netherlands' duo of Jetze Plat and Geert Schipper took the gold and bronze, respectively. This was the first world title for Plat (1:00:01), who had three European titles to his name. The USA's Krige Schabort (1:01:46) took home the silver, followed by Schipper (1:02:51), who earned the bronze after finishing in fourth at the 2015 World Championships.
"It was great, the weather was perfect, there were a lot of fans for me, so it was great," Plat said on the ITU's website. "The bike was really technical, I went a little bit slow to check all the corners and the last part was really fast."
The USA's Kendall Gretsch (1:18:04) had a dominant performance with her victory, finishing over five minutes ahead of Great Britain's Lizzie Tench (1:23:42). This was the 10th consecutive win for Gretsch and her third world title. Spain's Eva Maria Moral Pedrero (1:24:39) completed the podium.
PT2
Great Britain's Andrew Lewis made an impressive leap from the 2015 World Championship in Chicago, USA, where he finished ninth. On Sunday, he secured his first world gold. Despite a slow swim, Lewis' (1:08:09) strong performance on the biking and running segments gave him a two minute finish ahead of the USA's Mark Barr (1:10:12). Barr also made his first podium appearance at a World Championships after finishing fourth last year. France's two-time world champion Stephane Bahrein (1:10:37) was third.
"I can't believe it, I had a really bad race last year in Chicago - I did an extra lap - but this one we absolutely nailed it," Lewis said. "I've been focusing really hard on my swimming and biking, and haven't really even being doing that much running, so I was surprised."
The USA once again occupied the women's PT2 podium. Seely (1:23:46) grabbed her second consecutive world title, reinforcing her stance for gold at the Rio 2016 Paralympic Games, where she is expected to battle with teammates Hailey Danisewicz and Melissa Stockwell (who did not compete in Rotterdam). World No. 1 Danisewicz secured the bronze (1:25:11), finishing behind Finland's Liisa Lilja (1:24:36).
PT3
In his first Worlds appearance, Russian Denis Kungurtcev (1:07:33) won his first race with a 90-second finish over Spanish triathletes Alejandro Sanchez Palomero (1:08:50) and Daniel Molina (1:10:09).
France's Manon Genest (1:20:00) dethroned Australia's two-time world champion Sally Pilbeam (1:22:03). Australian Kerryn Harvey (1:23:15) took home the bronze.
PT4
After falling short last year to Canada's Stefan Daniel, Schulz (1:01:25) reclaimed his world title. France's Yannick Bourseaux (1:03:03) followed with the silver-medal finish. Spain's Jairo Ruiz Lopez (1:03:58) was not far behind Bourseaux to complete the podium.
"It's amazing in the Paralympic year to win the World Championships," Schulz said. "It was very good preparation for Rio, it was hot today. This wasn't the main focus for the year, so it's great."
Last year's world champion Daniel did not race, tweeting:
"Thanks everyone for the cheers today. Unfortunately had stomach issues on the bike/run, out of my control. Congrats to everyone who raced!"
Great Britain's Lauren Steadman lost her first race since May 2014. The two-time world champion was first coming out of the swim, but had an unfortunate crash during the cycling portion. That allowed the USA's Grace Norman (1:10:02) to take the lead that she never relinquished for her first world title. France's Gwladys Lemoussu (1:14:31) and Russia's Anna Bychkova (1:16:42) finished second and third, respectively.
"It's amazing, I'm [beyond] excited, I've never won before," Norman said. "To take one for America, I'm so honored to represent my country. The crowd was great, very encouraging and every time you went by [them I] thought 'Yeah, OK, I can do this.'"
It was also a tough day for Steadman's teammate Faye McClelland, as the four-time world champion finished eighth.
PT5
The USA's dominance continued with Aaron Scheidies (1:06:28) adding a fourth world title to his resume and his third straight win. Behind him was a mad dash for silver between Ukraine's Vasyl Zakrevskyi and Spain's Hector Catala Laparra. It was Zakrevskyi (1:07:42) who would take silver, as Laparra followed in 1:08:02.
Great Britain's Alison Patrick (1:12:50) regained her title after finishing runner-up in 2015. Home favourite Jolene Hakker (1:13:14) and Briton Melissa Reid (1:14:31) took silver and bronze, respectively.
Complete results from the 2016 ITU Rotterdam Para Triathlon World Championships can be found on the ITU's website.