Six months after Rio: Romance, not regrets for Tam
Hong Kong's Tam Chik Sum bounced back quickly from disappointment on the Paralympic piste thanks to wife and fellow fencer Chan Yui Chong.
16 Mar 2017
Imagen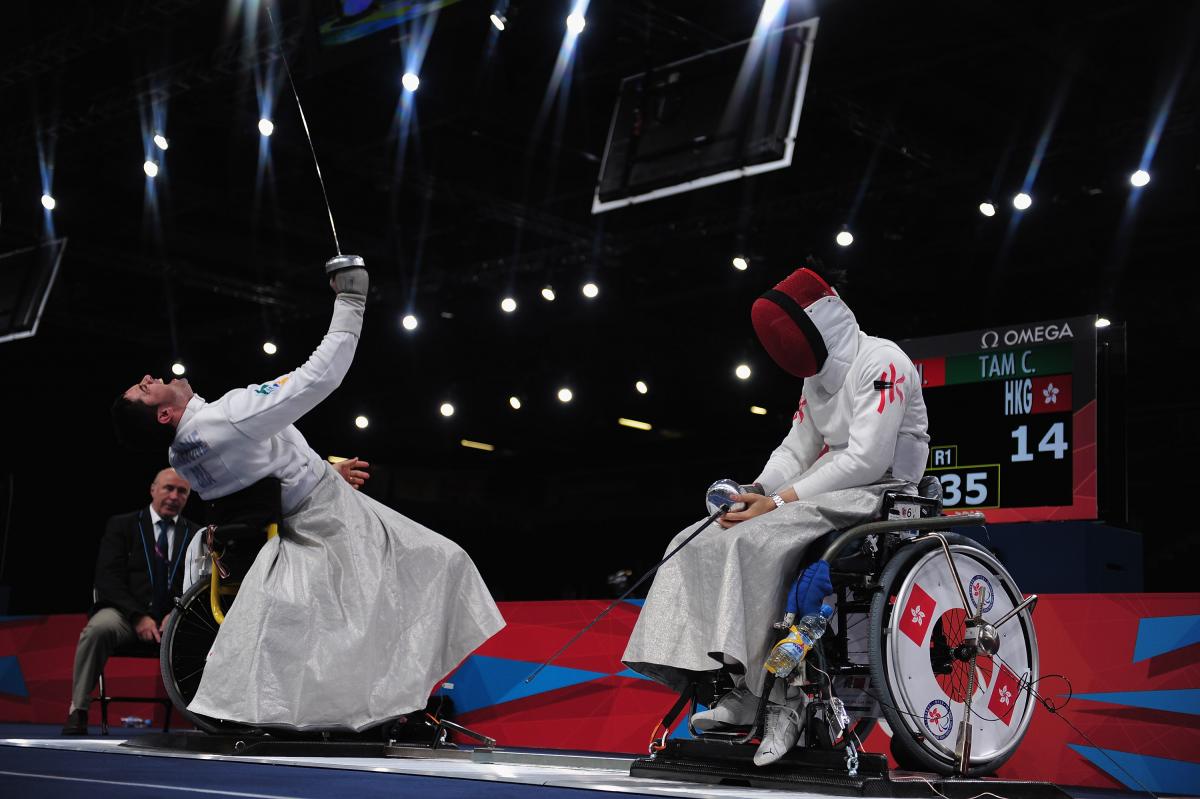 ⒸGetty Images
By Mike Stuart | For the IPC
"She is the apple of my eye. When we are competing together, I always feel refreshed and strong. "
After taking the silver medal in the men's category B epee event at London 2012, Hong Kong's Tam Chik Sum was aiming to medal again in Brazil. It was not to be, however, as he fell just short of the Paralympic podium, narrowly missing out on a place in the quarter-finals and finishing ninth overall.
There was further anguish for Tam in the men's foil team event in the bronze medal match. There his team lost narrowly 45-43 to France.
Tam did not stay downbeat for long though and is focusing firmly on the positives.
"I didn't expect much before going to Rio," Tam explained. "My performance wasn't so good as I didn't have very good preparation before the Games.
"But I appreciated our spirit during the competition. As a team, we have a close bond between fencers. And I did love the atmosphere in Rio."
For Tam, the biggest highlight was sharing the whole experience with his wife, fellow Hong Kong fencer Chan Yui Chong, who won bronze in the women's epee category B at Rio 2016.
"At the last Paralympics in London, Chan and I weren't married, but in Rio we were husband and wife.
"When she was competing in the bronze medal match, I was watching from the balcony. From the outside it looked I like I was not emotional when she was competing, even when the score was 14:14, but actually my heart was beating so fast.
"When she scored the last point, it was the most beautiful moment in Rio, because my wife had won."
After Rio 2016, Tam and Chan took a long break to spend time together away from work and training. Now, recharged, Tam is using lessons learned in Rio to formulate a plan for the season ahead.
"In Rio, we saw that wheelchair fencing training and skills are becoming more and more professional," Tam said.
"I think the Hong Kong team now needs to improve in order to catch the rest of the world. I really admired the professionalism of the Italian team, especially the support from the association and the coaches.
"For 2017, I am still thinking about the fencing plan, but I am looking forward to better training and better performance."
According to Tam, the key to getting back on the podium is the support he gets from sharing competitions with his wife.
"She is the apple of my eye. When we are competing together, I always feel refreshed and strong. For Tokyo 2020, we are so looking forward to the Games. I hope that we can be companions throughout our fencing career. We met because of wheelchair fencing, and we are so lucky that we can share the same Paralympic dream together."