South Korea's Hye-Jeong strikes gold to fulfill mother's wish
Hwang and Son upset firm favourites Harchakova and Usmanov
01 Dec 2019
Imagen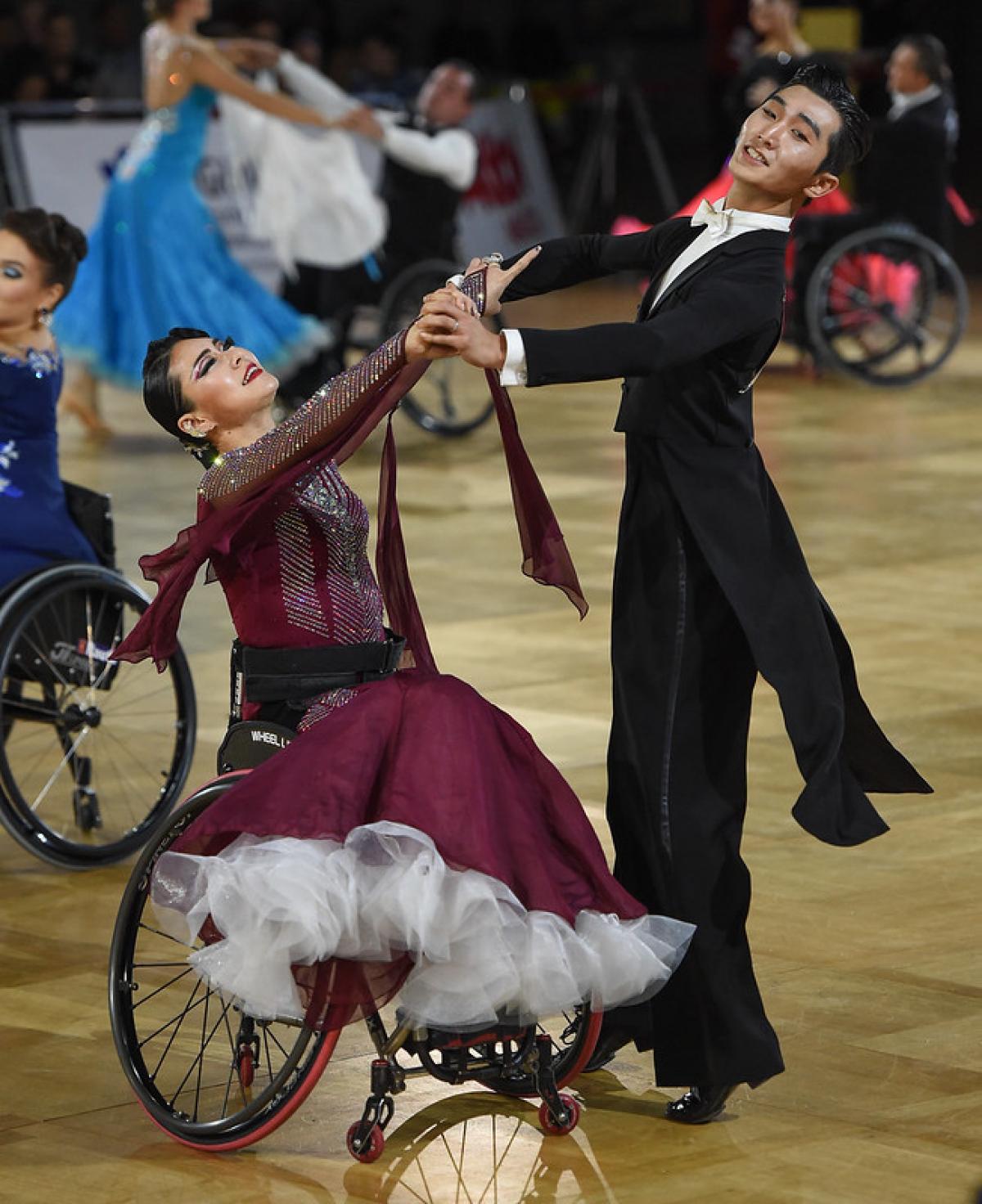 ⒸEva Pavía / #BizziTeam
By Ros Dumlao | World Shooting Para Sport
Emotions ran high after Hye-Jeong Jang won the combi standard 1 with her standing partner Jeongnu Bae at the 2019 World Para Dance Sport Championships on Saturday (30 November) in Bonn, Germany. 
The South Korean fought back her tears, trying not to smudge the heavy makeup as she reflected on what her gold medal would have meant for her late mother. 
After going dry for years, Jang had finally managed to break her medal jinx in her pet event.
She had opted for two different dance partners in the previous two World Championships – ending up with a silver in 2015 but missing out on the podium in 2017. 
In July 2018, her mother passed away; the testing times, that she describes as a "long story." But she was delighted to fulfil her mother's wish. 
"She saw how happy dancing made me and asked me to keep dancing all the time to stay happy.
"My mother died last year but she wanted me to win a World Championship, and I promised her I would," says Jang, who competed across three Worlds and won duo standard gold in 2015.
"I've been dancing nine years, but this time my first time as a (combi standard) world champion," added Jang, whose success this year's event clearly looked inevitable despite the presence of reigning world champions Iryna Makeichyk and Yauhen Yarmoshka of Belarus. 
The Belarusian pair had won their last three international competitions but that was set to change on Saturday night.
Jang and Bae wowed the judges across all five standard styles – waltz, tango, Viennese waltz, quickstep and foxtrot.
"We met last year. The Korean Wheelchair Dance Sport Federation paired us together, and I had never competed in Para dance before. But our goal was clear from the beginning: world champion, world champion, world champion," said a beaming Bae.
"We participated in many competitions in Korea and abroad, and many times we were fighting or crying or happy or sad, but we knew our goal was world champion."
"Our trust with each other is very strong and we believe 'impossible is nothing'," Bae emphasised. 
South Korea stole the rest of the night. Juhee Hwang and Jaeung Son upset firm favourites Hanna Harchakova and Roman Usmanov, also from Belarus, in the combi standard 2. 
Harchakova was hoping for a trio of world titles in the event. Saturday could have been her second with standing partner Usmanov. However, Hwang and Son had other plans. 
They displayed tremendous energy and enthusiasm. Son stole the show and seemed to be in a trance as he went on with his quickstep routine even after the music had ended. 
That effort clearly made all the difference as the Belarusian and South Korean pairs were almost even across the other four styles.
It was Son's maiden Para dance sport Worlds and Hwang's second and understandably the duo was in disbelief. 
"We didn't expect at all to win the standard. No one was expecting it," said Bae about South Korea's success on Saturday.
RUSSIA ON REPEAT
The women's single freestyle 1 gave a touch of creativity for day two.
Slovakia's Helena Kasicka claimed her second gold at Bonn 2019 with her win in the single freestyle 1. Runner-up Tomer Margalit continued to show a promising future, as the 24-year-old Israeli added to her silver from the 2018 European Championships, where she had heralded her arrival into Para dance. 
However, it was the Russians who dominated Day 2 as they won four of the seven medal events on Saturday.
Maksim Sedakov topped a highly competitive men's single 2 stunning Ukrainian 2017 world champion Ivan Sivak and home favourite Erik Machens. 
All three enthralled the crowd and made it tough for the judges to make the final call. In the end, Sedakov struck high in the samba and jive to bump his way to gold. 
Machens, in his third Worlds, entered with new vibes and moves on the dance floor. It was electrifying but not enough to entice the judges and third-place announcement left the home fans heartbroken. 
The German, however was upbeat and was confident of carrying the form into Sunday's men's single freestyle 2.
"Looking at my personal performance on the dance floor, I'm nearly satisfied. Not satisfied, I think there are more possibilities and I'm working on that. 
"But overall, I'm satisfied with my performance. Not really with the result," said Machens, who revealed he had tried to incorporate his whole body like his hips.
"I had a good feeling but there was pressure because it's a home World Championships. The fans were there, and it was touching but you have to focus and control yourself on the dancefloor." 
Sedakov had his second gold of day with victory in the duo freestyle teaming up with Galina Ryzhkova. Their compatriots Iuliia Davydova and Igor Davydov claimed the class 1 equivalent, and Davydov added a singles title in the men's class 1.
The Bonn 2019 World Para Dance Sport Championships concludes on Sunday (1 December).