Spain win two golds to take total to 13 at IPC Swimming Euros
Sarai Gascon and Deborah Font storm to gold as two world records fall in Eindhoven, the Netherlands.
10 Aug 2014
Imagen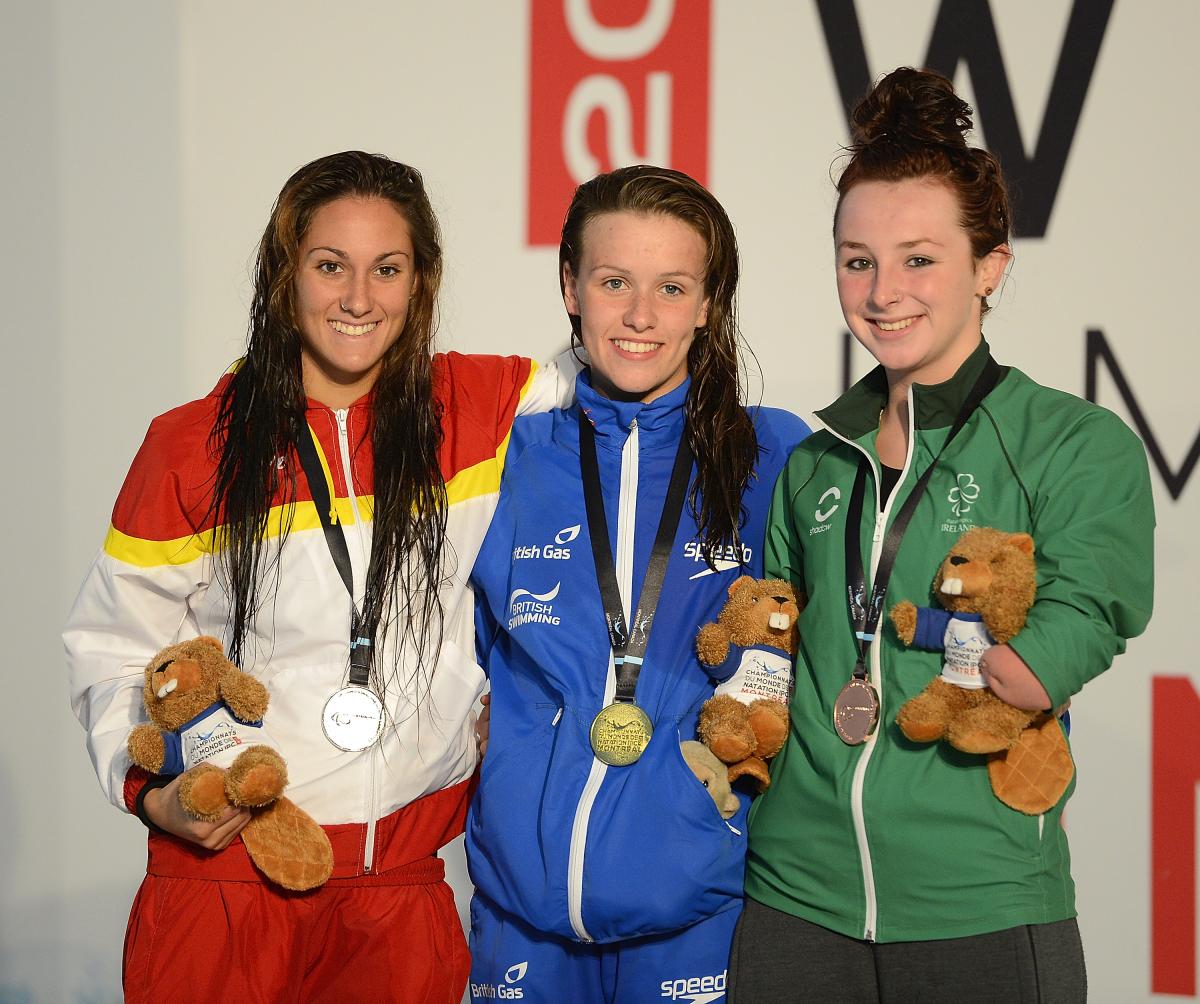 ⒸGetty
Spanish swimmers won back-back golds on Sunday (10 August), the last morning of the 2014 IPC Swimming European Championships, taking their total to 13 overall and fourth overall in the medals table.
In a thrilling conclusion to the women's 100m butterfly S9, 21-year-old Sarai Gascon (1:10.47) came back against Great Britain's world champion Amy Marren (1:11.09) after the turn.
Gascon, a silver medallist from London 2012, leaves Eindhoven 2014 with two gold, two bronze and one silver medal.
"I am very happy because it's more or less my best time" she said.
Stephanie Millward (1:12.17) sealed a double British podium.
Shortly after, Spain won their 13th gold of the week in the women's 400m freestyle S13 and a double podium.
Deborah Font (4:46.12) dominated throughout to win her first gold but silver medallist Marta Gomez (4:53.47) came back from fourth after the first turn.
"I am happy but the time is no good," Font said. "But it's 50/50 - a gold medal. I am very happy, I swam as fast as I could."
Gomez later overtook Russian Anna Krivshina (5:07.09) to push her into the bronze medal position.
Sweden's Jennie Ekstrom (1:11.47) is the new women's 50m breaststroke SB2 European champion after winning her very first medal of the week in world record time.
"It feels very good," Ekstrom said You never know what happens in a race. I didn't expect to win a gold medal. I love the [Pieter van den Hoogenband] Swim Stadion. I will be there for the party tonight!"
Russian Iuliia Shishova (1:16.32), 17, and Denmark's Cecilie Kristiansen (1:28.07) completed the podium.
Arnost Petracek (48.65) sealed the Czech Republic's first gold in the men's 50m backstroke S4. Russia's Aleksei Lyzhikin (50.33) won silver with Nelson Lopes (53.34) winning Portugal's second medal of the competition in bronze.
Petracek said "It was great. It was beautiful."
Great Britain's Eleanor Simmonds (1:41.26) took her third gold of the week in the women's 100m breaststroke SB6.
"Really pleased to have my third gold medal and also a personal best so very happy to be ending on such a high," Simmonds said. "I am going to go and cheer on my team who are doing incredible. I am looking forward to relaxing and probably losing my voice!"
Going out characteristically strong, Simmonds eased to victory in front of Ukrainian Nina Kozlova (1:53.12). Italian Arianna Talamona (1:54.83) picked up bronze.
Rounding off a successful morning for Russia, Irina Kolmorogova (1:05.71) and Natalia Gavrilyuk (1:07.03) picked up gold and silver respectively as Ukrainian Mariia Lafina (1:08.35) won bronze in the women's 50m breaststroke SB3.
Heats
Russia's 19-year-old double 2014 Euros gold medallist Valeriia Shabalina (2:26.10) headlined the heats, winning the women's 200m individual medley SM14 in a new world record time. She broke Dutch second fastest qualifier Marlou van der Kulk's (2:30.56) previous mark by over three seconds.
Reigning Dutch Paralympic, world and European champion Lisette Teunissen (54.00) qualified strongly in her women's 50m backstroke heat and leads the field this evening.
Setting up a sensational showdown in the women's 100m freestyle S10, France's Elodie Lorandi (1:02.58) won her heat as the Netherlands' Summer Mortimer (1:03.06) led hers.
Italy's Federico Morlacchi (1:02.28), going for his fifth gold medal at Eindhoven 2014, did enough to qualify in the men's 100m butterfly S9. Croatia's Kristijan Vincetic (1:01.47) and Hungarian Tamas Sors (1:02.20) head through as the two fastest swimmers.
Spain's Teresa Perales (45.47) leads Norwegian Sarah Louise Rung (48.49) into their final meeting of Eindhoven 2014 in the women's 50m backstroke S5 dash.
Great Britain's Andrew Mullen (39.10) will make an attempt on his fourth European title this week in the men's equivalent.
Perales' European record-holder teammate Miguel Luque (51.35) qualified fastest in the men's 50m breaststroke SB3.
A series of Russian's chalked the quickest times in their heats.
Dmitry Grigorev (55.26) heads to the finals of the men's 100m freestyle S10. Denis Tarasov (26.90), fresh from winning gold in the men's 100m freestyle S8, is in pole position for the 50m free, and Olyesa Vladykina (32.09) in the women's 50m freestyle S8.
Germany's Torben Schmidtke (1:25.71) qualified fastest for the men's 100m breaststroke final, ahead of Ukrainian world record holder Yevheniy Bohodayko (1:26.77).
Ukrainian Danylo Chufarov (4:21.85) and Russian Sergey Punko (4:24.62) progress to the men's 400m freestyle S12 final.
Heading into the final session, the top of the medals table is decided with Ukraine storming to victory as they did at the 2013 Worlds, with 88 medals (35 gold) and potentially more to come this evening.
Russia and Great Britain are second and third with 82 (29 gold) and 65 (27 gold) medals respectively.
The 2014 IPC Swimming European Championships continue until 10 August and feature around 380 of the world's best swimmers from 37 countries.
Tickets are still available at www.eindhoven2014.com, as well as high quality photos of the event.
All morning and evening sessions will be livestreamed at www.ParalympicSport.TV and live results will be available at the Eindhoven 2014 website.
Live updates will be posted to the IPC Swimming Facebook page and the Twitter account or search #Eindhoven2014.