Sport Week: Classification in wheelchair basketball
Before the athletes take the courts in Rio 2016, learn how they are assigned to their sport classes.
15 Mar 2016
Imagen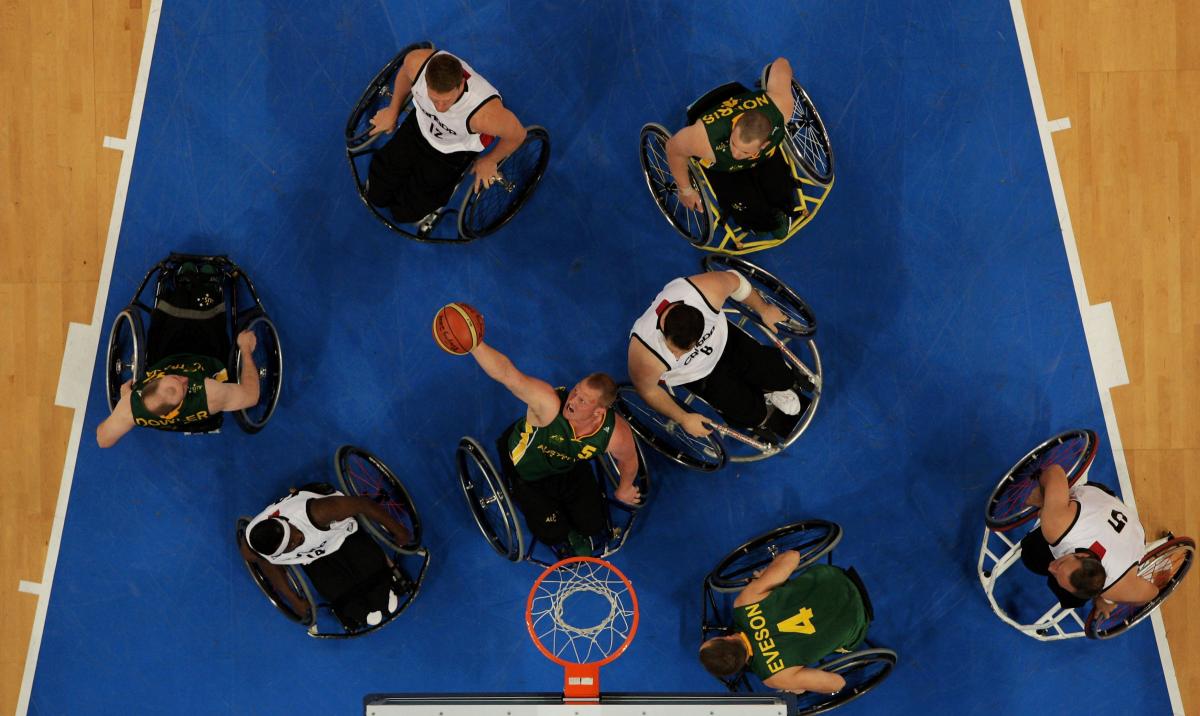 ⒸGetty Images
Editor's note: Each sport on the Rio 2016 Paralympic programme will have a dedicated week of featured content published on paralympic.org. Every week a new sport will be featured and the series will run until September's Games, helping the public understand more about the 22 sports being contested in Rio.
Men and women's wheelchair basketball teams are composed of players in different sport classes. There are eight classes – 1.0, 1.5, 2.0, 2.5, 3.0, 3.5, 4.0, 4.5 – with 1.0 being the most significant activity limitation.
Each team can have a combination of five players on the basketball court, but the total of the classification points cannot exceed 14.
• 1.0: Players here have no trunk control, thus cannot bend forward or sideways, or rotate to catch and pass the ball. To keep a stable position, the backrest of the wheelchair is a bit higher and the athletes are strapped to the wheelchair.
• 2.0: These players can lean forward and rotate their body to some extent, allowing them to catch the ball within a larger radius. Like their team members in sport class 1.0, their wheelchairs have a higher backrest and strapping for trunk support.
• 3.0: Players here can fully rotate and lean forward, but cannot lean to the sides. As they do not need sitting support, their wheelchair has a low backrest.
• 4.0: While 4.0 players can move forward and rotate like their team members in sport class 3.0, they can partially lean to the sides as well. Often players in this sport class can lean to one side only, for example, because an impairment in one leg would cause a loss of balance to the other side.
• 4.5: Players in this sport class are the least impaired and have no restriction in trunk rotation or leaning forward or sideways. For example, players with a foot amputation or a 6 cm leg length difference would be eligible for this sport class.
An athlete allocated to 1.5, 2.5 or 3.5 sport classes (also known as "half-pointers") fit between the profiles of the lower and higher class.
Athletes are classified when competing at International Wheelchair Basketball Federation (IWBF) sanctioned events, where player classification panels are present to observe the athletes.
Athletes with these impairments are eligible to compete in wheelchair basketball:
• Impaired muscle power
• Athetosis
• Impaired passive range of movement
• Hypertonia
• Limb deficiency
• Ataxia
• Leg length difference
Helpful links
IWBF classification manual www.iwbf.org/images/a_classification/ClassificationManual2014-2018EnglishFinal.pdf
IPC classification webpage https://www.paralympic.org/classification