Sport Week: Four questions for Kosmala and Jacobsson
Two of shooting's most recognisable, and successful, athletes answer the same questions.
10 Jul 2016
Imagen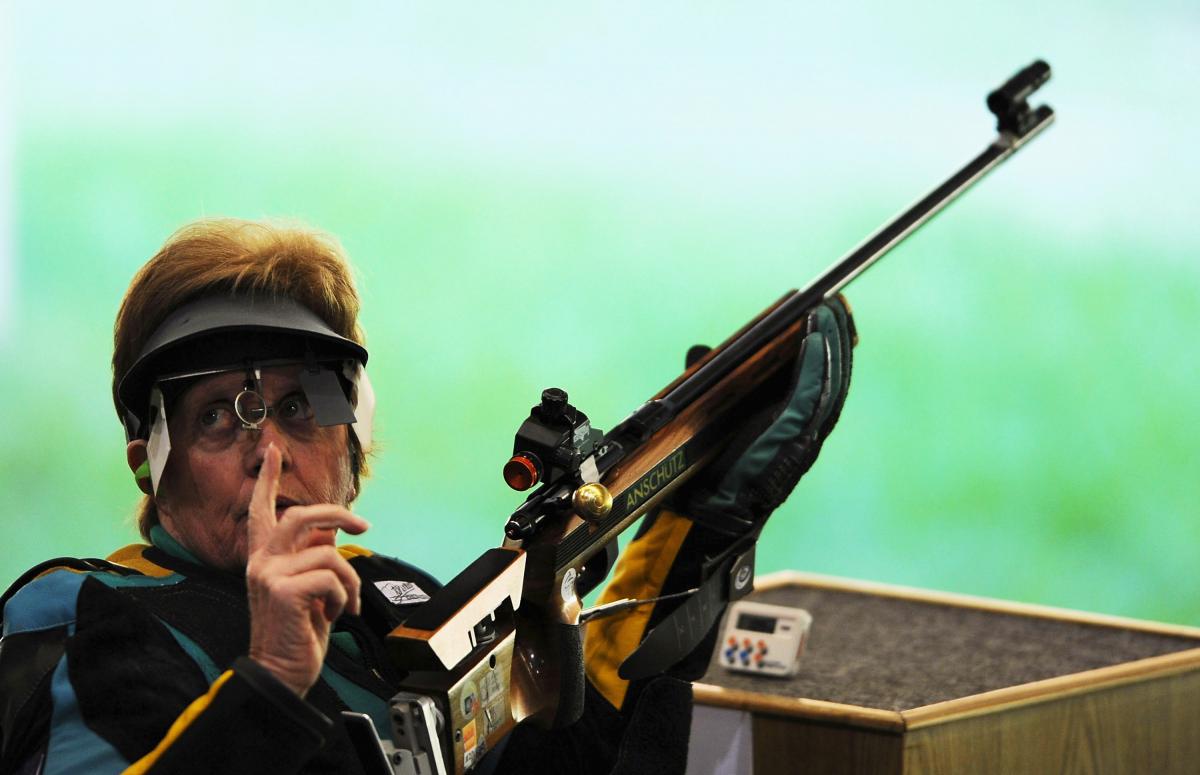 ⒸGetty Images
By IPC
Sweden's Jonas Jacobsson has won a medal at an incredible nine consecutive Paralympic Games, whilst Australia's Libby Kosmala competed at Toronto 1976 when the sport made its debut.
There she picked up one of the first gold medals in the history of shooting Para sport and will enter Rio 2016 as a 73-year-old Grandmother.
What makes these legends tick?
What attracted you to try shooting in the beginning?
Libby Kosmala (LK): "At the time, I was secretary of the Wheelchair Sports Club in South Australia and was invited with the President, Kevin Bawden, to visit Adelaide Rifle Club. I had never shot a gun and did not want to go, but it was suggested that I should so I could encourage other disabled people to try shooting.
"At the indoor range, I was given instructions on how to shoot a .22 rifle, and shown a target 20m away, and the rifle was then loaded with a bullet and it was suggested that I should hit the little black dot. I fired the shot – it went right through the middle. The shooters around me laughed and thought it was 'just luck'. So I suggested that I would do it again, and so I did and again the shot went right through the some hole.
"I used to be an archer (bow and arrow) and I did both shooting and archery for some months, but kept winning with the rifle, so rifle shooting is my sport."
Jonas Jacobsson (JK): "My entire family have been doing shooting, both my parents and my two brothers so it kind of felt natural."
What has been the most memorable moment of your career?
LK: "There have been many wonderful moments in my career – my first gold medal in .22 at the Toronto Paralympics in Canada in 1976 against all comers; my four gold medals and four world records in air rifle shooting in 1984 in Stoke Mandeville, Great Britain, and finally my three gold medals in Seoul, South Korea in 1988 for air rifle shooting and at the same time, my husband, Stan, gained a gold medal for lawn bowls pairs and I watched him bowl the winning shot!"
JJ: "It's not an easy one to pick. There's a few but I can't really pick one. The first [Paralympic] gold I got in 1980 would be one. Athens 2004 is another, when I got all four gold medals. I shot all four events and got all four golds.
"The last gold I won in London was also a special one because I had both my wife and parents in the stands. My parents hadn't seen me shoot in the Paralympics for 25 years and it was the first time my wife saw the Paralympics so that was pretty special in that sense."
Which is medal that you remember most?
LK: I think the first medal that I remember clearly was at the World Shooting Championships in Linz, Austria, in 1994. I was reclassified so from that day I have not been able to wear my orthotics (full length calipers – hip to toe).
"I competed in the air rifle prone match with a score of 599/600 and went into the final in first place. I had next to me, in fact facing me, left-handed Jonas Jacobsson and at the end of the final, Jonas said to me you are in first place by .2 – Jonas had been adding the score as it went along!! The gentleman who presented the gold medal was the classifier and I pointed out to him that it had been a great help to my shooting not wearing the calipers!!
JJ: "Same answer as question number three!"
What has driven you to carry on competing for so long?
LK: I thoroughly enjoy sport, especially shooting. I keep much fitter, physically and mentally; I enjoy the companionship of shooters from around the world; and have seen fantastic changes in the disabled world, not only equipment for disabled, but the fact that initially the sport for the disabled involved wheelchair people only, but now the Paralympics include all disabled – blind, cerebral palsy, amputees, les autres (the others) and wheelies!"
JJ: "I already stopped shooting a couple of times! I was going to stop after London but we've got a really good, young team coming up in Sweden. So for me it's interesting to see and try and help them get a good experience of the Paralympics and help them out, maybe for their first Games now, and then they can do it by themselves.
"That's probably what driven me this time. After London we almost didn't have any future with the Swedish Paralympic shooting team but we found some really good athletes and it's really good to see them come through.
"We've always had a really good spirit in the group so that's probably what's kept me going."
__
Sport fans from around the world can now buy their Paralympic tickets for Rio 2016 from authorised ticket resellers (ATRs)
The IPC's Global ATR is Jet Set Sports, and Rio 2016 tickets and packages can be purchased on the CoSport website.
Residents of Brazil can buy 2016 Paralympics tickets directly from the Rio 2016 website.
Visa International is the exclusive payment card and the official payment system for the Paralympic Games.
Related Images