Stefan Daniel's sizzling success in Edmonton
Para triathlete wins back to back home World Series
31 Jul 2018
Imagen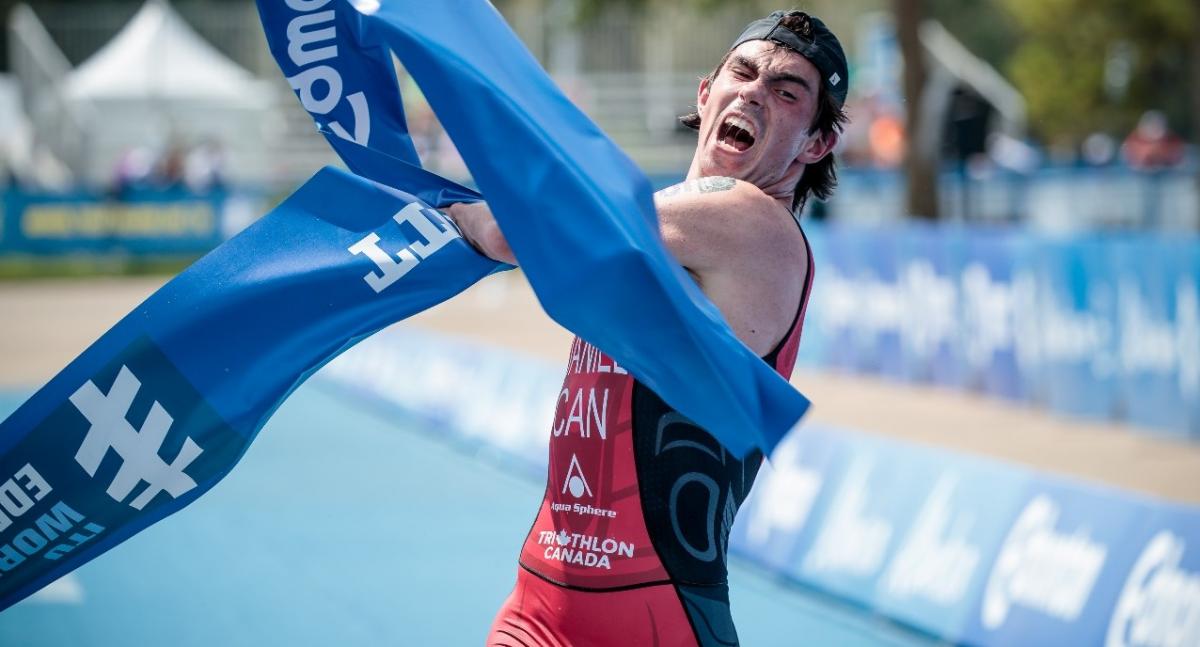 ⒸWagner Araujo/ITU Media
By Kelly Bird | For the ITU
On a hot afternoon in Edmonton, Canada, home favourite Stefan Daniel and compatriot Jessica Tuomela gave the crowds plenty to cheer about as they won the PTS5 and PTVI races at the latest edition of the World Para triathlon Series.
"I had a really good day," said Stefan of his race experience. "I tried to have an aggressive swim and bike really hard. It's a different bike than I am used to, going up that hill six times. Having the home support was really helpful as well."
Daniel chuckled when asked about his rival Martin Schulz of Germany of who finished sixty seconds after him in second place. "We bring out the best in each other, it's always nice to race against the best. He's really motivated, I'm really motivated." Russia's* Alexandr Ialchik rounded out the PTS5 men's podium in third.
The women's PTS5 race was won by US triathlete Grace Norman. "I had a good race, I really gave it all on the bike. Coming in to this race I had a heavy bike focus and worked on my climbing which really played to my advantage."
Norman was delighted with the spectator support. "I love racing here, the course is always clean and there were a ton of spectators at the top of that hill, which is really appreciated. It's a really well-run race." Canadian Kamylle Frenette finished second.
Norman's US teammates Allysa Seely and Hailey Danz went one-two on the PTS2 women's race. Team USA also took home the men's title through Mark Barr, with Netherlands' Maurits Morsink and Russia's Vasily Egorov completing the top three.
Irish athlete Cassie Cava won the women's PTS4 division. On the men's side Oliver Dreier of Austria, Mikhail Kolmakou of Russia and Japan's Hideki Uda went top three.
Tuomela's win in the women's PTVI division headlined more Canadian success as she beat USA's Elizabeth Baker and Amy Dixon to the title. Five-time Australian National Champion Jonathan Goerlach bested USA's Aaron Scheidies and another Canadian, Jon Dunkerley, to the men's gold.
Wakako Tsuchida of Japan and Alexandre Paviza of France were the winners of the men's and women's PTWC races. Australia's Emily Tapp and Mexico's Brenda Osnaya Alvarez took silver and bronze in the women's event while the men's podium was completed by Ahmed Andaloussi of France and Japan's Jumpei Kimura.
*Editor's note: The International Paralympic Committee suspended the Russian Paralympic Committee on 7 August 2016 for its inability to fulfil its IPC membership responsibilities and obligations, in particular its obligation to comply with the IPC Anti-Doping Code and the World Anti-Doping Code (to which it is also a signatory). As a result of the suspension, Russian athletes cannot enter IPC sanctioned events or competitions, including the Paralympic Games.