Sweden's Jacobsson Has a Lot to Live Up to on Range
The sharp shooter is trying to qualify for both the Olympics and Paralympics in London.
28 Feb 2012
Imagen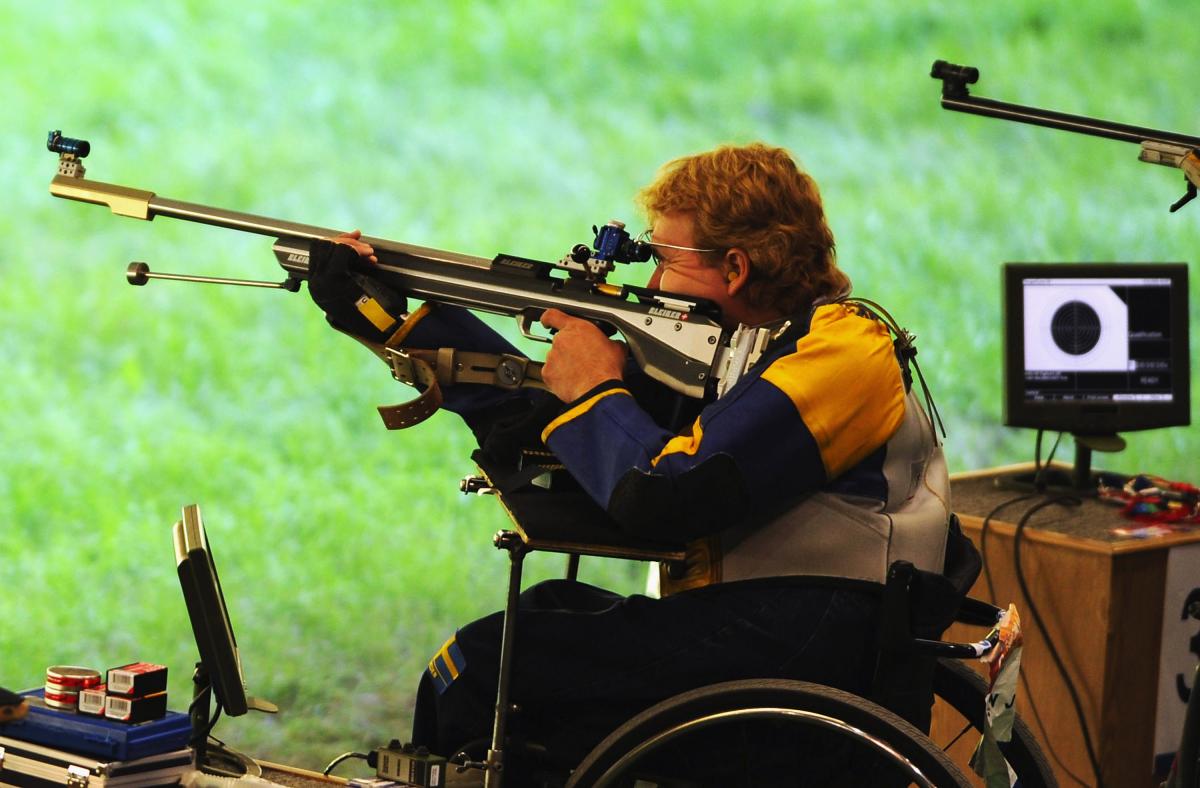 ⒸGetty Images
By IPC
"I've managed to be able to get at least one gold at every Paralympics I've attended. It's eight in a row, and I want to make that nine in a row."
Jonas Jacobsson's name is now commonly mentioned among the Swedish sport greats, alongside tennis superstar Bjorn Borg and well-renowned golfer Annika Sorenstam.
The 47-year-old shooter, set to compete in his ninth Paralympic Games this year, will have a lot of expectations to live up to at London 2012, his first Paralympics since winning the Svenska Dagbladet Gold Medal in 2008. The award has been handed out since 1925 to a Swedish athlete who had the top sports achievement in that respective year.
This time around, Jacobsson will try to double his chances of adding to his medal haul of 16 golds, attempting to compete in both the Olympics and the Paralympics.
He has already qualified for the Paralympics and will compete in as many as four events.
"I'm still hoping that there's a chance for me to get into both the Olympics and the Paralympics, but we'll see what happens," Jacobsson said.
"I've never really tried before, but I should have. If I would have known that I would be able to shoot the way I have …" Jacobsson added, trailing off.
He's referring to prone shooting, in which athletes can lay on the ground and fire. Following the Beijing 2008 Games, Jacobsson got out of his wheelchair and tried that method for the first time since he was 12 years old, and his results were no different than when he fires from his chair.
The Swedish Olympic Committee approached him to see if he wanted to have a go at cracking its 2012 Olympic squad, and in April he will attend the able-bodied World Cup in London to try to help his chances after just missing out on a quota spot last year.
Now back in Europe from Brisbane, Australia, where he spent a couple of months training alone, Jacobsson said his aim is a bit better now than at this time last year, despite not having a coach with him Down Under.
"This time I had my wife with me. She was coaching me to eat right and stuff like that," Jacobsson joked.
He believes the Paralympic competition will be steeper than ever in London, justifying his statement with a little math.
He noted that in 1980 – when he made his Games debut – 54 per cent of the countries competing in the Olympics were also competing in the Paralympics, and that figure will rise to 78 per cent in 2012.
"When you're doing a sport that is not soccer or ice hockey in Sweden, it's only a big thing every four years," Jacobsson said. "But you can imagine the difference in how it's really come a long way."
Jacobsson's top opponents in London will hail from China, Korea, Germany, Israel and Great Britain itself, but the number of new competitors does not seem to faze him.
"I've managed to be able to get at least one gold at every Paralympics I've attended," Jacobsson said. "It's eight in a row, and I want to make that nine in a row."
Related Images