Swimmer Hamer fired up for more success
Ahead of his home World Series in Sheffield, the British swimmer revealed his long term aspirations.
26 Apr 2017
Imagen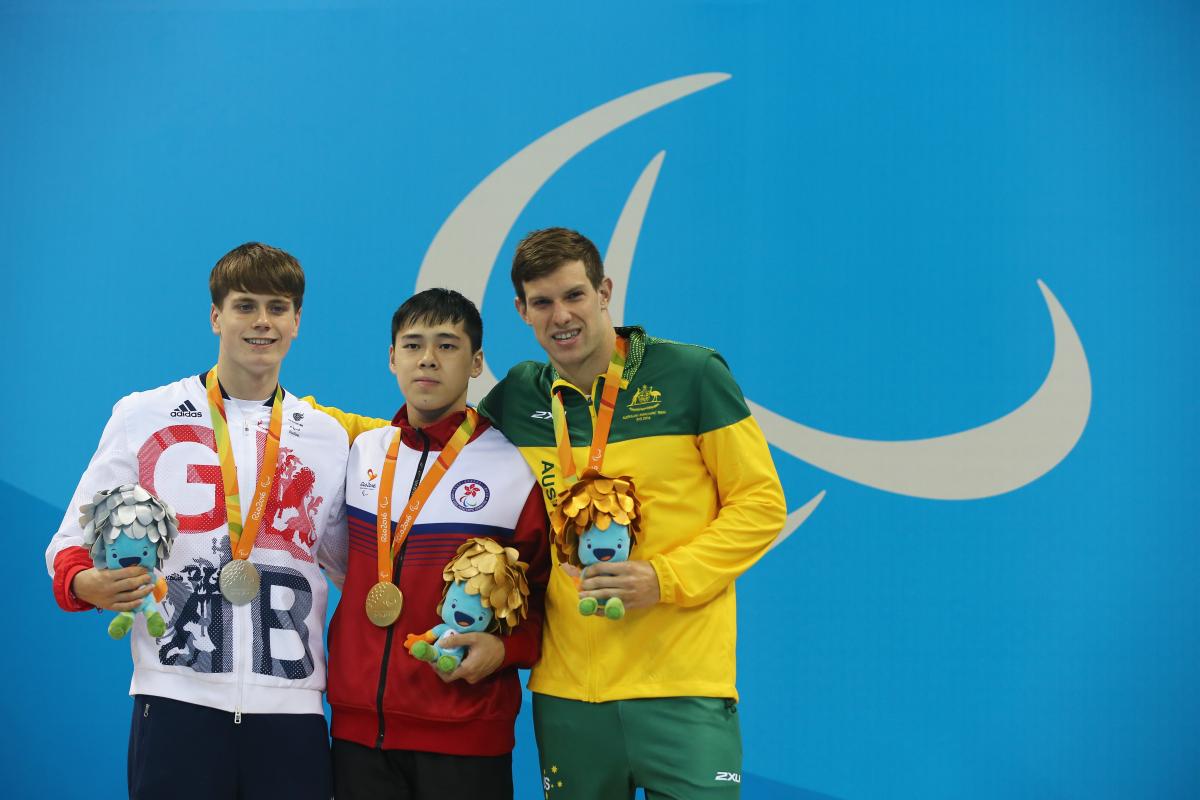 ⒸGetty Images
By British Swimming and IPC
"... in some ways I am glad I didn't get gold ..."
Great Britain's Tom Hamer has his eyes set firmly on Paralympic gold in Tokyo and beyond after losing out by two tenths of a second in the 200m freestyle S14 at Rio 2016.
Hamer, who turned 18 less than a month before the Paralympic Games, was agonisingly close in Brazil, setting a new British record of 1:56.58. But he was beaten to the title by 0.26 seconds by Hong Kong's Wai Lok Tang.
He also finished second in the 200m individual medley SM14, but time has not dulled the pain he felt after the freestyle.
Instead it added fuel to the fire for Hamer, with gold the target the World Para Swimming Championships in Mexico City in September and on to the 2020 and 2024 Paralympics.
"It drives me on an awful lot," he said. "Watching that video at events and stuff still makes me sick now. It keeps driving me on – my end goal is to get that gold medal.
"I don't want my career to end at Tokyo. My dream is to get gold in Tokyo and then after another four years maintain that."
In hindsight, Hamer believes it could have been a blessing, albeit a mixed one, given he would have reached the pinnacle at such an early stage of his career.
"I'd say Rio was a good success and a good springboard because in some ways I am glad I didn't get gold and in some ways I'm gutted because if I would have won gold that's more or less the achievement I have always wanted.
"Although if I did win I would have to think about something else so I am kind of happy I didn't get gold, because it's motivating me to carry on for another four years and try and get this gold under my belt."
He has taken away some painful lessons but ones that bestow experience and maturity that will benefit him in the future.
"It's all the little things on the day: training is going really well at the minute and was before Rio.
"It's handling those pressured environments and knowing what to do on race day so that is what I am working on at the minute, perfecting that race day and recovery."
Mexico City will host the World Championships from 30 September – 6 October and while there may be a reunion with Tang, what his opponents might produce is of little concern.
"I am going to go there and do my best and try and beat him," he said. "That is all I can say really.
"I don't really pay attention to what my rivals are doing, I just leave them be because at the end of the day I just want to swim fast and try and beat them."
Mexico will also provide a good opportunity to become accustomed to some of the tests he will face as he looks to Tokyo 2020.
"I think Mexico will be a good starting point for the start of this cycle, it will be a good stepping stone to see where I'm at," he said.
"It's … at altitude so that will be a challenge. So these extra little challenges like travelling there, it's good to get under your belt because Tokyo is a long way away."
"[It is] six hours time difference – so good to get all these things under your belt."
Next up is his home World Para Swimming World Series at Ponds Forge, Sheffield, where he will compete in the 200m freestyle and 200m individual medley.
Hamer has participated in minor competitions since Rio, focusing on elements of his performance, but Sheffield represents the first serious action.
"It will be the one where I won't be working on little things, I'll be trying to swim quick and make the qualification times for the Commonwealth Games."