Swimming heats set-up close clashes for finals at Rio 2016
Eleanor Simmonds, Denys Dubrov, Jiao Cheng and Olga Sviderska all set records on Monday (12 September).
12 Sep 2016
Imagen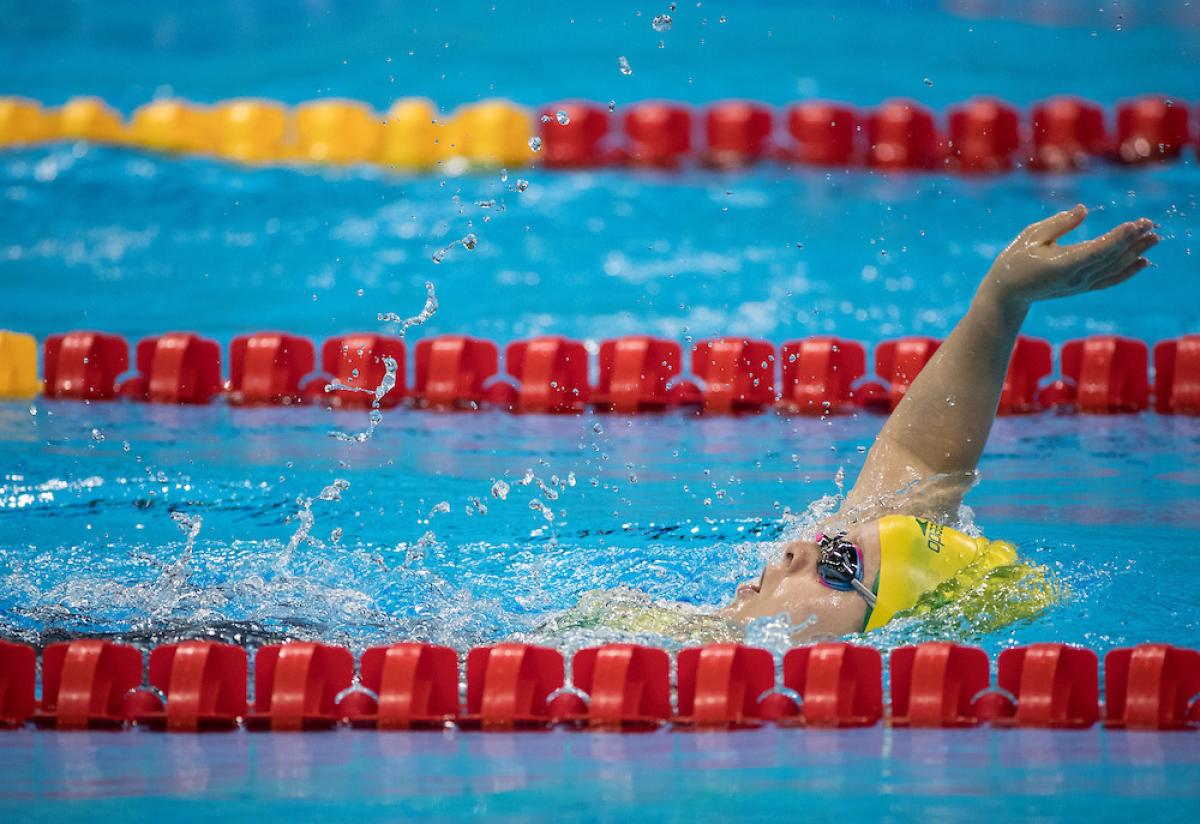 ⒸAl Tielemans for OIS/IOC.
By IPC
Great Britain's Paralympic and world champion Eleanor Simmonds will lead out the women's 200m individual medley SM6 field after setting a new Paralympic record at the Rio 2016 Paralympic Games on Monday (12 September).
Swimming in the second heat Simmonds (3:02.40) lowered the mark of Ukraine's World Championships silver medallist Yelyzaveta Mereshko (3:04.71) set just moments before in heat one.
The result sets up a clash between the pair who have been exchanging places since Mereshko first burst onto the scene in 2014.
China's Lingling Song (3:09.93) was third with a new Asian record while Australia's Tiffany Thomas Kane (3:10.48) was also in Oceania record-breaking form.
Ukrainian world champion Denys Dubrov (55.29) broke the six-year-old world record of Brazil's Andre Brasil in the men's 100m butterfly heat. His teammate Maksym Krypak (55.54) was second, also dipping under the former world record of 55.99, while defending champion Brasil (58.27) went through third quickest.
"It is good because it puts more fire in the competition," Brasil said. "I don't know what will happen in the finals. But you have one lane, so you have a chance. I have my lane."
Paralympic silver medallist Ievgenii Bohodayko (30.74) also went quickest in the men's 50m butterfly S7 for Ukraine. Compatriot Andriy Kozlenko (31.23) was second ahead of Australia's Matthew Levy (31.35).
More exceptional performances set-up an exciting evening of finals.
Brazilian world champion Joana Maria Silva (37.22) set a new Americas record in the women's 50m freestyle S5, at her second Paralympic Games. China's Li Zhang (37.37) was just behind in second, with her own regional record for Asia. Spain's Teresa Perales (37.87), going for her second medal, was third.
Just a few tenths separated Brazil's world and Paralympic champion Daniel Dias (33.55) and Vietnam's Tung Thanh Vo (33.87) in the men's 50m freestyle S5. Vo's time was a new Asian record and he will attempt to unseat Brazil's most decorated Paralympian in the final. The USA's Roy Perkins (34.22) was third.
China's Jiao Cheng broke the eight-year-old world record in the women's 150m individual medley SM4. Cheng touched in at 2:47.57 on her Rio 2016 debut to show her competitors she means business.
The previous mark, set by Denmark's Karina Lauridsen at Beijing 2008, stood at 2:47.84.
Ukraine's Olga Sviderska (2:58.72), the World Championships silver medallist, broke her own SM3 world record in the combined SM3 and SM4 class race. In doing so, Sviderska also claimed the Paralympic record of Mexico's Patricia Valle from 2008.
China's Guizhi Li just missed out on the world record in the women's 50m freestyle S11, but still lowered the Paralympic record. The world champion finished in 30.89, taking 0.05 seconds off Italian Cecilia Camellini's mark from London 2012.
Sweden's Maja Reichard (31.05) was just behind in second, and New Zealand's Mary Fisher (31.35) was third.
In the men's 100m freestyle S9, Independent Paralympic Athlete Ibrahim Al-Hussein recorded a personal best of 1:20.98 but missed out on qualifying.
"I would like to call upon all of the refugees from all of the countries in the world to say that we have strong sportsmen and women among the refugees, not only swimming but other sports," Al-Hussein said.
Australia's Timothy Disken (56.73) led the field, in front of teammate Brendan Hall (57.14). Hall tied with Hungary's Paralympic silver medallist Tamas Toth for second place. Brazil's Ruiter Silva qualified with a new Americas record of 57.39.
New Zealand's world and Paralympic title holder Sophie Pascoe followed up on her world record from the women's 200m individual medley SM10 from Sunday (11 September) with a new Paralympic record in the 100m butterfly S10 of 1:04.37. Pascoe is back to her best form and will go for her ninth career Paralympic gold in the final.
There was a new Asian record for China's Yi Chen (1:08.62) in second ahead of Spain's Isabel Yinghua Hernandez Santos (1:09.39) in third.
Paralympic champion Nikita Howarth (35.40) followed-up on teammate Pascoe's success with the fastest time in the women's 50m butterfly S7. Great Britain's Susannah Rodgers (36.02) and the USA's Cortney Jordan (36.51) completed the top three in second and third respectively.
The USA's Rebecca Myers (4:29.97) will hope to add a third medal to her haul in the women's 400m freestyle S13. The world champion qualified quickest in her heat ahead of Ukraine's Anna Stetsenko (4:31.02) and Germany's Naomi Schnittger (4:43.59).
Myers' World gold medallist compatriot Bradley Snyder (26.06) qualified fastest to set himself up for a finals clash with Chinese Paralympic champion Bozun Yang (26.36), who went through second in the men's 50m freestyle S11. South Africa's Hendrik Herbst (26.95) was third.
Michelle Konkoly (1:01.46) qualified quickest in the women's 100m freestyle S9, to lead Spain's Sarai Gascon (1:03.36) and Australia's London 2012 bronze medallist Ellie Cole (1:03.40) into the final in second and third respectively.
Paralympic and world champion Ihar Boki (4:02.23) will go for his third gold medal for Belarus in the men's 400m freestyle S13 final as the fastest qualifier.
Second placed Ukrainian Iaroslav Denysenko (4:05.03) will be hoping to improve on his performance from the 2015 World Championships, where he finished with silver behind Boki. Uzbekistan's Dmitriy Horlin (4:13.69) was third.
New Zealand's Cameron Leslie (2:29.36), the Worlds silver medallist and world record holder, qualified quickest in the men's 150m individual medley SM4. China's Zhipeng Jin (2:32.86) set a new Asian record with second place. Jonas Larsen (2:35.95) will go for Denmark's first swimming medal in third.
Colombia's double Paralympian Nelson Crispin (2:42.25) went quickest in the men's 200m individual medley SM5. China's Hong Yang (2.43.19) was second ahead of Great Britain's Sascha Kindred (2:43.75).
Live coverage and results of swimming is available at Paralympic.org. Live updates will also be posted to IPC Swimming's Facebook, Twitter and Instagram.