Swiss hope to show wheelchair rugby power
Top two finishers at Euros earn spots to Tokyo 2020
22 Jun 2019
Imagen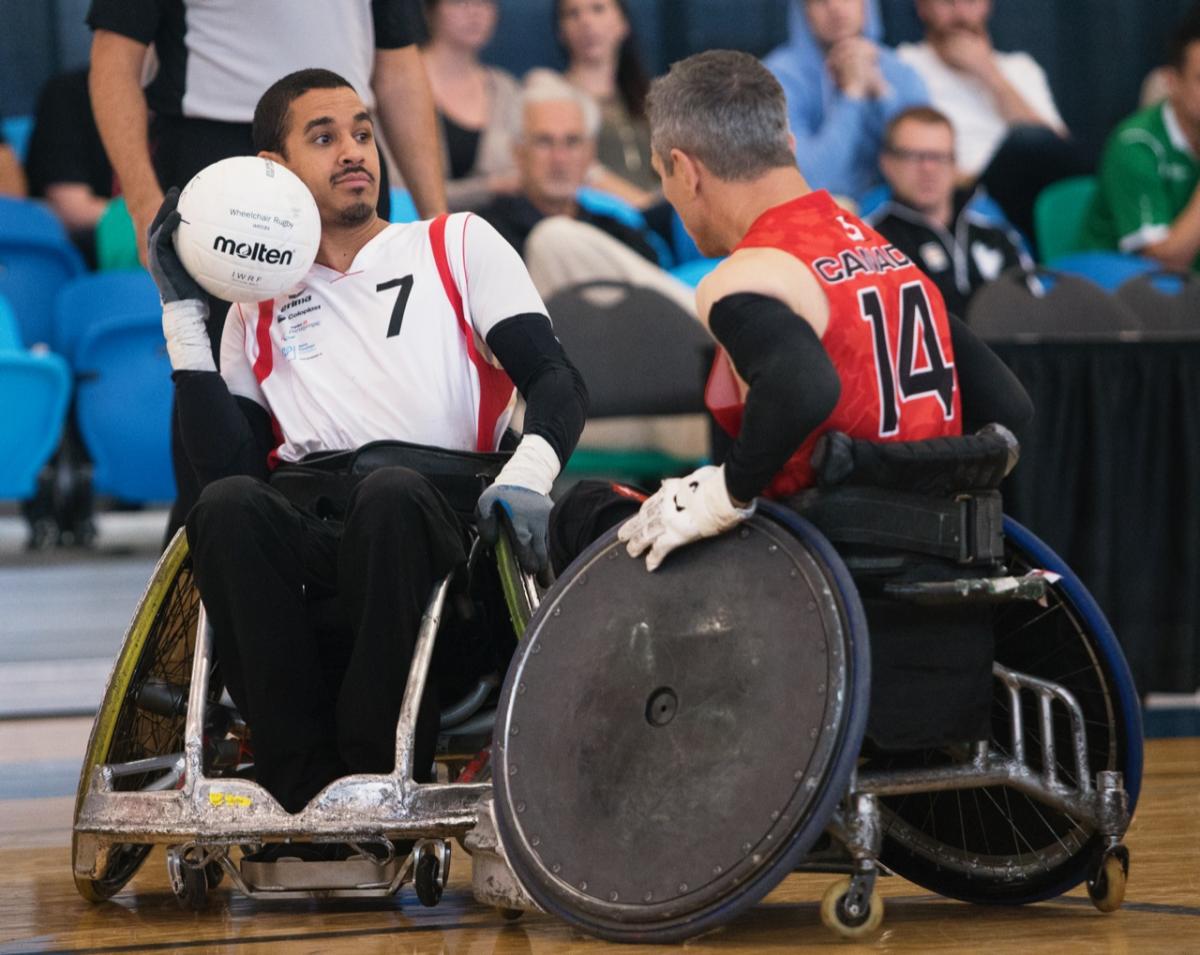 ⒸKevin Bogetti-Smith
By Beau Greenway | For the IPC
"We are hard at work to get prepared for this big event and we meet on a regular basis to get the final fine-tuning done"
Persistence and hard work are the two key reasons why Switzerland will be back competing against Europe's leading wheelchair rugby nations this August.
That is according to Swiss veteran Dave Mzee.
"We are very happy to take part in this big tournament and we are really excited to compete with the best teams in Europe," Mzee said.
The Swiss team broke a six-year drought by qualifying for the 2019 International Wheelchair Rugby Federation (IWRF) European Championship Division A that will take place at Vejle, Denmark, on 7-11 August.
This came after a thrilling one-goal victory over Austria in the semi-finals of last year's IWRF European Championship Division B, at Lahti, Finland, which secured Switzerland a place in the main event.
Switzerland eventually fell to the Netherlands in the gold medal match last year but were delighted to be one of the qualifiers for Vejle.
Veteran leads the way
Mzee was a rookie on the Swiss team when it last played at the Division A European Championship. But he is now ready to take on more responsibility to help his country produce a strong result.
"We are hard at work to get prepared for this big event and we meet on a regular basis to get the final fine-tuning done," Mzee said.
He added that Switzerland has maintained the bulk of the team that played in the Division B tournament, but will have a few new players when they hit the court in Denmark.
"The new players were well integrated into the team and we've made a step forward as a team. "
Mzee said the team has been paying close attention to the small details. It helps too that they have fun training and being together.
"We invested a lot of time into video analysis, court training and tournaments to get to the Division A again."
New coach helps
He said a change in the coaching ranks has also had a huge impact.
"Adrian Moser is an excellent tactician and brought the team to a new level," he said.
"The competition will be very strong, and we are looking forward to showing our best rugby and competing at the top level," he said.
Mzee reflected often on the "crazy scenes" and nail-biting result against Austria that got them to Denmark.
"On one hand, most of us were overwhelmed that we finally qualified for the Division A, but on the other hand, the qualification game against Austria was closer than it should have been," Mzee said.
He said while they played well in the early games in last year's tournament, they were not at their best when they needed to be.
Luck plays a part
"Steady nerves and a good team effort helped to win in the end, but most of us knew that we also were a little bit lucky," Mzee said.
But he was quick to add: "As we say in Switzerland, in the long run, luck is only given to the efficient."
Switzerland is looking for more good fortune to go their way and has been drawn in Pool B alongside defending gold medallists Great Britain, hosts Denmark and Poland.
Great Britain is the most successful European team and is currently ranked fourth in the world. Switzerland, ranked 15th, will face a tough test in its opening match taking on Team GB.
Sweden, France, Germany and the Netherlands make up Pool A.
The European Championship Division A is the top tier of Wheelchair Rugby in Europe.
The top two teams from this event will secure spots at the Tokyo 2020 Paralympic Games, while the bottom two teams will be relegated to Division B in 2020.