Swoboda learning from silver medal disappointment
After Australia´s Curtis McGrath put an end to his winning streak, the Austrian canoeist is more motivated for Paralympic gold at Rio 2016.
27 Jun 2016
Imagen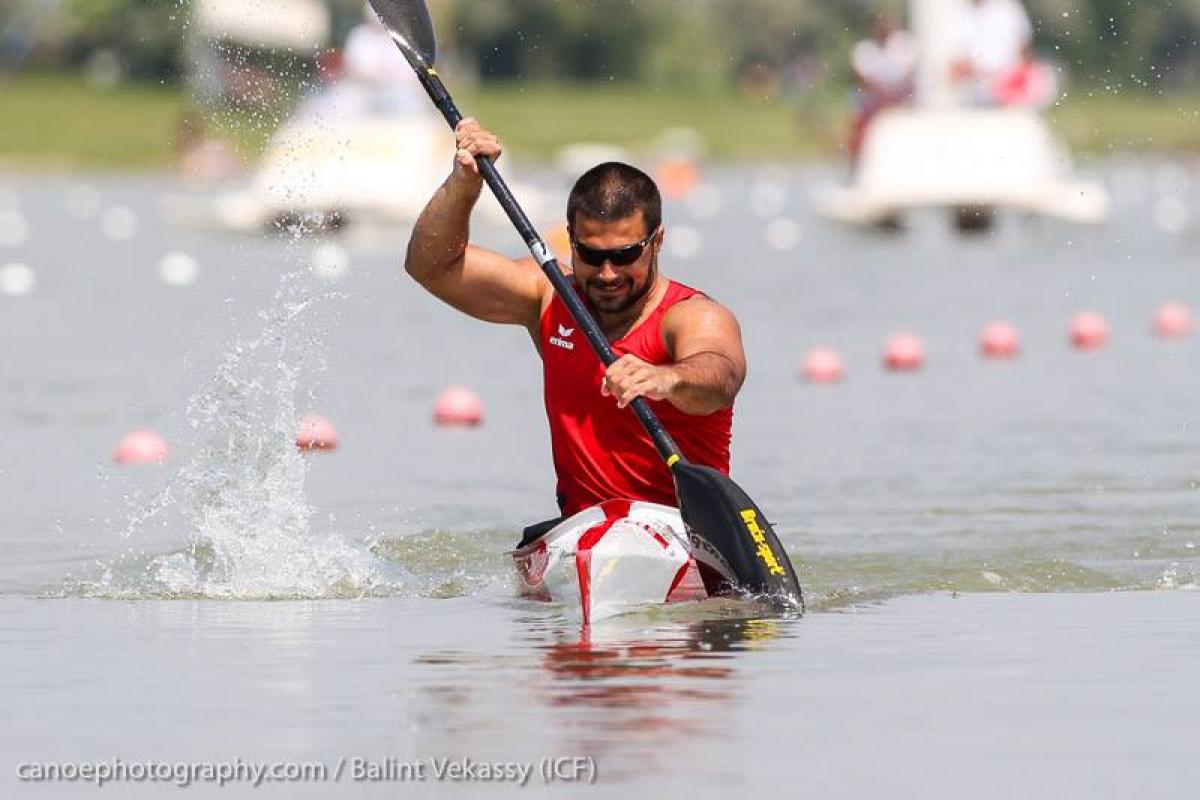 ⒸICF
By Laura Godenzi | For the IPC
"The focus is on Rio, so we did not expect to reach a peak level at the Worlds, but to try to give my best as I always do."
After failing to win the world title in May for the first time since 2010, Austrian canoeist Markus Swoboda is even more determined to win Paralympic gold at Rio 2016 this September.
Swoboda had to settle for silver behind Australia's war veteran Curtis McGrath in the men's 200m KL2 finals at the 2016 International Canoe Federation (ICF) Para Canoe World Championships in Duisburg, Germany. While Swoboda had already qualified for Rio 2016 prior to the 2016 World Championships, the loss still stung.
"I know I will not always be on top, but there are so many people who believe in me and it [can be] a lot of pressure," Swoboda said. "[But] I can feel happy about my second place."
McGrath stopped Swoboda winning streak at six and proved a viable contender for gold in Rio, where the sport will make its Paralympic debut.
"The focus is on Rio, so we did not expect to reach a peak level at the Worlds, but to try to give my best as I always do," Swoboda said. "I think the silver medal is good for my mental preparation."
Swoboda stopped paddling when he noticed McGrath would take the gold medal in Duisburg. Great Britain´s Nicholas Beighton came in third and Swoboda noted the Brit can also push him for the finish.
It is not the first time Swoboda has lost to McGrath.
The 26-year-old finished behind the Australian in the heats at last year´s World Championships in Milan, which is why Swoboda knew McGrath would one day snag gold.
"Last year he was at like six months of paddling [a kayak]," Swoboda said of McGrath, who had mostly competed in the Va'a boats. "This year he is like over a year now. … He was already in top physically condition and he was lacking maybe some technique and routine [then].
"I was really really good at the start and he caught up and got fast toward the end," Swoboda said of the finals in Duisburg. "But I know that [finishing strong] is one of my weak points and [in Duisburg] I got a really good start … and was amazed at the middle [when McGrath was close]."
Swoboda added that his defeat proves how much the sport has improved and become more competitive in the last few years.
"It is really good that spectators get to see exciting races and can root for their favourite athletes," Swoboda said. "I think the sport gets more attention this way because if the same guy is always on top, it is not so exciting.
"But if the canoeists are close, you can feel the pain of the athletes in the last metres."
With about three months until Rio 2016, Swoboda plans to train even harder.
"I have to do some psychological, mental training because I do not want to go easy in the end, unless I am really far in front," Swoboda said.
"But I think there is still a lot to improve."
__
Sport fans from around the world can now buy their Paralympic tickets for Rio 2016 from authorised ticket resellers (ATRs)
The IPC's Global ATR is Jet Set Sports, and Rio 2016 tickets and packages can be purchased on the CoSport website.
Residents of Brazil can buy 2016 Paralympics tickets directly from the Rio 2016 website.
Visa International is the exclusive payment card and the official payment system for the Paralympic Games.