McGrath snaps Swoboda's Worlds winning streak
Australian Curtis McGrath was crowned the new men's KL2 world champion after an exciting 2016 Para Canoe Worlds finals in Duisburg.
19 May 2016
Imagen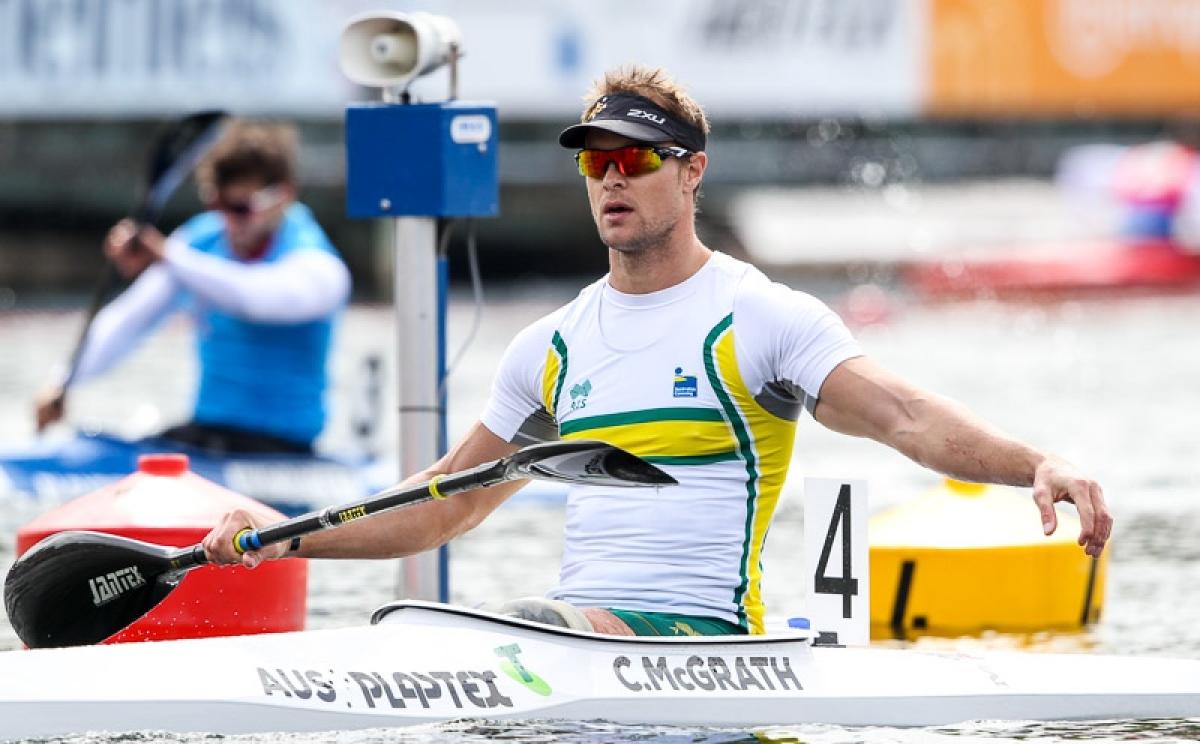 ⒸICF
By IPC
Putting down his paddle before he crossed the finish line, Austria's Markus Swoboda knew his World Championship winning streak was over. The six-time world champion finished second in the men's KL2 200m finals at the 2016 International Canoe Federation (ICF) Para Canoe World Championships on Thursday (19 May) in Duisburg, Germany.
Australian rival Curtis McGrath captured the gold medal, finishing in 42.043 seconds, about a second ahead of Swoboda (43.068). Great Britain's Nicholas Beighton (44.572) took the bronze medal.
"I knew before the finish line that I was going to be second, so [I am feeling] the pain of the race mixed with slight disappointment," Swoboda said. "But I'm still happy because second place does not mean I am too bad, I see it as motivation for the Paralympic Games."
It was a swap of last year's World Championships in Milan, Italy, where McGrath had taken second. But during an earlier heat in Milan, McGrath had defeated Swoboda, which snapped the Austrian's winning streak in the event itself.
"He is an amazing athlete and the sport would not be the same without him, so to be able to overcome his performance and his streak, it's quite an achievement, so I'm quite happy to win the World Champs," McGrath said.
Surprise from China
After finishing eighth in last August's World Championships, China's Xiaowei Yu came back to upset Brazil's defending champion Luis Carlos Cardoso Da Silva and win the gold medal in 50.596. Yu is the second non-Brazilian to take the men's KL1 world title; Hungary's Andras Rozbora did that two years ago in Moscow, Russia.
Poland's Jakub Tokarz was not too far behind Yu, finishing second in 50.855, followed by Cardoso (52.233).
Hosts Germany gets double gold
Germany's Edina Muller and Great Britain's 10-time gold medallist Jeanette Chippington were neck-in-neck in the final few metres. But Muller (56.846) successfully outsprinted defending world champion Chippington (57.037). Russia's Alexandra Dupik (58.209) completed the podium.
"I really filtered everything out, and all I heard was my coach yelling," Muller said. "I knew how fast [Jeannette] is and the others too. These types of close races, they're the greatest wins.
"I knew where my weaknesses are [after Milan] and we tried to work on that, and we changed a lot of things in the set up. I think everything is just coming together."
Compatriot Tom Kierey shouted in triumph after he crossed the finish line, successfully defending his men's KL3 world title. It was the tightest race of the day, with all three podium finishers – Ukraine's Serhii Yemelianov and Russia's Leonid Krylov – crossing the line in 40 seconds; Kierey took the winning time of 40.430, followed by Yemelianov (40.474) and Krylov (40.636).
"Not perfect, good enough to win, but I'm really sure I can do better. I have to do better if I want to win in Rio," Kierey said. "They [Yemelianov and Krylov] were right behind me, and they all want to win in Rio."
British women occupy podiums
Despite both women's KL3 top contenders Anne Dickins and Amanda Reynolds not competing in full strength, the duo still kept spectators on the edge of their seats.
Great Britain's Dickins (51.246) was able to hold off Australia's 2015 world champion Reynolds (51.686) for the top prize; Romania's Mihaela Lulea (52.525) captured the bronze.
"I got a virus back in January, so I've been doing very slow, under a 120 heart rate stuff until end of April, so I can't believe I've done a World Championships," Dickins said. "Maybe I should take the next four months off."
"We both had our issues, so this does not in any way dictate what is going to happen in Rio," Dickins added.
Great Britain had a one-two finish in the women's KL2, with Emma Wiggs having no trouble retaining her title in 53.691. Teammate Nicola Paterson took silver in 56.533, followed by Australia's Susan Seipel (57.032).
Twenty-two spots (11 male, 11 female) were available in Duisburg for nations to qualify for Rio 2016. The top four finishers in each medal event qualified their nations for one slot. A subsequent slot would be allocated to the next highest ranked nation not yet qualified.
Complete results from the 2016 ICF Para Canoe World Championships, including a replay of the live stream can be found on the ICF's website.
KL1 M 200m
Gold – Xiaowei Yu (CHN) 50.596
Silver – Jakub Tokarz (POL) 50.855
Bronze – Luis Carlos Cardoso Da Silva (BRA) 52.233
KL1 W 200m
Gold – Edina Müller (GER) 56.846
Silver – Jeanette Chippington (GBR) 57.037
Bronze – Alexandra Dupik (RUS) 58.209
KL2 M 200m
Gold – Curtis McGrath (AUS) 42.043
Silver – Markus Mendy Swoboda (AUT) 43.068
Bronze – Nicholas Beighton (GBR) 44.572
KL2 W 200m
Gold – Emma Wiggs (GBR) 53.691
Silver – Nicola Paterson (GBR) 56.533
Bronze – Susan Seipel(AUS) 57.032
KL3 M 200m
Gold – Tom Kierey (GER) 40.430
Silver – Serhii Yemelianov (UKR) 40.474
Bronze – Leonid Krylov (RUS) 40.636
KL3 W 200m
Gold – Anne Dickins (GBR) 51.246
silver – Amanda Reynolds (AUS) 51.686
Bronze – Mihaela Lulea (ROU) 52.525