Teresa Perales Picked as Spanish Flag Bearer
Six-time Paralympic gold medallist Teresa Perales will carry the flag for the Spanish delegation at the Opening Ceremony on 29 August.
23 Aug 2012
Imagen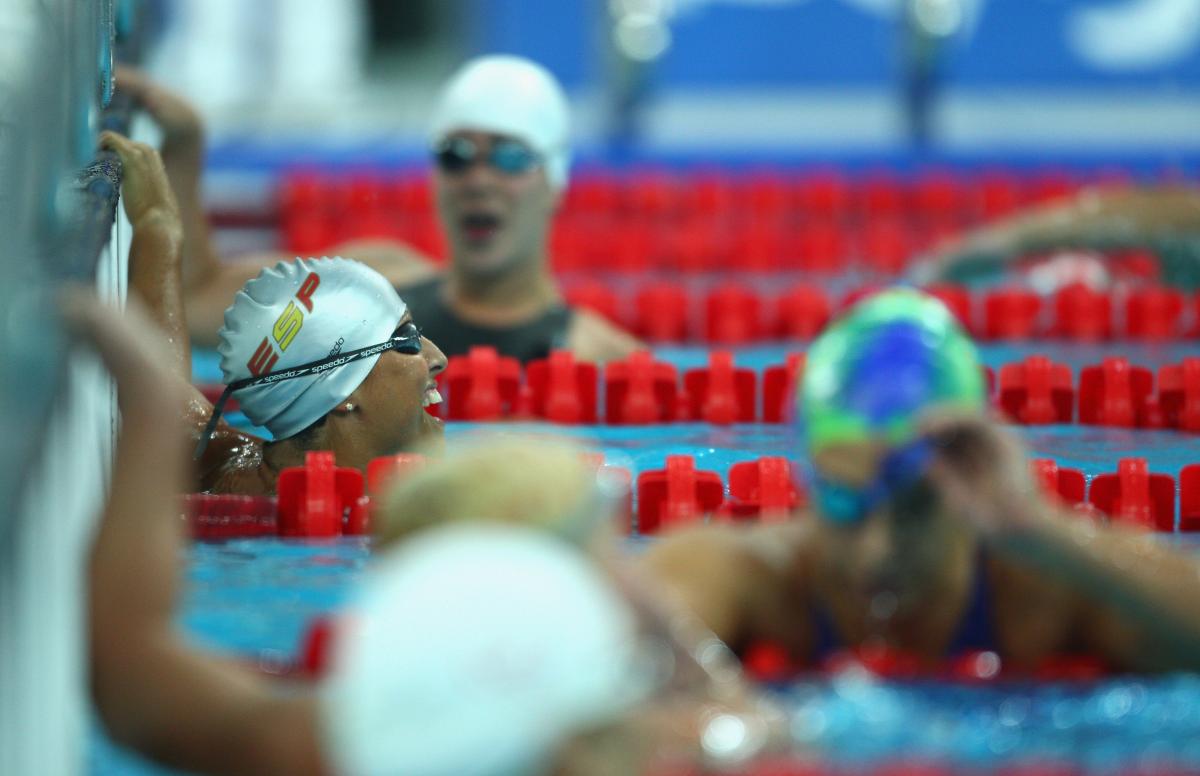 ⒸGetty Images
"When you strongly desire something with all your heart, you make it work with effort and sacrifice."
Teresa Perales, who will be one of the most decorated swimmers at the London 2012 Paralympic Games, has been announced as Spain's flag bearer for the Opening Ceremony on 29 August.
The six-time Paralympic gold medallist will compete in more than a handful of events in the pool at her fourth Paralympic Games in London.
"It's a great honour," Perales wrote on her Facebook wall in response to the announcement.
"I'm so happy and pleased for being the Spanish flag bearer. The London 2012 Paralympic Games can't have a better beginning for me!"
Perales recently returned the pool just last year for the 2011 IPC Swimming European Championships in Berlin, Germany after giving birth to her son Nano. She proved she is still on top form, winning a total of eight medals, including one gold, four silvers and three bronze.
"I can't wait to win a medal and give it to my son," Perales said in regards to London 2012.
"Last year the training was more relaxed as my body after the baby needed to get used to training and competing again.
"This year I've been exclusively dedicated to training for the London Games. My dedication has been 100 per cent. I've had ups and downs in training sessions as I was too tired, but after IDM Open Berlin 2012, I realized my times were very good and I felt much more enthusiastic."
Prior to the Games, the S5 swimmer has been at a 21-day training camp in Granada, Spain with the rest of the Spanish swimmers, training an intense six days a week at a high-altitude venue where Brazil and Venezuela's Swimming teams have also joined them.
In London, Perales could become the single most-decorated Spanish Paralympian. She is currently tied for the title with fellow swimmer Xavi Torres – also competing in London – with 16 Paralympic medals each.
With new motivation at these Games, Perales has all the heart and passion needed to garner that prestigious title.
"One of my main motivations is my son, Nano," Perales said. "He is also my motivation to continue my sporting career after London. It will be thrilling to see him and give him the medal, after a hard year of training so much, far away from my home. Being away from him during my training camps has been one of the most difficult things I've done in my life."
At the Aquatics Centre in London, the Spaniard hopes to top her performance from Beijing 2008, where she won golds in the 50m, 100m and 200m Freestyle races, silver the 50m Backstroke and bronze in the 100m Backstroke.
She said to expect to see some surprises in the heats, though, and that a new wave of swimmers could reach the podium in her class.
Her toughest competition may come from Norway's Sarah Louise Rung, who is known for her top technique and won four golds at the 2011 IPC Swimming European Championships.
Perales insists London 2012 will not be her final Games and that she wants to keep competing for Spain for years to come, in addition to working as a coach and a motivational speaker.
"When you strongly desire something with all your heart, you make it work with effort and sacrifice," Perales said.
Related Images