Top 10 story lines to watch at the 2014 IWRF World Championships
As the best wheelchair rugby team head to Odense, Denmark, here are 10 stories that could make the news.
03 Aug 2014
Imagen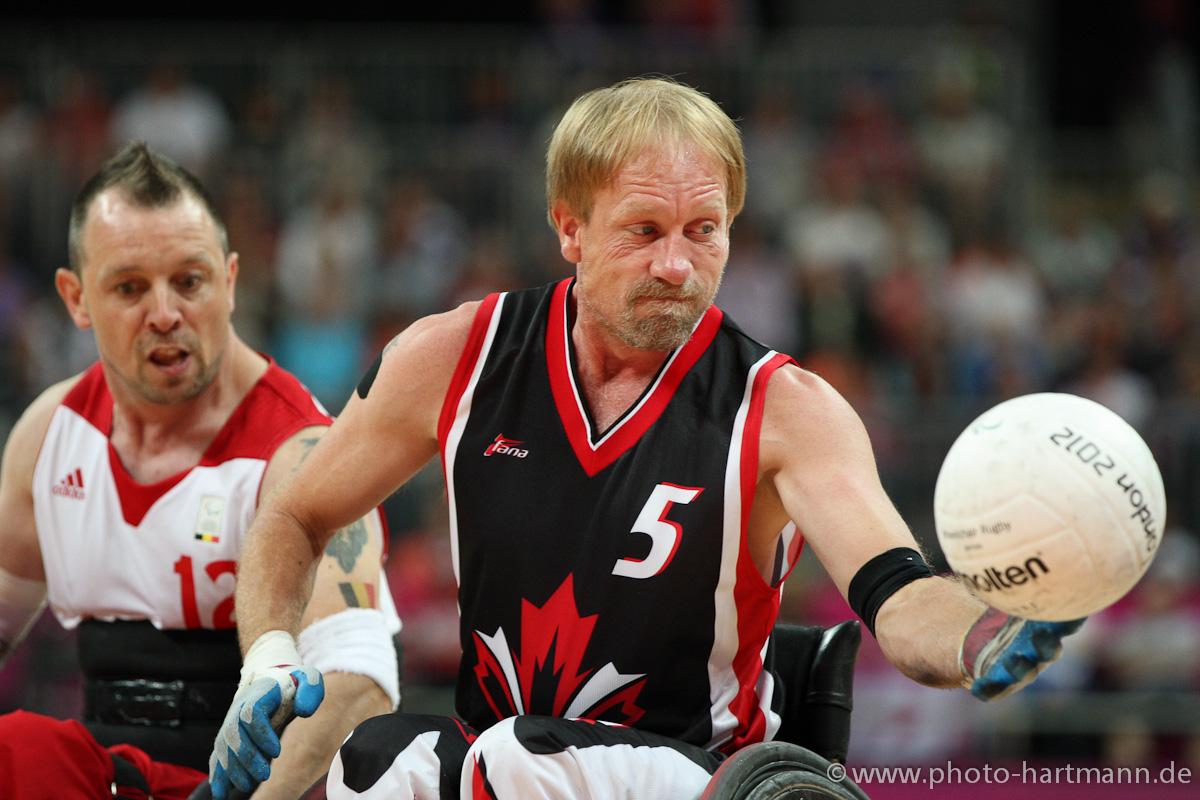 Ⓒwww.photo-hartmann.de
By Beau Greenway | for the IPC
Here are 10 story lines to look out before the final takes place on 10 August.
The 12 best wheelchair rugby teams will compete in the International Wheelchair Rugby Federation (IWRF) World Championships from Monday (4 August) in Odense, Denmark.
Here are 10 story lines to look out before the final takes place on 10 August.
USA to win world title number five
Team USA go into this year's IWRF World Championship as the No.1 ranked team in the world and will deservedly start as favourites. They have won every single edition of the tournament with the exception of 2002 when they were defeated in the gold medal match 25-24 by Canada.
In 2010, 12 goals was the margin of victory in the final against Australia but they, along with many teams others have improved since then which will make the quest for a record breaking fifth world championship a very tough task.
Australia to break world championship drought
Can Australia secure the major trophy that has eluded them for so many years? The 2012 Paralympic champions are in form after winning June's Canada Cup without dropping any matches along the way. They have had trouble against USA in major tournaments in the past but are beginning to develop a very experienced and settled line up. If the Steelers consistently play to their full potential in Odense they will be very hard to stop.
Denmark to win bronze medal and become European number one
This may sound like a very bold prediction but if there is one thing that can get the best out of a team it is a home court advantage. Denmark had a very strong European Championship campaign last year and went down by the narrowest of margins to Sweden 49-48 in the final. Thor Johansson's experience as a player and coach will hold the home team in good stead and a spot on the podium is a very realistic possibility.
Crowd and live streaming records to be smashed
The sport of wheelchair rugby is well and truly on the rise. A very successful London 2012 Paralympic Games tournament has led to further countries competing in the sport. As of this year, there are now 26 nations in the IWRF official rankings and many more currently in the process of establishing a team. The showcase match of the 2010 World Championship between Canada and USA was watched by 2,000 people at the venue and by more than 4,000 people over the online stream. There has been a buzz surrounding the tournament in Denmark, so look for the crowds to roll in and plenty of wheelchair rugby fans around the world to be watching the matches online.
Canada's Garret Hickling keeps rolling on
The Canadian veteran made his debut for the national side way back in 1993 meaning that he has played in every single IWRF World Championship that has been held. He may be one of the older members of the team but Hickling still plays a vital role for Canada and is a crucial asset in helping the younger players around him develop. Hickling is also a three time World Championship MVP (1995, 1998, 2002) and is widely respected in the wheelchair rugby world.
Ryley Batt wins back to back MVP awards
If Australia are going to win their first ever IWRF World Championship in Odense, Ryley Batt will need to be at his absolute best. Regarded as one of the best players in the sport, his amazing tournament in 2010 included 206 goals and the MVP title, but it still wasn't enough to stop the USA juggernaut in the gold medal match. Batt showed excellent signs in Australia's Canada Cup victory in June and has formed a really good partnership with teammate Chris Bond which has made him an even better player. Expect Batt to be well and truly in the running for the MVP award again in 2014.
Great Britain's bright future
Great Britain looks to have a very bright future and will be a major threat in the 2014 IWRF World Championship. Veteran Alan Ash is now 41 years old and is still playing as well as he was when he made his debut back in 1993. They also possess a number of rising stars including Ajaz Bhuta, James Roberts, Christopher Ryan, Jamie Stead and Coral Batey, with the oldest of that list being 26. These players have plenty of years left in them and will only get better with more exposure in major tournaments.
New Zealand to cause some upsets
Many people new to the sport of wheelchair rugby may not know that New Zealand were actually Paralympic champions in Athens back in 2004. In recent years the nation has gone into a rebuilding phase which has seen their world ranking fall away. Since failing to qualify for the London 2012 Paralympic Games, New Zealand has begun to string some solid performances together and they are now back into the world's top 10. They cannot be underestimated and on their day they can mix with the best wheelchair rugby teams in the world.
France to win first world championship game ever
This year marks the first time that France has competed in the IWRF World Championship. They have been drawn in Pool B which features heavyweights USA and Japan as well as Germany, New Zealand and Sweden. While it may be hard to beat the top two sides, there is a definite possibility that the debutants can register their first win at the expense of Germany, Sweden or New Zealand as they qualified with a strong performance at last year's European Zone Championship.
The Germans like Denmark
Germany are currently ranked No.8 in the IWRF World Rankings and will compete in Pool B against the likes of Japan and the USA. While they will go into those matches as underdogs they do have an impressive record in major tournaments played in the host country. Both the 2005 and 2009 European Championships were held in Denmark and the Germans won silver and bronze medals respectively in the two events. If history is anything to go by, it could be third time lucky for Germany in Odense this year.
The IWRF World Championships take place between 4-10 August. Defending champions USA have been drawn in Pool B alongside debutants France, Germany, Japan, New Zealand and European champions Sweden.
Pool A features Paralympic champions Australia, Belgium, London 2012 silver medallists Canada, hosts Denmark, Finland and Great Britain.
For more information on the 2014 IWRF World Championships, please visit the competition website.