Top 50 Moments of 2017: No. 23 – Fernandez reaches World No.1
Argentinian becomes first Latin American player to top wheelchair tennis rankings
09 Dec 2017
Imagen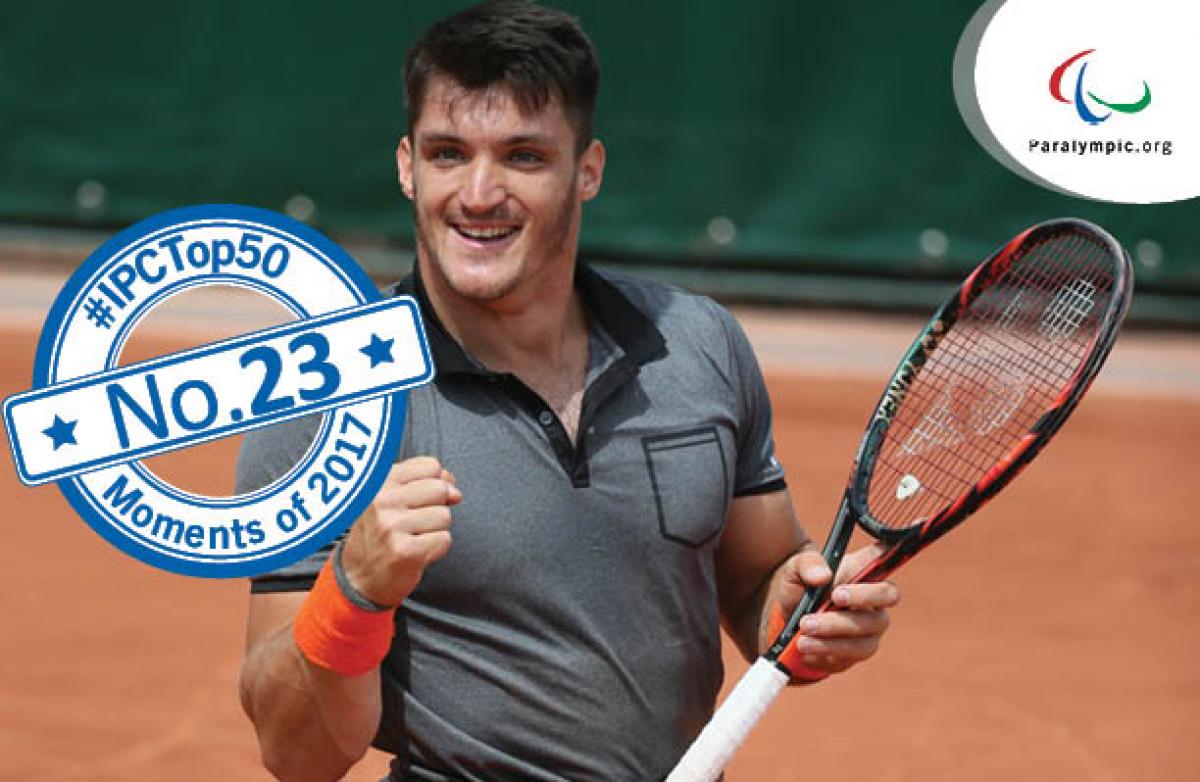 By IPC
It was an historic year for Argentina's Gustavo Fernandez as he became the first Latin American wheelchair tennis player to reach the top of the men's International Tennis Federation (ITF) rankings, on 10 July.
His achievement enters at No. 23 in the International Paralympic Committee's (IPC) Top 50 Moments of 2017.
Fernandez was also the first Argentinian, either able-bodied or wheelchair tennis, to make it to the singles world No.1 ranking.
"I always dreamed about that (being world No.1). Always," he said in an interview with Argentinian newspaper La Nación.
"When I wanted to be a basketball player, I used to say I wanted to play at the NBA of wheelchair basketball. When I started to play tennis, I said I wanted to be world No.1.
"When I was a kid, everyone laughed, they found me nice. But I was convinced. When you are a kid, you do not know all the sacrifices you need to make to achieve something like that. But even when I realised that, I still wanted to be No.1.
"I wanted to be the best tennis player I could be and if that took me to that position [No.1], perfect."
The 23-year-old won seven titles in 2017, including the Australian Open, his second Grand Slam after claiming the French Open title in 2016. He also finished runner up at this year's French Open and Wimbledon.
Fernandez described the moment the ITF published the updated rankings. "I had been dealing well with my emotions, I was almost too calm. But suddenly, when I saw myself on top of the rankings, it hit me so hard, I started crying."
His success also came despite the lack of support from private sponsors. "Since you are disabled, they do not respect and value you as the athlete you are," Fernandez explained.
"I feel that if a private company supported me, it would be a reward for so many years of effort. Anyway, I am tired of feeling that I am begging. I want them to respect and value me as the athlete I am."
Fernandez admits life for a person with impairment is not an easy one in Argentina. "It is believed that because you are disabled, you cannot do anything. Before finding your limitation, they already put you one.
"If people understood that a person with impairment can develop themselves naturally, work or study, they would understand an athlete on a wheelchair is a professional.
"I am like everyone else: I get up, go to the bathroom, brush my teeth, have breakfast. Instead of going to an office or to study like my friends, I go to training."
The full rundown of the Top 50 Moments will continue until 31 December.