UCI Para-cycling Road World Championships: Italian perfection across the board!
Luca Mazzone, Vittorio Podesta and Alessandro Zanardi amongst the gold medallists in Nottwil, Switzerland.
01 Aug 2015
Imagen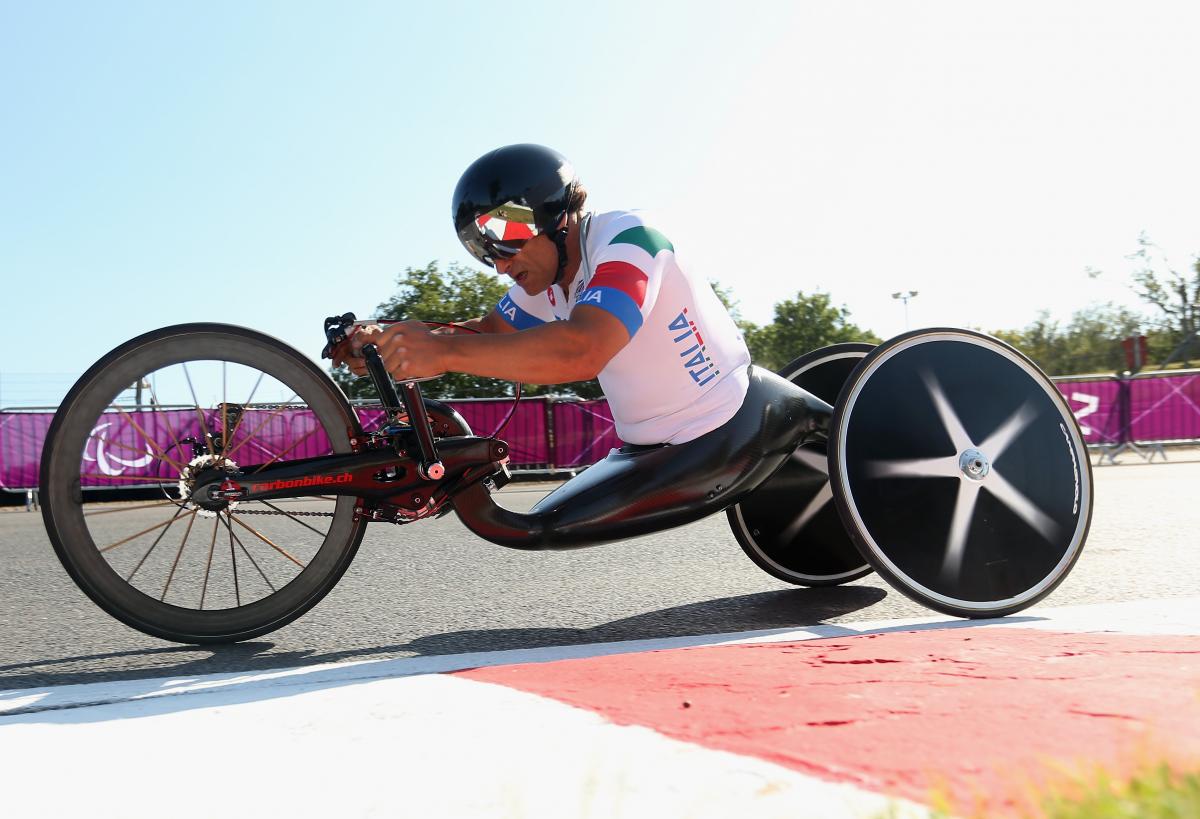 ⒸGetty Images
By UCI
Friday (31 July), was the day hand cyclists attacked their time trials event at the UCI Para-cycling Road World Championships taking place in Nottwil, Switzerland.
Wednesday's (29 July) relay gold medallists - Italy's Luca Mazzone (H2), Vittorio Podesta (H3), and Alessandro Zanardi (H5) continued their domination – this time individually as each athlete won gold in their respective categories.
The Squadra Azzurra finished day three of the World Championships with four gold medals; South Africa will leave the competition with heavier luggage as well, after having earned two gold and one bronze. Host country Switzerland also did well on Friday with five medals (one silver and four bronze).
Luca Mazzone and American William Groulx had a good fight in the H2 Class, with the latter only 22 seconds away from the Italian winner. In third place, Switzerland's Tobias Fankhauser earned his second bronze medal of the Championships, his first being won in the relay event two days earlier.
Zanardi successfully defends title
Alessandro Zanardi successfully defended the world title he won last year in Greenville, beating the USA's Oscar Sanchez and South Africa's Ernst Van Dyk.
"I had to deliver my best performance ever to win this race… I'm very very happy. In the first climb I found out I was behind and this was not an encouraging start but I just had to race my race and then I caught up in the second, most serious climb," commented Zanardi.
The former race car driver used skills from his previous sport in order to master the descents. "I was quite close to losing it at one point but I managed to stay on the road. I guess driving my BMW taught me how to drive my handcycle! " concluded Zanardi, who plans to celebrate Italy's winning ways with his teammates and coaches.
In the H3 Class Time Trial, Vittorio Podesta and the Swiss duo of Heinz Frei and Lukas Weber took gold, silver, and bronze, respectively, with these three athletes gracing the podium for a second time in Nottwil.
In women's racing Italy also cleaned up as Francesca Porcellato won her first world title in the H3 Class. A new recruit to para-cycling, this high performance athlete has also notably won medals at the Paralympic Games and Paralympic Winter Games in athletics and cross-country skiing.
"I'm so happy and I just can't believe it! I knew I was strong physically, but the cycling technique is very different. I wanted to wear Italy's blue and white jersey – now I'm wearing a rainbow jersey!" enthused Porcellato, who bettered American Alicia Dana and Poland's Renata Kaluza.
Three medals for South Africa
South Africa also performed well with two wins and a bronze medal; Justine Asher (H2) and Nicolas Pieter Du Preez (H1) both won gold for their country. "I have trained incredibly hard so I knew this was possible. The first lap was a bit tight so I took a few risks in the corners, but in the second lap I heard I had a 40s advantage so I took fewer risks," analysed Du Preez who won two gold medals at last months' Yverdon-les-Bains World Cup.
Du Preez took the gold ahead of New Zealand's Timothy Williams and Switzerland's Benjamin Frueh.
A hotly contested event was the women's H5 Class Time Trial, where the Netherlands' Laura De Vaan – winner of two World Cups this season – had only an eight second lead on Germany's Andrea Eskau after the 18 kilometre race. Germany's Dorothee Vieth came in for third place.
Svetlana Moshkovich (Russia, H4), Emilie Miller (Australia, H1), Rafal Wilk (Poland, H4)were also gold medallists today.
The UCI Para-cycling Road World Championships continue until Sunday (2 August).