Ukraine and Slovakia sweep rivals aside at Para table tennis Euros
But Belgium's teenage prodigy Devos again makes his mark
05 Oct 2017
Imagen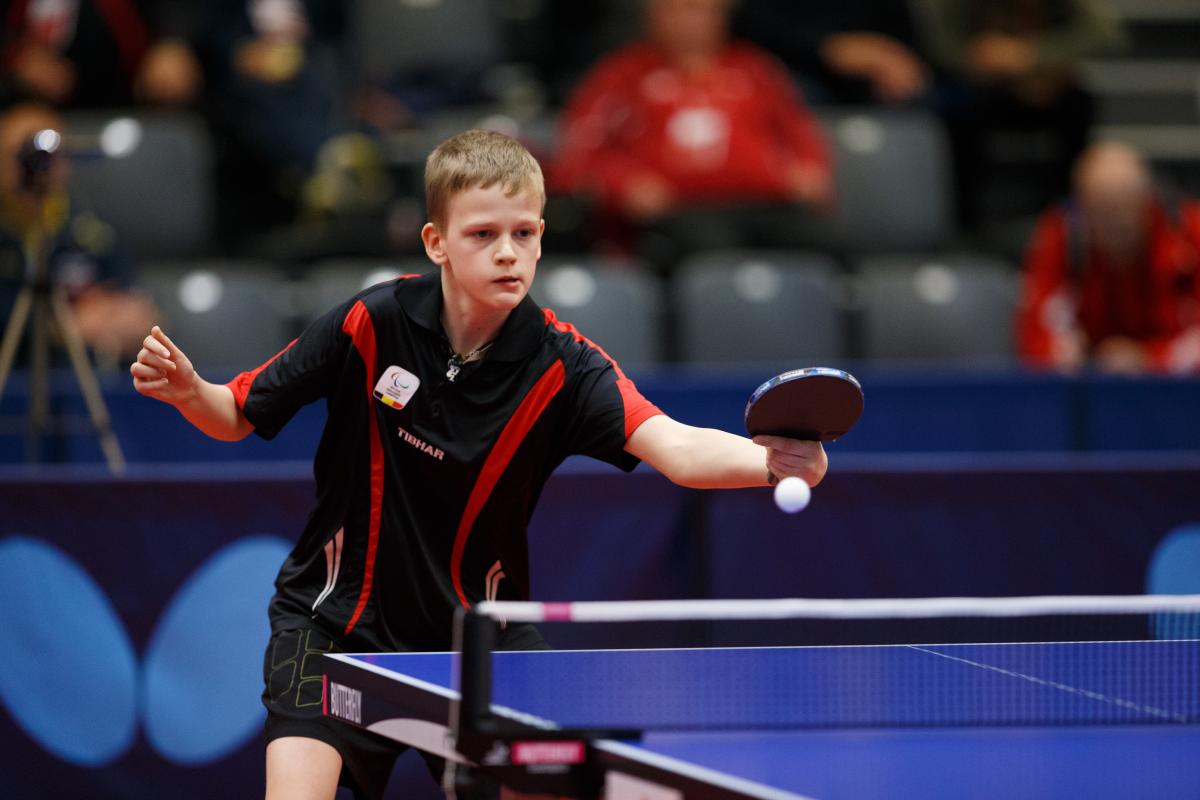 ⒸMorten Olsen
By Connor-Craig Jackson | For the IPC
Slovakia's golden Para table tennis year continued in the men's class 2, as world champions Jan Rapios and Martyn Ludrovsky reclaimed their European crown from 2011 by beating the Czech Republic 2-0 in the Para table tennis European Championships. The competition concluded on Wednesday (4 October) with team events in Lasko, Slovenia.
Ukraine clinched double victory in class 7 and 8, with class 8 seeing Viktor Didukh and Ivan Mai gain revenge for their world final defeat against Sweden's Emil Andersson and Linus Karlsson by burying their rivals 2-0 in the final.
The rest of Europe also had no response at all to the class 7 side of Maksym Nikolenko and Mykhalo Popov, with the world and Paralympic champions adding a fourth European gold medal to their impressive haul.
Prodigious Paralympic champion Belgian Laurens Devos marked himself out again, as the 17-year-old added another European team gold to his list of accolades by beating Italy 2-0 in the final alongside teammate Ben Ashok Despineux.
France claimed the men's class 5 thanks to Nicolas Savant-Aria and Alexandre Delarque. The French pair then beat Germany 2-1 in the final to earn Savant-Aria his first gold since 2013 and Delarque's first ever.
Gold was also tasted for the first time by Great Britain's David Paul Wetherill, Paul Arif Karabardak and Martin Robert Perry in class 6, only dropping one game the entire tournament to eventually beat Croatia 2-0 in the final.
Their fellow countrymen in class 10 could not muster the same result however, being sunk 2-0 by the dominant Polish side of Patryk Chojnowski and Igor Misztal, as Chojnowski followed up his singles gold with an equally impressive team gold to remain the main force in Europe for a fourth year running.
Turkey also remaind untouchable in the men's class 4, with Abdullah Ozturk and Nesim Turan following up their Paralympic and World triumphs by becoming champions of Europe for a fourth time in succession.
Also showing no signs of stopping are the German men's class 3 team, with no side able to win a single game against Thomas Schmidberger and Thomas Bruchle, who waltzed to a fourth successive European gold at the expense of finalists Ukraine.
Germany and Serbia among women's winners
The Germans also bagged a somewhat surprising gold, as Juliane Wolf, Stephanie Grebe and Corinna Hochdorfer beat world champions Russia 2-0 on their way to a 2-0 final victory over France, to claim a first ever European gold for Germany in the women's class 6-8.
Host nation Serbia saw their female class 4-5 side of Borislava Peric-Rankovic and Matic Nada make amends for their silver medal in 2015; recovering their World Championship mojo to top their group with a 100 per cent record and make Peric-Rankovic the only female to win both European singles and team gold in 2017.
A superb hat-trick of European triumphs was sealed in the women's class 2-3 by Croatia's Andela Muzinic and Helena Dretar, while Poland's class 9-10 team saw their crown slip away to Nesliham Kavas, Merve Demir and Hilal Turkkan of Turkey, who beat Germany in the final for the second time in the tournament to reclaim their title.
Full coverage can be found on the International Table Tennis Federation's website.